Automotive
Published on January 11th, 2018 | by Subhash Nair
0
Ford Fully Integrates Waze with SYNC 3
Using Waze inside your Ford vehicle is about to get easier than it's ever been. Thanks to new integration with Ford SYNC® AppLink™, Waze users will soon be able to project real-time traffic and navigation information onto Ford's SYNC 3 touch screen and access the services by voice commands.
First unveiled at CES 2018, the full-featured integration – which includes in-vehicle integration for iOS – means Ford customers can simply plug their Waze-equipped smartphone into the USB port of their vehicle, and once plugged in, Waze will project onto its touch screen. This allows users to access the app's features conveniently on a larger display and with their vehicle's own sound system.
All the great features Waze users have come to know will be accessible through Ford's integration of the software. This includes recent updates such as Talk to Waze, which allows you to control the app with voice commands, and HOV route support, which provides additional navigation options and arrival times based on high-occupancy-vehicle lanes (carpool lanes).
To deliver optimal driving directions and traffic updates, Waze uses crowd-sourcing to gather information about road conditions from all of its users. People simply type in their destination and drive with the app open to contribute data to Waze's community of users. At the same time, people can take a more active role by sharing reports from the road, including notifying the community of previously unknown accidents, hazards or route changes.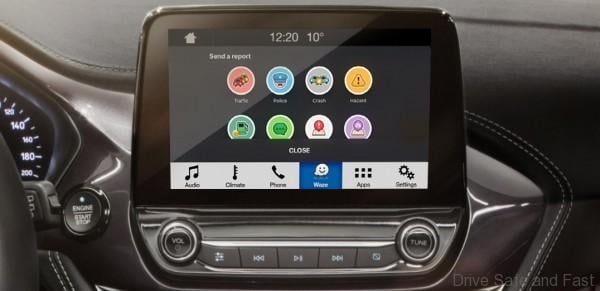 By working together, people can help each other improve the quality of their commute. Waze can help commuters avoid congested roads in favor of other routes, or see when their friends are expected to arrive at their destination. Waze users can even help each other save a few dollars by sharing gas prices as they travel, allowing people to navigate to the cheapest nearby gas station.
At launch in the coming weeks, any 2018 model year Ford vehicle equipped with SYNC 3 version 3.0 or greater will be able to run Waze on its touch screen. Other SYNC 3-enabled Ford vehicles can receive an over-the-air update or an update via USB to enable Waze functionality.
In addition to Waze, Ford is bringing other SYNC AppLink integrations onboard. Customers will soon be able to use iHeartRadio to access thousands of live radio stations or create their own personalized stations based on their favorite artists and songs. Meanwhile, Ford will be giving productivity a boost by incorporating WebEx functionality with SYNC 3 as well, offering people web conferencing opportunities on the fly.
Ford is also featuring its recently released Ford+Alexa app at CES. The app gives customers access to all 25,000 of Amazon's Alexa skills, including the abilities to