Cars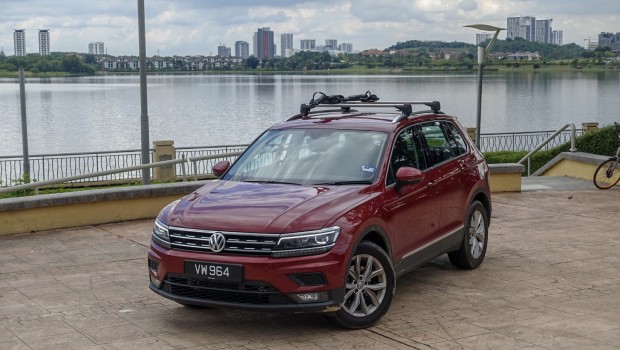 Published on January 14th, 2018 | by Subhash Nair
16
Volkswagen Tiguan: A Bad Reputation Ruins a Great Product
Launched in April 2017, the Volkswagen Tiguan was a real hard hitter. It came in a very reasonable asking price (the Comfortline dropped some equipment for a sub RM150K asking price) and had some of the best driving characteristics of any SUV in its class.
It was such a great product, that for the first time since the B7 Passat, there were Malaysians waiting in line for a locally-assembled Volkswagen. Well it felt that way, for sure. There are still a few eager buyers out there, but with a new Mazda CX-5 and Honda CR-V now in play, the Tiguan's time in the spotlight is over.
So let's start with the things that really characterise the Tiguan. The chassis and powertrain are a great place to start. Here we find a 1.4-litre single turbo TSI engine mated to a 6-speed wet clutch DSG.
In terms of performance, the Tiguan doesn't quite keep up with the 1.5-litre Turbo CR-V and 2.5-litre CX-5, but it's no slouch. In fact, the car drives really well for its size – it's just a little sterile. A dose of Jinba-Ittai is what's missing here. What Mazda was able to bring out of their SUV raises the bar considerably, but with less than half a second separating the 0-100km/h acceleration times, there's nothing really bad to say about the car.
The build quality is a strong point of the new Tiguan. The Volkswagens of the early 2010s were solidly put together, but there was always a 'Spartan' feel to things. These new Volkswagens look immensely more premium, without losing that sense of 'chunkiness'. There are no flimsy plastics – everything is bolted down firmly or attached with thick, high quality joints. The punch proof interior is also incredibly consistent in terms of design language and material choice. The cherry on top is how well integrated the digital displays are. Both the infotainment unit and instrument cluster were top notch, almost Audi-like, which is incredible considering how little the Tiguan costs in comparison.
Finally, there's the exterior design. Overall, it's a very handsome, modern looking car. Compared to its two new rivals, the Tiguan is smaller in terms of length, width, and height. It's also significantly lighter (by about 99-140kg). So you won't be faulted in thinking it's the smaller SUV. But there's some German engineering miracles being pulled here as the wheelbase is still respectable and it has got a larger boot AND fuel tank.
So what's holding the Tiguan back? Why are we seeing more new CR-V and CX-5 units on the road despite Volkswagen's head start?
The sad truth is the brand's reputation is holding the product back immensely. We're sure those who have test driven the car have walked away as impressed as we were. But bad reputations are difficult to erase, especially when they're not undeserved. Our most common reader comment seems to be about the reliability of new Volkswagens, and honestly, there's still no accurate way to gauge how they're doing in terms of after-sales.
We only take these cars out a week or so at a time. So, if you're an owner of the new Tiguan (or Jetta/Passat), do the brand a favour and let the public know how they're doing.
Volkswagen Tiguan Specifications:
Engine: Inline 4, turbocharged direct injection petrol
Capacity: 1395cc
Gearbox: 6-speed DSG
Max power: 148hp @ 5000rpm
Max torque: 250Nm @ 1500rpm
0-100 km/h: 9.2 seconds
Price: RM168,990