Cars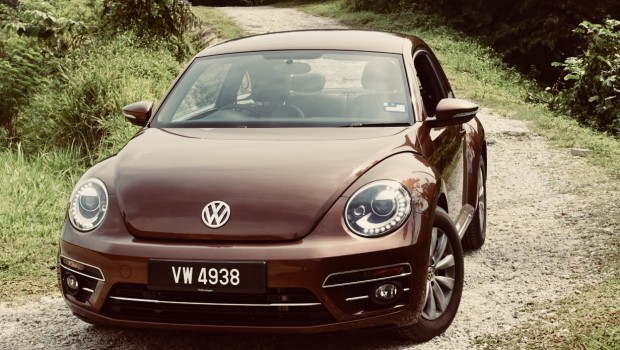 Published on April 2nd, 2018 | by Subhash Nair
0
I Can't Decide if I Love Or Hate the Volkswagen Beetle
Some cars don't really fall into any category. This Beetle is one of them. Being difficult to categorize makes it difficult to review. But what's more it was also difficult to decide whether I loved it or hated it. Let's go through some of my feelings about the car.
This new Beetle isn't for the enthusiast. Nobody who loved the original will find anything of substance in this one that compares. The engine's in front, it's not available with a simple powertrain, it's not affordable. It's almost nothing like the original Beetle.
But that's not enough of a reason to hate it. You just can't make a car like this for the people anymore. We have Corollas and Civics that work better for small families. And if Volkswagen had just permanently buried the Beetle, wouldn't that have been… sadder? In any case, reports seem to suggest there will be no Beetle replacement model after this one. So we should enjoy it while it's on sale.
Starting at RM137K, it is expensive. But contextually speaking, its closest rival (in spirit), the 3-door MINI Cooper comes in at a much higher RM188K. Grey market, reconditioned Fiat 500 models from 4 years ago go for 200K. These are all very different cars, but if you really wanted some retro-throwback of an iconic small car, the Beetle's the cheapest one and it does come with a 5-year warranty.
As good a buy as that sounds, this Beetle truly does feel 'last gen' Volkswagen. The rims, headlight controls, daytime running lights, information cluster, and many more parts are clearly carried over from when the car was first launched. It's all solidly put together, but the new Volkswagens feel a lot more premium and refined in comparison.
I can't see how long a car like this would be practical. Ownership concerns with TSI and DSG issues aside, how many owners can commit to a 3-door vehicle at this price point? It's a car that many a yuppie would love to own. But these are folk who aren't sure if marriage or kids or a change in country of residence is around the corner. When circumstances change, can its small rear seats and possible low resale costs be overlooked? MINIs have a much broader, much more affluent crowd in mind. But the kind of person who wants a Beetle in Malaysia knows a Jetta ticks so many more boxes for a lot less money.
At the same time, how many ATTAINABLE cars look this fashionable? How many are this quirky? How many are this attention-grabbing?  It's a very pretty car. It's also handsome enough for guy owners to feel ok about driving. Very rarely do manufacturers take such a neutral path.
So, yes, it is easy to really love or hate this car. The Beetle ends up being the kind of car that is pointless to review because once one's mind is made up on whether you hate or love the thing, no one can convince you otherwise. All you can do is list down its specifications.
Ok, fine. If we had to say anything it would be this:
It drives like a stunted Polo TSI/ Vento TSI. Not as great as any of its VW siblings, but the DNA is still there. This is no insult – even though the Beetle is one of the least inspiring VW to drive, it's still capable.
You really are paying for the way the thing looks. And if being able to own the way it looks makes you feel good, then there's nothing wrong with that. But please be aware.
It is a 3-door with small rear seats, but for a single guy/gal or even a couple it's perfectly practical.
We reviewed the 'Sport' model with leather seats and more kit.
Volkswagen Beetle Specifications
Engine: Inline 4 Turbo
Capacity: 1197cc
Gearbox: 7-speed DSG
Max power: 103bhp @ 5000rpm
Max torque: 175Nm @ 1550Nm
Top Speed: 180km/h
0-100 km/h: 10.9 secs
Price: RM148,620