Cars
Published on May 23rd, 2018 | by Subhash Nair
0
Lexus LC 500: The Best Car I've Ever Driven
A lot of people ask me what's the best car I've ever driven. And though I've driven my fair share of 'special' cars like the Maserati Quattroporte, Ford Mustang GT, Lamborghini Aventador, I've never felt inclined to give a straight answer. My response is usually, "I don't believe there is a 'best' car. Some cars are best in their particular segment or price point and some cars are personal favourites."
But after spending just half a day with the Lexus LC 500, I think I can safely say that my mind has been changed.
The Lexus LC 500 showed me a lot of things. Up to that point, I was convinced that luxury cars were designed to constantly sap money away from the ultra rich. Most supercars have parts that are inherently breakable and are too complicated. But then I had a look at Lexus Malaysia's warranty policy, and what do you know? A 5 year unlimited mileage manufacturer warranty. On any other Lexus, I would not have given that a second thought.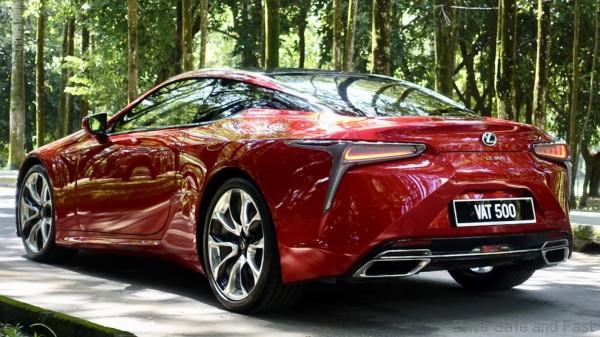 But for a grand tourer/supercar, it's definitely not expected. And yes, at its pricetag of about RM900,000, it's not exactly cheap. But you really have to reframe your thinking here, because every single one of the LC 500's rivals are more expensive. Yes, you can get a Porsche 911 for less money new, but to bring that 911 up to the LC 500's spec, you're going to spend more money.
And now that I've mentioned a proper German supercar, let's talk about performance. I seriously doubt the LC 500 can take on a even an entry level Porsche 911, let alone its primary competitor, the AMG GT. But having driven each of these cars, I can safely say the Lexus is the only one that can really pass as a practical supercar.
Now, of course, no one is going to daily drive any one of these, but what I'm talking about is the default character of these cars. They all have drive mode selectors, but in 'Normal' mode, the LC 500 feels like the most chilled out, comfortable cars here. The big, naturally aspirated V8 goes into its Atkinson cycle and drives like the kind of Lexus your dad is accustomed to. And remember, the LC 500 still gets from 0-100km/h in 4.4 seconds!
I really think that aspect of performance impressed me the most. I don't like treating public roads like race tracks, yet I appreciate performance and drama when it's asked for. The LC 500 does this beautifully and only when you ask it to.
Another thing that really got me was the interior. Build quality was typical Lexus, but this was the first of their cars (besides the new LS) that had some real flair to its design.
From the floating door handles, to the velvety roof liner – everything about this cabin feels expensive and beautiful.
And of course, it does look like a properly special car. Its beauty is only amplified by how rare it is to see one on the road, which I doubt will change in the next few years.
Which ties me into the last reason this is the best car I've ever driven – it has something to prove.
Typically, people spend money on cars in this class to make a statement. That statement is usually, "look at me, I've made it". And if you want a car like that, you need to buy something that's easy to identify by non-car people. That means the big German and British brands come first. And there's nothing wrong with that. What it does mean though, is that Lexus had to work extra hard to make something that really stands out. I sincerely think they've done that with the LC 500. For the longest time it felt as if the Japanese car makers were always chasing the Germans on the little things. With the LC 500, I think they've finally caught up, and even surpassed them on a number of aspects.