Cars
Published on May 28th, 2018 | by Subhash Nair
0
Mitsubishi Outlander 2.0: Great Products Don't Guarantee Success
Before I joined this industry, I distinctly remember how the fight for each segment centred mostly around the number of features manufacturers could pack into a product for a given price. Today, things have escalated to the point where you can get a close-to-full spec BMW 3-Series with plug-in hybrid technology for what used to be the price of a mid-spec 320i!
This is good for the Malaysian carbuyer. Cars are still expensive, but they've not been this value-packed in decades. In fact, given how safe, powerful, efficient and comfortable most cars are nowadays, this is probably the best time to own a new car.
But there's a flipside to this. Every brand is forced to over-deliver. Things are getting super competitive, so even a complete package is not enough to guarantee sales. You still need some design flair, some marketing buzz, brand prestige. These are very subjective elements and can take decades to realign even with a huge budget.
One victim of this industry shift is the Mitsubishi Outlander. We test drove a 2-litre variant the other week not expecting much.
What we found was that the Mitsubishi Outlander had only one real flaw – the absence of rear air cond blowers.
Every other aspect, it handled rather well. But why aren't more buyers looking at this great all-rounder?
Value
I mean, at RM135K, it's priced to go up against base model mid-sized SUVs like the Mazda CX-5, Honda CR-V, Hyundai Tucson, Kia Sportage, Subaru Forester and Volkswagen Tiguan. But its closest competitor really is the Nissan X-Trail. This is because the Mitsubishi Outlander is a 5+2-seater SUV, unlike the others we named.
To understand the true value proposition of the Outlander, you really have to compare against the base model Nissan X-Trail. I consider this the Outlander's closest rival. Understand that the X-Trail isn't bad value, we're just using it as a baseline for what to expect.
These are both 2-litre Japanese SUVs with 3 rows of seats. The similarities don't end there. They both use CVTs built by JATCO and they're both rather conservatively styled. They are both offered with a 2.0 inline-4 engines with similar engine valvetrain technology.
And while the X-Trail does have a few tricks up its sleeves (like its 360 degree camera system), the Outlander 2.0 ends up offering a lot more for just RM3000 more.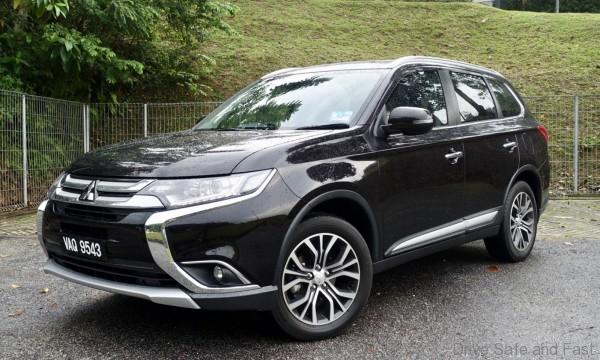 First of all, it has an AWD system, which alone would have justified a price bump. But more crucially, it also comes with 7 airbags instead of just 2 on the X-Trail. Its standard 5 year manufacturer warranty is also a little more enticing. You put these two entry level cars next to each other and the Outlander still comes up on top in terms of equipment and packaging.
Driving
This SUV also has rather good drive characteristics. It doesn't dive under heavy braking. It handles cornering with poise. It's not sporty, but it certainly isn't clumsy when being asked to deliver. And despite the plain interior, there's really good use of soft plastics and nothing too gaudy going on that would dissuade fussy customers. We're also willing to ignore the lack of space that third row passengers get on account of it being pretty much expected in SUVs like these.
Build Quality
Like we mentioned before, the car is a little plain to look at. But in terms of build quality and material choices, it's actually above average. There's nothing flimsy or too cheap feeling. In fact, the rugged construction of the cabin is very welcome, especially in this age of disposable cars.
Why isn't it a best seller
So where then does it fail? Well, like we said before it's the subtle, subjective things that can throw a package off course. Mitsubishi, as a brand, has fallen off many consumer radars as commercial trucks, pickups and SUVs have become more of a priority. And remember, Mitsubishi was a big name in motorsports and passenger cars not long ago, so the impact on the brand's perception is definitely felt in the new car market.
But the product itself has a couple of issues. By now, most consumers expect new cars to have every aspect feel integrated fully. In the Outlander, the infotainment, though high-quality and fully functional, still has an aftermarket taste to it. This is not a uniquely Mitsubishi problem, but it exists here and must be acknowledged.
The SUV market in Malaysia tends to be favoured by middle income, small families. Larger families tend to aim at lower tier options – compact MPVs for lower income groups and large MPVs for higher income groups. 7-seater MPVs like the X-Trail and Outlander are sometimes seen as too much of a compromise. Malaysians simply have too many options now, and any mistake will be looked at as a failure.
Again, none of these problems really would have been problems 10 years ago. Ten years ago, the Outlander may have been a hot, hot seller. But the reality of the industry changed while the Outlander was still being designed and it arrived to the party in last season's clothes.
Mitsubishi Outlander 2.0 AWD Specifications
Engine: Inline-4, DOHC, 16 Valve
Capacity: 1998cc
Gearbox: CVT Automatic
Max power: 143bhp @ 6000rpm
Max torque: 196Nm @ 4200rpm
Price: RM139,988