Automotive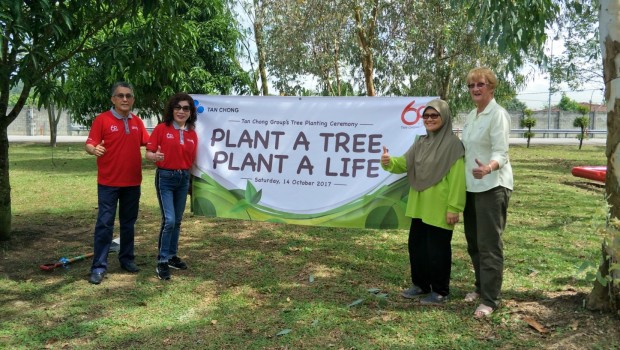 Published on June 19th, 2018 | by Subhash Nair
0
Edaran Tan Chong Motor Launches "Nissan Nurtures Nature" Campaign
Edaran Tan Chong Motor Sdn Bhd today launched its eco campaign – Nissan Nurtures Nature – in conjunction with World Environment Day on 5th June 2018.
Featuring a series of fun and engaging eco-friendly activities, Nissan Nurtures Nature campaign aims to gather customers and their families, business partners, non-profit organizations, as well as employees to join hands in creating positive and meaningful changes to the environment and communities.
"Nissan Nurtures Nature campaign is our commitment in raising the awareness of living harmoniously with nature. We wish to inspire a change in lifestyle that eventually contributes towards a sustainable community and environment. It is our responsibility to preserve this beautiful planet for our children and for future generations, and we want to do it together with our stakeholders." said Mr Christopher Tan, Sales and Marketing Director of ETCM.
Operationally, Tan Chong Group incorporates environmental best practices into its vehicle assembly processes and service workshops. A solar panel system installed in the Serendah assembly plant, as well as water treatment, waste segregation and tree planting exercises are just some of the green measures implemented in line with our commitment to preserve the environment.
Also, a stringent production waste management process through contractors registered with the Department of Environment (DOE) to recycle engine oil into lubricant oil for heavy duty machineries are also practised in both the Serendah assembly plant and TCEAS service workshops.
Through this campaign, ETCM hopes to create awareness on minimizing the environmental impact by cultivating a more sustainable way of living. Nissan Nurtures Nature will see activities that are centered around the 3R environmental philosophy: Reduce, Recycle and Reconnect:
Reduce – Herbs planting activity; grow your own herbs, bring more green into homes to reduce Carbon Dioxide (CO2) and produce more Oxygen (O2).
Recycle – Transform waste into useable items; a showcase of using a used tyre that can be creatively made into a rustic furniture.
Reconnect – Retreat to nature allowing its serenity to refresh, rejuvenate and re-energize the body and mind. A series of Eco Talk by the Eco-Activists Guardian of Mother Earth, Ecoknights and Poptani Asia, will be introduced to educate owners and customers on why and how we could play a role in contributing back to the environment.
The first series of the Nissan Nurtures Nature Campaign will be held on 23 and 24 June 2018 alongside the Nissan Test Drive Carnival, exclusively at ETCM Glenmarie, ETCM Bayan Lepas and ETCM Batu Pahat.