Automotive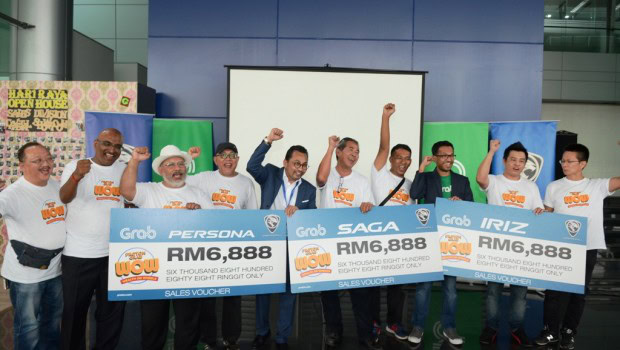 Published on August 15th, 2018 | by Amirul Mukminin
0
Proton Rewards Grab Drivers
There were scenes of joy at the Proton Centre of Excellence as driver-partners from Grab were rewarded for their performance in the final of the Proton Wealth on Wheels (WOW) challenge on 9 August 2018.
A joint collaboration between Proton and Grab, the WOW promotion was open to driver-partners who drive the Iriz, Persona and Saga and sought to reward them not only for their diligence but also their ability to get the most out of just one tank of fuel.
For the challenge, 2,181 Grab driver-partners were recruited from 10-29 July with the first 1,000 being rewarded with a service voucher worth RM30 each from Proton. The qualifying period ran from 1-5 August, and all participants were given 5 days to drive within the Klang Valley to earn as much as possible. The best performers in each category were then selected to compete in the final, which flagged off at Proton COE. All driver-partners who participated in the Final round were awarded with RM500 worth of Proton sales voucher each, which is redeemable for new car purchase.
Each participant were then directed to the nearest petrol station and had their fuel tank topped up and sealed before setting off at 9am to earn as much as possible. Before returning at 5pm, participants headed to the nearest petrol station towards COE where fuel consumption were measured.
"The Proton 1 Tank Adventure reminded car buyers that Proton cars can take them on some wonderful journeys around Malaysia using just one tank of fuel. With Grab, we wanted to show their driver-partners that a Proton car helps them get around quickly, safely and economically, leaving more money in their pocket at the end of the day," said Abdul Rashid Musa, CEO of Proton Edar.
The top performers for each category during the final were rewarded with a grand prize of RM6,888 worth of Proton car sales vouchers along with special incentives from Grab. All finalists will also get to attend the launch of the company's first ever SUV and exclusive test drive events.
As one of Grab's partners, Proton hopes the WOW promotion would lead to more driver-partners choosing to use Proton cars to power their journeys.
"As Malaysia's first car company, Proton played a major role in putting Malaysians on the road. We would like to do something similar to help the ride sharing industry grow and hopefully with the PROTON Wealth on Wheels event and our other promotional activities we will attract more driver-partners to our cars," added Abdul Rashid.