Automotive
Published on September 12th, 2018 | by Subhash Nair
0
Jasmine Suraya Tells Us About Her Proton 1–Tank Adventure
The 1-Tank Adventure is an initiative by PROTON to allow participants to witness and experience the fuel efficiency of modern Proton cars. For this adventure, PROTON showcased its three most popular models – the Saga, Persona and Iriz. Participants were required to take the car for a drive along the designated routes estimated to be over 600km. The route stretched across highways, byways, trunk roads as well as through mountain roads to see if they could do it all in just ONE tank of fuel.
Jasmine Suraya was one of the celebrities PROTON approached to join in the 1-Tank Adventure to see what would be her own personal experience based on her drive in a Proton car.
She chose a Saga to see what the car has to offer, and most importantly whether the car fulfils the adventure theme; 1-Tank, for over 600km mileage. Out of love for the national car, she joined in the fun for the final leg, where the journey started in Kulai, Johor, and ended in Parkroyal Hotel in Penang, with a pit stop at Proton's Centre of Excellence in Shah Alam.
After the event, we asked Jasmine how she felt about the adventure.
She felt that it was a touching campaign by PROTON. The effort creates an active participation and engagement with the participants, and allows people to have first-hand experience of driving these Malaysian-made cars through Malaysian roads.
"For me personally, it creates a sense of camaraderie, greeting your fellow Proton-ers on the highway, and wishing each other good luck. It is amazing what this experience brings, to see so many people involved and cheering on the national brand".
How about her 1-Tank adventure memories?

Jasmine excitedly mentioned that one of her most memorable experience during the 1-Tank would be during the final stretch from Gunung Lang to Juru. She said, "I had about one bar left and we had an estimated 140kms more to go. We (co-driver and myself) had to pace ourselves really carefully while making it to Juru in time for the deadline. We felt like we were in the Amazing Race."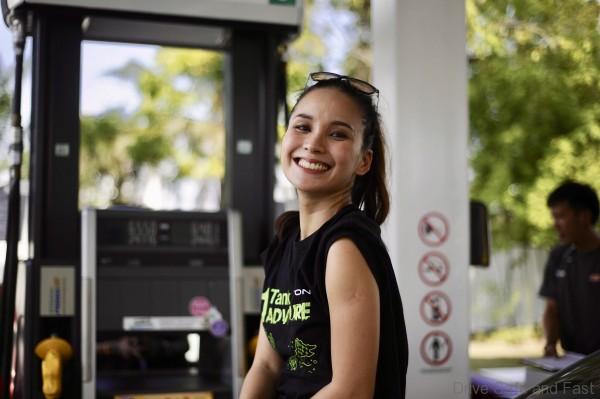 The well thought out pace-plan was all worth it, as she (being the driver) managed to drive the Saga with an average result of 4.18L/100km. That result was amazing, and she could have well been one of the winners, if not for the fun-celeb-participation-only criteria. In total, her drive for the final leg totalled an incredible 704km on just one tank of fuel.
Jasmine on what she thinks of Proton cars and her memories of it

In her own words, she said, "I think of a brand that serves the needs of the people. I think of it when the first car was launched, of the different ranges of models that came following that. I think of memories, of my youth when my friends were driving Protons right after they got their drivers' license. It's nostalgic".
The appeals of a Proton car

Jasmine is currently driving the third generation Saga. When she was asked what is good about Proton cars, that others may not realise or are aware of, but something that they should know. She shared that, "I have been driving the Saga for the past couple of months and the most popular comments I get from my friends are the rear view cameras and the multiple charging points (USBs). Additionally, I really like the Eco Drive Assist function that enables me to be more conscious with the pacing of my car, helping me save fuel on long journeys. The audio buttons on the steering wheels are really cool too! ".
Of Proton cars and the meaning of being a Malaysian

Jasmine is certainly someone who is highly rooted in her grounds. A true-blue Malaysian, who admires Yuna and supports the Kedah Football Team, she has always put PROTON on a pedestal.
When she thinks of PROTON, she said, "I think of how PROTON has made its mark in our Malaysian history. I am definitely proud to be a Malaysian, and seeing home grown brands like PROTON grow through the decades made me believe that we are capable of great things.