Automotive
Published on November 23rd, 2018 | by Subhash Nair
0
Nissan Previews the LEAF and Intelligent Mobility at KLIMS 2018
Edaran Tan Chong Motor (ETCM) is presenting an electrifying and engaging showcase at the Nissan booth in the KL International Motor Show 2018, held from 23rd November to 2nd December 2018 at the Malaysia International Trade and Exhibition Centre (MITEC). With the introduction of 'Nissan Intelligent Mobility', a range of innovative and intelligent Nissan vehicles are on display including the 100% Electric All-New Nissan LEAF, and the e-POWER system.
Nissan is redefining how people move, with a vision to make driving transportation safer, smarter, and more exciting through Nissan Intelligent Mobility. At the core of Nissan Intelligent Mobility are three areas of innovation:
• Intelligent Power – more efficiency, more power, spearheaded by electric vehicles (EV) and the e-POWER system
• Intelligent Driving – creating more driver confidence, spearheaded by Nissan's ProPILOT autonomous driving technology
• Intelligent Integration – new links between vehicles, society and driver
The All-New Nissan LEAF offers the most advanced e-powertrain. With the new 40 kWh Lithium-Ion battery pack, it now delivers an astonishing driving range up to 400km (Japan JC08 cycle**) on a single charge, and outputs 110kW of power and 320Nm of torque, improving acceleration and driver enjoyment. ** 150 miles with EPA (US Environmental Protection Agency), 380km with NEDC (New European Driving Cycle)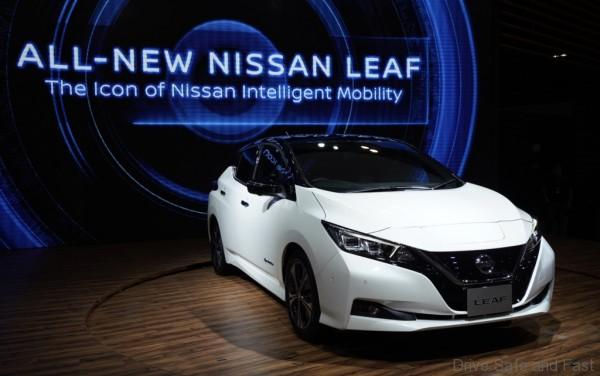 Nissan LEAF features ProPILOT autonomous driving technology, used during single-lane driving on the highway. When activated, it follows the vehicle ahead at a preset distance and keeps you centered in your lane (even around a gentle curve). ProPILOT also allows a full stop based on the traffic flow, and picks up to speed when traffic moves again.
Another innovation that enhances the All-New Nissan LEAF's driving experience is the e-Pedal. It allows the driver the simplicity of accelerating, decelerating, stopping and even holding the car's position, by using the accelerator pedal alone. The reactiveness of the e-Pedal maximizes EV driving pleasure.
The All-New Nissan LEAF's exterior design includes a low, sleek profile that gives it a sharp and dynamic look. Along with excellent aerodynamics, the styling which includes the signature boomerang-shaped lamps, V-motion flow in the front, flash-surface grille in clear blue and rear bumper's blue molding, evokes a 'cool tech attitude'.
The interior of the All-New Nissan LEAF has been redesigned to create a relaxed ambience, premium and modern feeling. The new front panel in the form of a 'gliding wing' provides a dynamic view for the driver, while the vibrant blue stitching in the seats, dashboard and steering wheel has been incorporated as a symbol of Nissan's electric vehicles.
Apart from Nissan Intelligent Mobility and the All-New Nissan LEAF, ETCM is also showcasing the e-POWER system, Nissan Serena S-Hybrid, Navara – Black Series, X-Trail X-Tremer, and the new Nissan Almera – Black Series.