Cars
Published on December 14th, 2018 | by Subhash Nair
0
Ford Ranger XLT+ Review: The Right Stuff, The Right Price
When it comes to getting the image of the pick-up right, most can agree that Ford has the advantage here. Not only does the Ranger naturally slide into the brand's 'Built Tough' image, but it also has an aggressive design that marries rugged character with modern lines. And with this new Ranger, Ford adds another advantage to its belt: an ultra efficient powertrain on the XLT+ model.
Before we begin this review, let's talk a little bit about the Ranger, because there's more than one on offer. At the very top, there's the Raptor model. This is the most powerful, most capable and performance-oriented pick-up you can buy in Malaysia. The Wildtrak variants are a nice blend of style and performance one notch below the Raptor. At the bottom, you have the XL spec for those looking to use the Ranger for its intended purpose. The XLT adds a bit of kit to that utilitarian base model. And finally we arrive at the XLT+.
The XLT+ is a bit of a misnomer. In some ways, it's closer to the Wildtrak model than it is to the XLT. Yet, in terms of look, feel and experience, it definitely is more of vanilla Ranger. It's the exact centre of the Ranger product range, so let's get the good parts out of the way first.
Performance
Under the hood of the Ranger XLT+, you'll find the same 2.0 Single Turbo Diesel 'Panther' engine and 10-speed conventional automatic that comes in the Ranger Wildtrak 4X2. With 178hp and 420Nm of torque to play with, the XLT+ is no slouch. 10-speeds on a gearbox sounds intimidating, but it's handled well, with smooth shifts. There's a rocker switch for manual control, but I would just leave the thing to sort itself out, really. This modern powertrain is also really efficient. Keep to mild driving and you'll be surprised at how little diesel is needed to move around this 2-tonne behemoth.
Interestingly, the XLT+ actually has a 4X4 system ready, which is nice considering it's RM10,000 cheaper than the Wildtrak 4X2.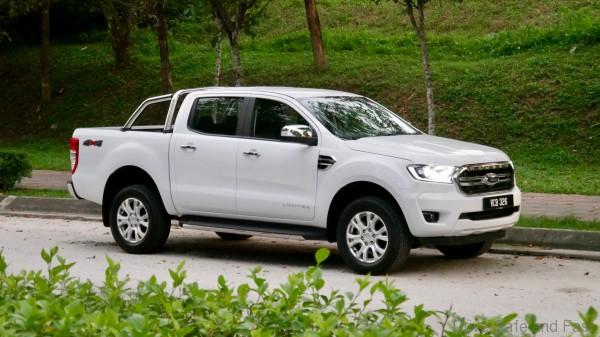 Worth noting here is the Ranger's excellent ride, handling and NVH qualities. It's not quite car-like, but these aspects definitely left an impression. You could probably get away with using this as a daily driver if you're single. You see, as comfortable and quiet as the Ranger XLT+ is, it just can't get away from its pick-up truck nature. If you have kids, they'll need a step ladder to get in and out of it. If you have aging parents, it's also not going to be the best idea. Stick to realistic situations with the Ranger XLT+ and you'll be very pleased with how it stacks up against its competitors.
We'd be remiss if we didn't mention this new tailgate mechanism. Instead of fancy hydraulics, a simple 'torsion spring' is used to make the whole door super light. Seriously, this thing can be lifted with just one or two fingers.
Design
There's really not much more going on with the XLT+ compared to the pre-facelift versionso f the Ranger XLT. Sure, there's little things like badges, stickers and small design bumps, but nothing drastic has changed.
But same-same is a good thing in this case. As noted earlier, the Ranger is still one of best-looking pick-up trucks.
The designers didn't give it too much chrome garnishing, nor did they go for an athletic look. It's a tough, aggressive, muscular looking thing, which just fits the image of a pick-up perfectly.
It's the same story with the interior.
There's a lot of tough plastic, but also enough leather and soft touch points to make you sometimes forget what you're in.
The modern dual digital display instrument cluster also puts the Ranger in a league of its own, design-wise. SYNC 3 on the 8" infotainment unit's also great.
Ford continues to lead its user-interface design. The leather used here's of decent quality too. The XLT+ also gets keyless entry and start.
When it comes to pick-ups, this is really where it ought to be. There is a focus and intimate understanding of the truck market here that some other manufacturers lack.
Value
It's RM125k. For a pick-up truck, this is a little on the high-end. At this price, you're fighting some of the mid-to-upper tier Japanese pick-up trucks. When you put these trucks side-by-side, the Ranger XLT+ has some advantages and some weaknesses.
The roadtax is much, much lower. Presumably, the smaller displacement and higher number of gears leads to better fuel consumption too. The infotainment and use of digital screens are also a big plus for the Ford.
Objectively speaking though, it's not the most powerful vehicle at this price point. That we can forgive, because it actually is plenty fast with the power it has. But it also only has 2 airbags, which is a bit of a let down. You don't even get front parking sensors, which I feel are essential on a pick-up.
Another slightly negative point here is that the XLT+ goes up against top spec cars. So, what a Japanese brand may offer is sometimes dressed up and made to feel like the best pick-up in the brand's stack. The XLT+ has to deal with the fact that it's not even the best pick-up that Ford sells. There are not one, not two, but THREE other Rangers that are objectively better and more premium than the XLT+.
But this is a subjective complaints. I personally feel that the Ranger XLT+ is the best value-for-money Ranger you can buy today. The Wildtrak and Raptor models do add value in their own way, but you're getting a Panther engine, a 10-speed gearbox, 4 wheel drive, leather seats, and the essential Ranger experience for a LOT less money.