Automotive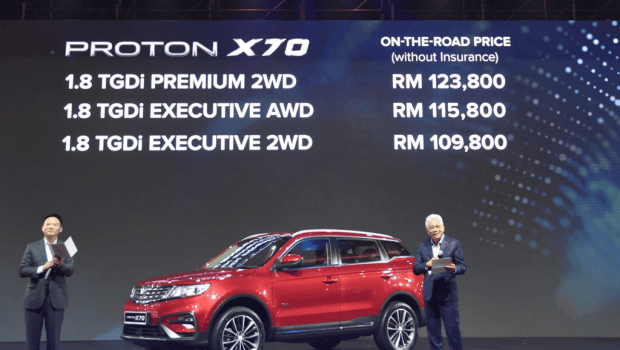 Published on December 13th, 2018 | by Subhash Nair
0
Proton X70 Now Available Across Malaysia in 4 Variants
Proton's new SUV, the X70 was launched last night in KLCC with our Prime Minister Tun Dr. Mahathir officiating the event.
Full details of the flagship SUV were also revealed at the event including the selling price, service, financing and warranty packages.
There are four variants on offer: Standard 2WD, Executive 2WD, Executive AWD, and Premium 2WD. All models come with Geely's 1.8 turbocharged gasoline direct injection engine and are paired to a 6-speed conventional automatic.
To prepare for its introduction, PROTON's dealer and aftersales network was made ready for the arrival of the Proton X70. Training activities for sales and service staff and the launch of the inaugural PROTON After Sales Service Competition (PASSC) were part of efforts to ensure everyone had sufficient knowledge of the new vehicle.
The Company also embarked on an ambitious network expansion plan by inviting new investors to start PROTON outlets and offering generous incentives for existing dealers to upgrade their facilities to 3S and 4S centres. To date 115 plans for such centres have been approved with 71 already launched thus far this year.
Special packages and one price for all Malaysians
To enhance the ownership experience of the Proton X70, special value-added packages were announced at the launch event. Defined as Xtra packages, they affect four distinct areas. The Xtra Service Package offers free parts and labour for the first service as well as free labour for five scheduled service appointments within 100,000km or five years.
Next, there is the Xtra Low Financing Package, offering low interest rates that start from 2.34% p.a. for qualified buyers.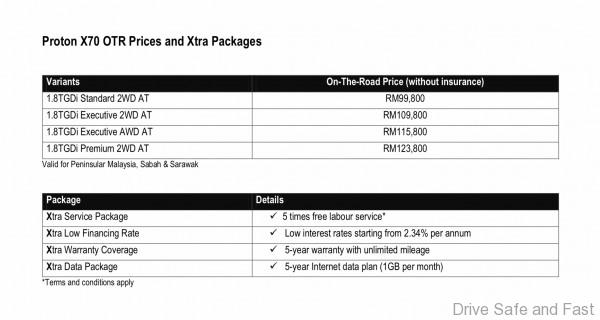 PROTON will be the first national automotive brand to offer an unlimited mileage warranty as the Xtra Warranty Coverage Package will cover the Proton X70 for up to five years regardless of mileage. Finally, to ensure owners enjoy a premium connectivity experience the Xtra Data Package offers free internet data for five years (capped at 1GB per month).
What's really notable here is that the pricing is the same whether you're buying it in Peninsular Malaysia or East Malaysia.