Cars
Published on January 8th, 2019 | by Subhash Nair
0
Mercedes-Benz C300 AMG-Line Review: I Have a New Favourite C-Class
Our review of the facelifted W205 C-Class in C300 form.
Boy have we had our fill of the W205 C-Class. This year alone, we got a go in the ludicrously fast and loud C63, then we took the almost-perfect C43 out for a spin. And to wrap things up at the end of 2018 we had a taste of the facelifted C300 AMG Line. As exciting as the pure AMG cars were, we have to say the C300 ended up being our favourite of the W205 stack so far.
So in this review, we'll be doing a couple of things: describing some of the changes that the facelift brings and why this particular variant is our favourite so far.
Stately but Dynamic Looking
Starting with the outside bumpers are new, but not drastically redesigned. At the front, the clearest change comes in the form of the diamond pin grille.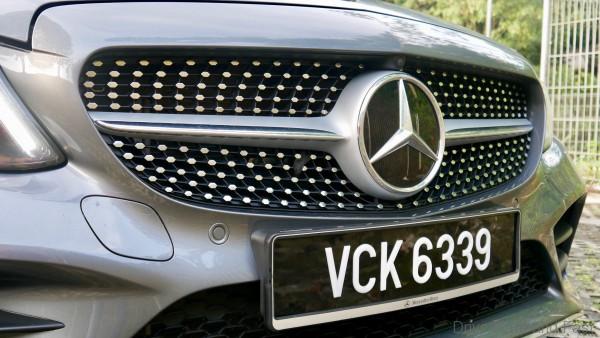 The new 84-diode MULTIBEAM LED headlights look very sophisticated up close and they put on quite the light show. But it's a shame that these intricate and high-tech adaptive headlights don't quite look as interesting and futuristic as the LED reflectors on the C200. The MULTIBEAM headlights probably cost a small fortune to replace too. Check with your dealer or insurer if this is a concern.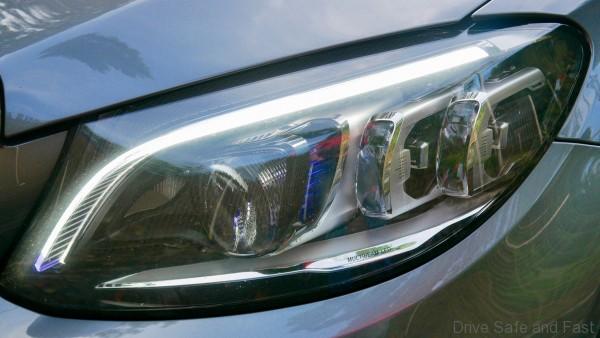 The tail lights are another obvious way to tell this facelift model apart from the original W205 C-Class. The general shape of the cutout for the assembly looks unchanged, but the internal layout has been completely redesigned. Plainly speaking, it now features a loose 'C' shaped graphic. There's a little more chrome bridge the two fake exhaust exits too.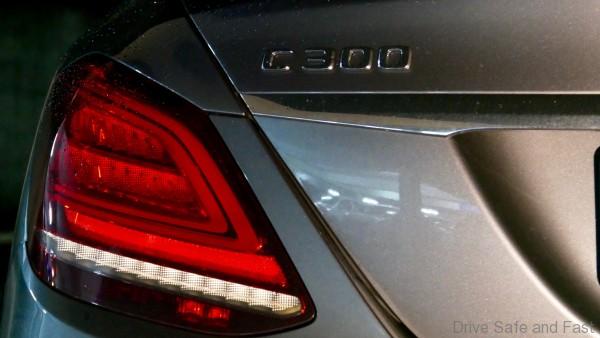 The C300 comes with the AMG-Line bodykit. This takes some of the grace away from the W205's clean lines but the splash of dynamism is something many buyers demand when spending this kind of money. And without the red accents found on the C43, the C300 comes across as a more mature looking almost-sports sedan.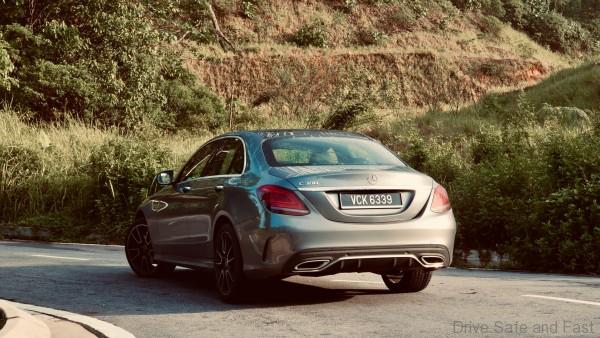 Tweaks Where They're Needed Inside
When Mercedes first showed this cabin design language on their W222 S-Class, people were blown away. About 2 dozen car launches later, it doesn't inspire the same kind of awe it used to. As stunning as it once was, this interior is not space-efficient. Yes, the C-Class is a compact executive, but neither the Audi A4 nor the ageing BMW 3-Series (F30) feel this constricting. I found my legs rubbing up against plastics, my feet resting precariously on sloped surfaces and elbows tucked in like I was on a crowded train.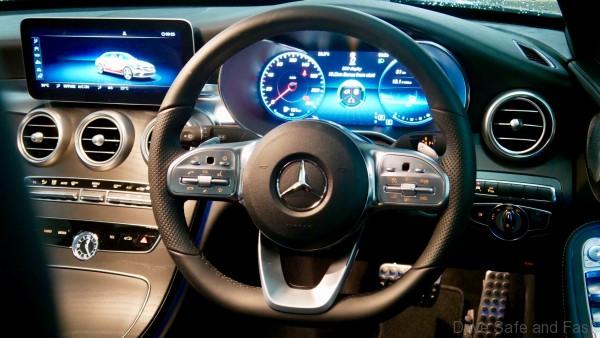 That being said, the digital changes in this facelift model are definitely positive. The C-Class finally gets a large high-res 10.25" central display and 12.3" digital instrument cluster. These give it a sense of modernity that was clearly missing in the previous car. Apple CarPlay and Android Auto integration come as standard.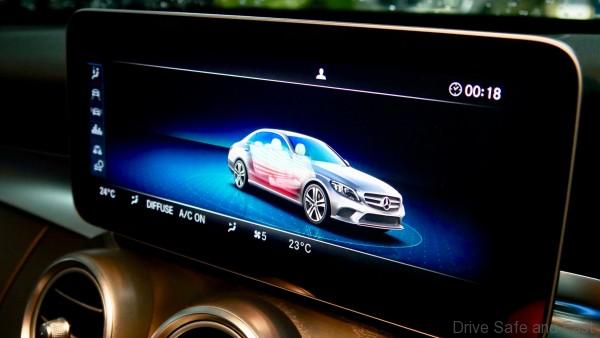 Worth noting is the new steering wheel. It's flat-bottomed on the C300 AMG-Line and features a new button layout. There are now scroll wheels, capacitive scroll pads and clicky buttons to control infotainment, cruise control, and the digital instrument cluster's many functions.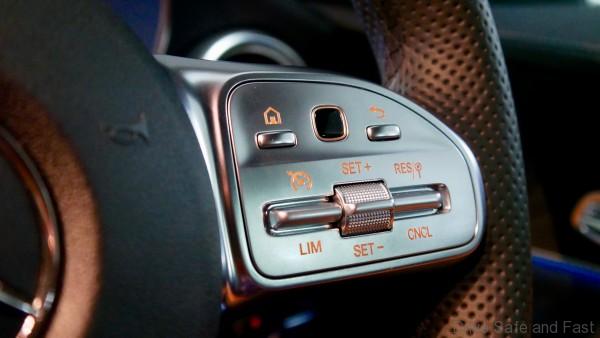 Being a modern Benz, you can play around and customise the interior a little. The instrument cluster, for instance, comes in 3 themes. The ambient lighting too can be customised to your favourite hue.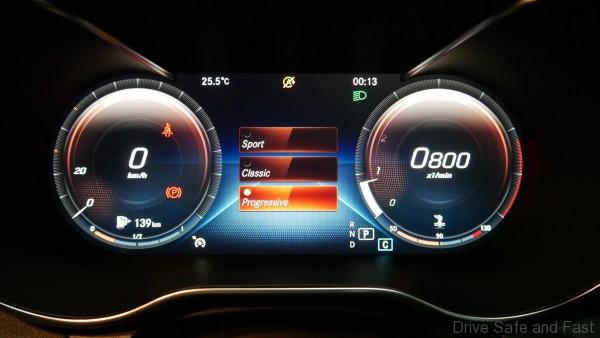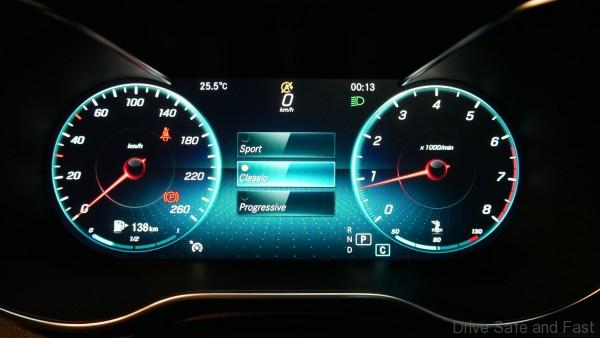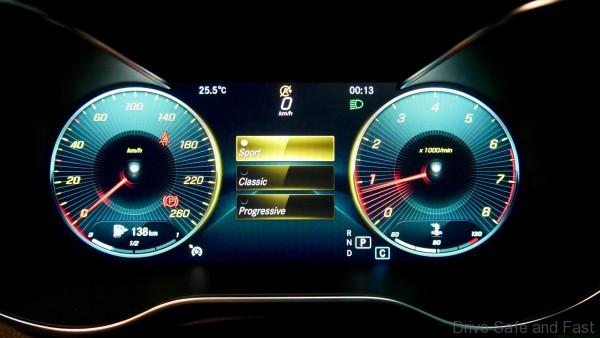 At the showroom, you can also select one of three interior finishes with the C300. Our test unit came with the safe 'black-on-black' leather against open bore black ash wood trim. If you're a little more adventurous, there are brown-on-black and red-on-black leather options too.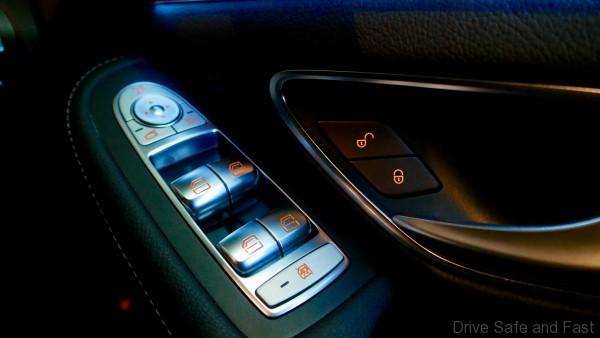 That New Engine Hits Some High Notes
At the heart of the new C300 is the M264 2-litre engine. Turbocharged, direct injection 4-cylinder as you'd expect. You would expect it to also be very efficient and powerful, and that it is. But what you don't expect is for it to sound good and let me tell you this motor sounds delightful. I had to check if this was piped in through a speaker, but even with the windows down what I heard was delightful. And if you can't tell the difference even when you're looking for a difference, does it matter?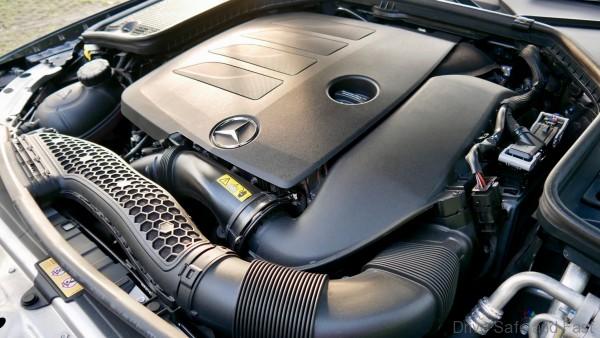 The transmission here's a 9G-TRONIC. What that means is that it's a conventional automatic gearbox designed and made in-house by Daimler themselves. Yes, 9-speeds is a bit excessive, but the engine makes good use of every ratio. You even get the whole 'Gliding Mode' feature, which disengages the gearbox from the engine when you're coasting. This was a dangerous trick back when manual transmissions were the norm, but the computers on this gearbox have taken any danger out of the equation. Any throttle of brake input from the driver and the gearbox is reconnected in an instance.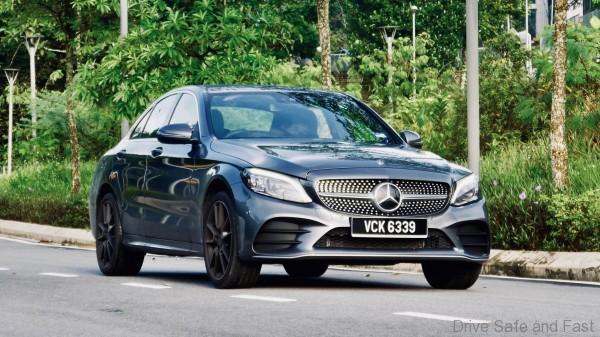 So, in terms of performance, is it anywhere near the C43? Honestly, no. The C43's way more capable, more visceral. But for more than RM100,000 less, what you lose in performance is made up in other places. 0-100km/h in less than 6 seconds is still respectable performance and, well, there are other considerations when it comes to owning a 4-door sedan meant for daily driving.
Let me put it this way: I took the C43 from Johor Bahru to Kuala Lumpur at 110km/h the whole way to appease YB Anthony Loke. I felt the opportunity cost of not gunning it. I felt like I had wasted the opportunity to speed. Had I done a similar journey in the C300, I would be totally ok with myself. Breaking the law is not OK. Buy a C300 and avoid the temptation.
The Daily Driver: Efficiency and Comfort
Power and handling are important when you want to let loose, but 80% of the time you just want to sink into something comfortable. Let's face it, 80% of the time the roads are either too crowded or too poorly surfaced to do anything fun. It's a good thing the C300 comes with Airmatic suspension. The ride comfort in here is exemplary for a car of this size. I think this aspect ALONE is enough to persuade me that the C300's a better buy than the C43.
I'll give you a real-world scenario to consider. I took my parents to the new Paradigm Mall in Johor. The speed humps in that mall's carpark are a little unforgiving. I had to INCH my way over those bumps in the C43 and it still was extremely uncomfortable for them. I don't think hurting your loved ones for the sake of dynamism is the Malaysian way. At least not for those in the market for 4-door sedans. The C300's suspension is superior. Full stop.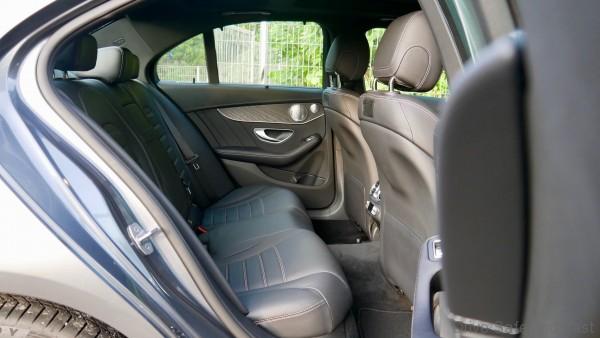 Don't get me wrong. An 'AMG' C-Class at RM400,000 sounds too good to be true. But as convincing as the C43 is as a product, I am not convinced of its lineage. We see clearly how Daimler transformed their 'Benz 400' cars into 'AMG 43' cars over the years. They did it in plain sight. Where's the magic?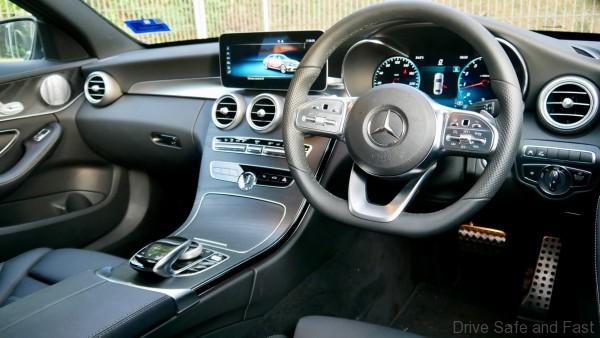 Conclusion
All-in-all, I think Mercedes-Benz Malaysia did a mighty fine job packaging the C300 AMG-Line as the go-to compact executive. Plenty of tech, plenty of performance, comfortable and rich enough in features to keep you happy. The only real worry now is how long this can last. As most are aware, BMW's G20 3-Series is around the corner.
We also have Mercedes-Benz's Pre-Owned system taking off in a big way. This will mean a flood of pre-facelift W205s becoming repackaged with warranties. For a similar-ish looking C-Class without the frills, many might be persuaded to save half their money and go there instead.
So, yes. C300 gets my two thumbs up as the best W205 C-Class yet. But those with cash in hand have options they ought to aware of.
Mercedes-Benz C300 AMG-Line Specifications
Engine: 2-litre, Inline 4, Turbocharged
Capacity: 1991cc
Gearbox: 9-speed Conventional Automatic
Max power: 258hp @ 5800rpm
Max torque: 370Nm @ 1800rpm
Top Speed: 250 km/h
0-100 km/h: 5.9 seconds
Price: RM304,888