Automotive
Published on February 26th, 2019 | by Daniel Sherman Fernandez
0
TECHART GTstreet RS Tune For The Porsche 911 Turbo Sport
This is the new TECHART GTstreet RS, which is a project based on the previous generation 911 Turbo S and will be available in only 10 units.
The front wings are made of carbon and some air intakes in the form of gills are made of carbon fiber. They dissipate the heat generated by the braking forces and reduce the aerodynamic climb of the front deck. Rear air intakes are also made of carbon fiber with forged design. The cover on the engine cover, as well as those on the side immediately after the door, serve to better air supply to the engine and to make air flows more efficiently through intercoolers.
The active rear spoiler provides a higher thrust on the rear axle. In Performance mode, the item expands and adjusts to 15 degrees. The side windows and the rear window are made of Corning Gorilla Glass.
The interior design of the Club Sport is characterized by: the new sports steering wheel and 12-hour marker, the sports seats, the 6-point seat belts, the protective cage and the door opening handles are all made of a textile material.
Floor mats, dashboard, central tunnel, central console, sun visors, mountings and ceiling are covered with Alcantara. Door panels and seats are covered with a combination of leather, Alcantara and wool, with a typical GTstreet RS design. The use of "virgin wool" is a novelty in the sportscar workshop program. The natural material is extremely robust, easy to clean and is very good (non-flammable). Above all, high quality fabrics provide a unique tactile and visual effect.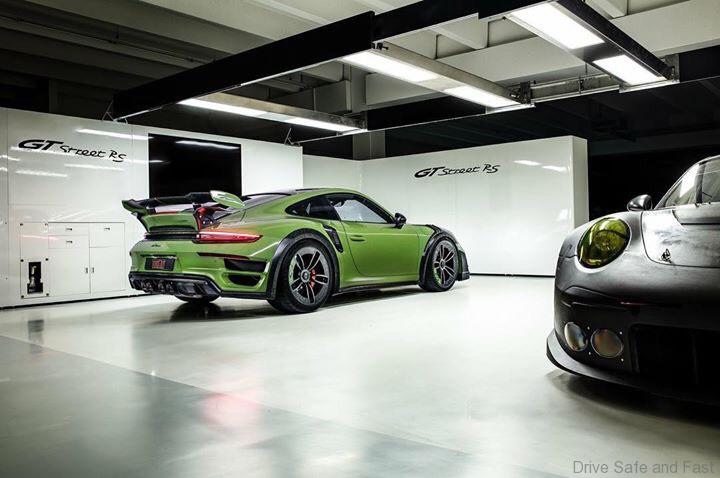 Like all materials, the interior parts are also painted personalized according to the wishes of each customer. These include, for example, the steering wheel switch, the deflectors and adjustments, the PDK lever and the surrounding area, and even electric seat adjustment controls. The GTstreet RS logo is visible on the central dashboard dashboard in custom color, door sills and engraved on sports pedals. A serial number badge certifies the authenticity and exclusivity of the machine.
The TECHART Powerkit TA 091 / T3.1 and tuning chip used delivers an increased power from 580 to 770hp and the maximum torque is increased from 750 to 920Nm.
The new dynamic features provides a 0-100 km/h time in just 2.5 seconds in Sport Plus mode and a 0-200 km/h time in 8.1 seconds in Sport Plus mode with an electronically limited maximum speed at 340 km/h. Limited to just 10 units, it might all be sold out while you are reading this.