Cars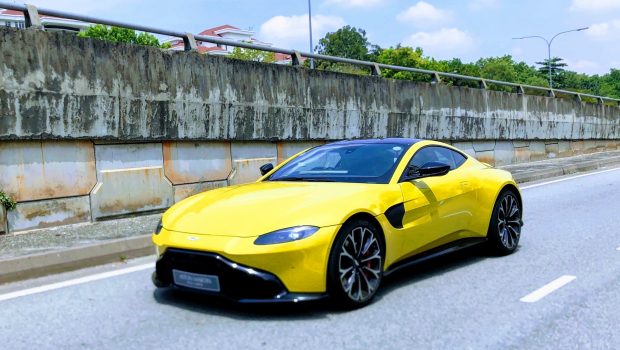 Published on June 28th, 2019 | by Daniel Sherman Fernandez
0
Aston Martin Vantage Test Drive Review

We will not call this a review and instead call this an 'experience'
It is not often that a super luxury car brand allows its multi-million ringgit cars to be test driven by a journalist. The reason is this. The super rich Malaysian does not spend his day looking at car news and reviews and instead spends time on his growing business or needy girlfriend. Yes, buyers in this segment buy what they want when they want it and it is not some advertisement or car review that tickles their senses to visit a showroom and buy.
They see, they like, they buy!
So, the Malaysian Aston Martin buyer is a unique car owner. He probably already owns at least 5 other cars. Has a passion for being different. Probably wears a tourbilion watch. Lives in a house that was designed by an architect that carries a name that is not used on their passport and buys all their clothes (including their underwear) overseas.
So, when we were invited to test drive the latest Vantage we were indeed keen on the experience and unlike others we did not wear a suit, jacket or tux and instead went in our t-shirt and sneakers. We wanted to be seen as an oddball millionaire who did not want to be seen driving a German supercar.
START
From the showroom, the experience was quite special. The yellow Vantage was sitting ready for us and from all angles looked better in person.
The Vantage name is not at all new. For seven decades the Vantage nameplate has been worn by some true icons. First used in 1951 on a high-output engine option for the DB2, Vantage was quickly established as a model in its own right. Highlights include the William Towns-designed V8 Vantage, spectacular twin-supercharged V600 Le Mans and the much-loved V8 Vantage. Today this formidable sporting dynasty is poised to hit new heights with the introduction of the new Aston Martin Vantage.
A spectacular new Aston Martin sports car demands a bold and distinctive design language. Pure, sculptural forms create an athletic, predatory stance, while the minimal front and rear overhangs, muscular flanks and broad haunches express the agility and dynamism inherent within the car. New head and tail lights form dramatic new signatures giving the Vantage unmistakable road presence and contribute to a strong and individual identity within the growing Aston Martin model range.
Aerodynamic performance was central to the Vantage design concept: the front splitter directs airflow underneath the car, where a system of fences channels cooling air where it is needed, and also ensures the rear diffuser is fed with clean airflow. The design of the diffuser creates an area of low pressure air, while simultaneously preventing turbulence generated by the rear wheels from disrupting the flow of air exiting centrally from beneath the rear of the car.
Together with the new side gills, which have been integrated into the body surface and bleed air pressure out from the front wheel arches, and the pronounced upswept rear deck lid, the Vantage generates a significant level of downforce which is a rarity on any production car and a first for a core production Aston Martin model.
MIDDLE
The design story continues inside the Vantage, with a dynamic and focused sports car cockpit that rejects long, fluid curves in favour of sharp, focused lines denoting the more aggressive nature of the car. A high waist interior theme and lower driving position creates a more immersive driving experience, and contributes to significant gains in occupant space and significant improvement in headroom compared with the outgoing Vantage. A combination of rotary and toggle style controls have been used for their tactile and intuitive functionality. Likewise, the 'P-R-N-D' transmission buttons have been moved into a triangular formation so as to cluster major controls into clearly defined zones. The interior also offers generous stowage space, with useable room behind the seats and generous double-tier storage areas.
FORWARD
The heart of the Vantage is Aston Martin's potent new alloy, 4-litre twin-turbo V8 engine. Set low and as far back in the chassis as possible for optimal centre-of-gravity and perfect 50:50 weight distribution, this high performance, high efficiency engine develops 510PS at 6000rpm and 685Nm from 2000-5000rpm. With a dry weight of just 1530kg this gives the Vantage formidable power-to-weight and torque-to-weight ratios. If you need to know fuel consumption and road tax values, then you definitely cannot afford this car or any supercar.
As we drove it out of the city in traffic, it was an experience having all other road users looking at our Vantage. Even German made supercar drivers were taking admiring glances and even sneaking a peek under their thick sun shades.
We hit the highway and whenever the throttle was squeezed the V8 sang a tune and it gave this Vantage a truly intoxicating character and soundtrack. The Vantage deployed its impressive power and torque to the rear wheels via a rear-mounted ZF eight-speed automatic transmission which saw an acceleration time from 0 to 100km/h in just 3.5 seconds (as indicated by the brochure). The speed-dependent electric power steering has 2.4 turns lock-to-lock for an outstanding combination of responsiveness and precise, intuitive control.
REDUCTION
For the first time on an Aston Martin the new Vantage also features an Electronic Rear Differential (E-Diff). This differential is linked to the car's electronic stability control system, so it can understand the car's behaviour, and react accordingly to direct the engine's power to the relevant wheel. Unlike a conventional LSD, it can go from fully open to 100% locked in a matter of milliseconds. At higher speeds, the Electronic Differential's speed and sensitivity of response enables the system to take very fine control of the car's dynamic behaviour. It makes the car feel much more composed both in terms of its straight-line stability and its cornering performance, providing the driver with increased levels of confidence to explore and enjoy the car's capabilities to the full.
The chassis is an evolution of the latest generation bonded aluminium structure first seen on the DB11, though some 70 per cent of the structure's components are new for Vantage. Balance, strength, rigidity and weight efficiency were all priorities in the new Vantage design, as was handling purity and consistency. Highlights of the chassis include a solidly mounted rear subframe for an enhanced feeling of direct connection for the driver, new Pirelli P Zero tyres developed specifically for new Aston Martin Vantage and the latest generation Adaptive Damping System which incorporates Skyhook technology and offers the choice of Sport, Sport Plus and Track modes.
PRODUCTION
Thanks to full integration of engine, transmission, E-Diff, Dynamic Torque Vectoring, Dynamic Stability Control, Adaptive Damping and the electric power steering systems, each mode optimises every area of the car as one. With each step the Vantage gains in agility and responsiveness, its character becoming progressively sharper, more vocal and more exciting. This is the essence of the Vantage driving experience – a car that's never less than connected and engaging with the breadth of capability to revel in challenging roads and bare its teeth on track.
The Vantage features a high level of standard equipment, including keyless start/stop, tyre pressure monitoring system, parking distance display, park assist and front and rear parking sensors. The In-Car Entertainment system – controlled and viewed via a centrally mounted 8″ LCD screen – comprises of the Aston Martin Audio System, Bluetooth audio and phone streaming, iPod, iPhone and USB playback and an integrated satellite navigation system.
Being an Aston Martin, the new Vantage also features a high level of craftsmanship, evidenced by flawless paintwork, luxurious Alcantara and leather upholstery and the levels of finish optimised through the use of tactile natural materials of the highest quality. There is also extensive scope for personalisation via a generous choice of options. These include forged alloy wheels in a variety of finishes, Sports Plus Collection (comprising Sports Plus seats and Sports steering wheel), carbon fibre interior and exterior detailing and a Premium Audio System.
CHOICE
It is clear winner in a segment where price does not dictate desire. It is admiring glances and the 'arrive with style' attitude that only Aston Martin can deliver (this is why it is till the preferred ride by her Majesty's Secret Service people).
If we had the financial means and the decision to buy just one supercar for our garage. This would be it. Why? Because owning a supercar in Malaysia is all about being noticed and driving a precision built machine that extends the character that you want to portray to the rest of the world.
Aston Martin Vantage Specifications:
Engine: V8 twin-turbo
Transmission: 8-speed semi-automatic
Displacement: 4735cc
Power: 503hp @ 6,600 rpm
Torque: 685Nm @ 2,050 -5,000 rpm
0-100km/h: 3.5 seconds
Top Speed; 195mph
Selling Price: If you need to ask then you cannot afford it