Cars
Published on June 27th, 2019 | by Subhash Nair
0
Why the Peugeot 5008's Design Stands Out
If you watched out first impressions video of the Peugeot 5008, you'll know that we were impressed with its design. We thought we'd dedicate a bit of time to analyse what exactly it does well from this perspective.
The 5008 isn't a model with a very rich heritage. It was launched just one generation ago as a 7-seater MPV and got its Malaysian launch in 2010. Even though it had a completely different body style, it was still considered one of the best looking in its segment.
Now in its 2nd generation, the 5008 has been reimagined as a 7-seater SUV. That means it's now fighting off competition from Kia, Hyundai, and Nissan. And while these Asian alternatives have price and package advantages, there's no running away from the Peugeot's clear design strengths.
It's in the Eyes
BMW's next generation 3-Series model should be in Malaysia this year. The 'G20' model will bring a huge shift in design for the company. But if you zoom into that headlight, what you'll note is a similar headlight design. A character line from front bumper juts up into the headlight unit. Peugeot is more 'mass market' than 'premium', but it was able to leapfrog even BMW on this one trend.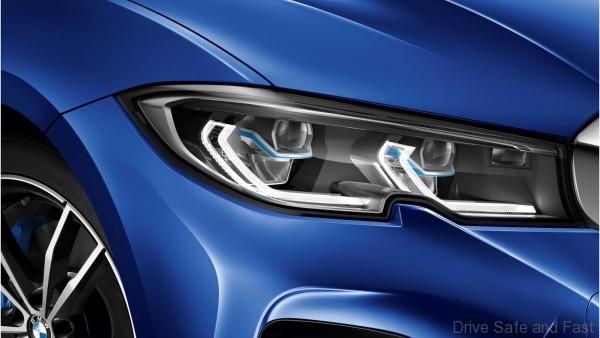 Crossover Elements
Many will call the 5008 an SUV, but to me it's more of an MPV crossover. Take a look at this side profile photo of the 5008. Pay attention to the chrome strip along the top and the black plastic cladding on the bottom.
Guiding Line
The chrome strip forms a line that shows the silhouette of an SUV. Note in particular the angle of the rear window. In the 5008, the D-pillar and rear window are actually very vertical, but the chrome strip 'guides' your eyes to see an SUV.
The Appearance of Ruggedness
On the bottom, the black plastic cladding is meant to conjure up images of a rough-and-tumble SUV. These plastics are usually meant to protect an off-roader's paint and body from the elements. The 5008 is obviously not made for ANY form of off-roading, but has these elements present anyway.
Taller than it needs to be
Finally, note how high off of the ground the vehicle sits. The clearance between the wheel and the arches is particularly large. This too points to SUV styling. It is worth noting that very few crossover SUVs today have any sort of off-road capability. What's noteworthy about the 5008 is that its core elements are more MPV than hatchback in nature. Very few cars have made a success out of a shape like this. Mercedes-Benz tried the R-Class out but that one didn't do too well.
i-Cockpit
By now, most have become familiar with Peugeot's i-Cockpit. The new 5008 has the latest iteration of this interior. Unlike many other cabin design themes, the differences in an i-Cockpit are substantial enough to be seen and felt by any driver. Almost every car manufacturer uses electronic power steering. While most apply the system to a conventional layout, Peugeot have moved things around to see what results they can get.
Steering size and shape
The first thing you'll note is the size of the steering. It's much smaller than your average wheel. The smaller wheel makes manoeuvring the large 5008 much easier than one might expect. It's also got a flat top to go with its flat bottom. This makes it easier to look over the wheel at the instrument cluster. It's also less obtrusive and doesn't get in the way of your thighs when making quick corners.
Digital Instrument Cluster
Many cars have digital elements to their instrument clusters nowadays. But the Peugeot 5008's removes every single non-digital element. The real beauty of it though is its placement above the steering wheel. Instead of looking through the gaps in the steering wheel, you look over the wheel directly at it. It's a much more natural layout, if you ask me.
Gear selector
Just a quick note here. The selector here too embraces its shift-by-wire technology. Instead of sticking to the mechanical, natural movements of a regular automatic, the shifter uses limited forward and back rocking movements. It's a bit BMW-esque in its approach, but Peugeot do not give the selector a tip tronic function. Instead, paddle shifters must be used to manually sift through gears.
Interesting materials
Most of us are tired of metal and wood trim finishing. Peugeot's 5008 features fabric trim instead. It's an interesting material choice to use on a dashboard, but the way they've shaped it makes it even more special.