Cars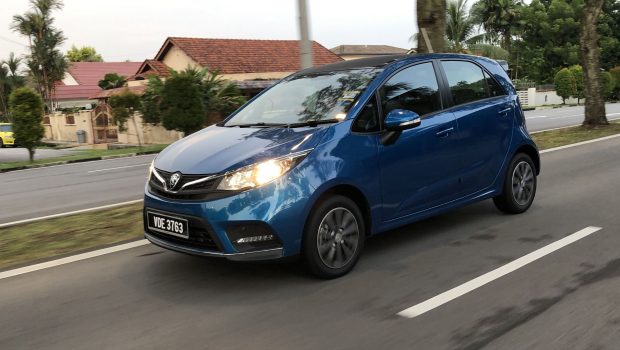 Published on August 7th, 2019 | by Daniel Sherman Fernandez
4
Proton Iriz 2019 facelift test drive review
Has this Proton Iriz got what it takes to challenge the segment 'king'?
From its inception in the days prior to Geely's involvement, the Proton Iriz was pitched to Malaysians as an affordable urban runabout that is small on the outside and big on the inside. It was an exceedingly simple formula, yet one that has proved rather un-successful due to success of its nearest rival, the Perodua Myvi.
Well, April 2019 the stage was set for the arrival of the revised Iriz under the watchful eye of Geely. It made enough 'noise' at its launch with the attending media and dealers all looking rather satisfied and very much taken with Geely's engineering and technical input.
Priced at RM50,700 this Iriz is now RM8,100 cheaper than the first Iriz. This saving comes with added features and technology which will make a lot of previous owners unhappy. But…that is life.
Exterior?
Taking an already decent design, Geely designers redesigned it with small touches. They gave the Iriz are more noticeable interpretation of the Ethereal Bow front grille that debuted on the Proton X70. New front and rear bumpers, a black rear garnish, new alloy wheel design as well as a shark fin antenna means the Iriz stands out in a carpark.
Interior?
New seat material and the must have entertainment and voice activated features first seen in the Proton X70 SUV was added in. Front and rear passengers enjoy exceptional head room, and even with the front seats pushed all the way back, there is enough space for the rear-seated passenger to cross his or her legs.
Connectivity?
Proton introduced first- in-class features set to revolutionize the market segment are included. Available only with the Premium 1.6 CVT variant, the system uses an embedded eSIM card to stay connected to the Internet. It also offers apps for music streaming, online navigation and voice recognition accessed via a 7-inch touchscreen featuring a full colour display and 16GB of internal memory. For added convenience, the system offers a mirroring function with Android smart phones.
Drive?
There is NO evidence to suggest a shoddy nip and tuck job. The previous Iriz suffered a little from its slow reacting auto gearbox and some road noise at speeds. Powering this Iriz is a 1.6L four-cylinder DOHC VVT petrol engine. In and around town its eager with spirited drive which is aided and the auto gearbox now is more willing and quicker in its response. The easy to drive nature of this Iriz always feels light and wieldy courtesy of its willing engine, tight turning circle and decent grip plus, of course, the all-seeing behind-the-wheel experience. Even at speed on major roads it feels stable and safely planted and long trips can be undertaken with no worries. When it comes to slowing down as opposed to accelerating the all-disc brakes are strong and reassuring. Here this revised Iriz, the high speed stability is satisfactory up to speeds as high as 150km/h and despite being noticeably firm, the suspension settles well after disturbances, indicative of excellent composure.
To Buy Or Not?
After just a few hours on the road with this Iriz you can notice the improvements made with dynamics and gearing and one starts to wonder who was in charge of this project prior to Geely's involvement. They say Proton has highly trained engineers and skilled workforce and still it took a foreign 'young' car brand to revamp this car to make it somewhat desirable….yes we will use the word desirable in comparison to the first generation Iriz which was was nowhere near 50% as good as the revised 2019 version. Was it engineering issues or vendor issues or corruption issues that hampered the delivery of a good car the first time around?
Share your thoughts with us after you test drive this revised Iriz yourself.
PROTON Iriz 1.6L Specifications
Engine: 1.6-litre DOHC VVT
Displacement: 1597cc
Transmission: CVT
Horsepower: 107bhp @ 5750rpm
Torque: 150Nm @ 4000rpm
Fuel Consumption: 8.2 L/100km/h
Top Speed: 170km/h as tested
0-100km/h: 11.1 seconds
Price: RM50,700.00