TechTalk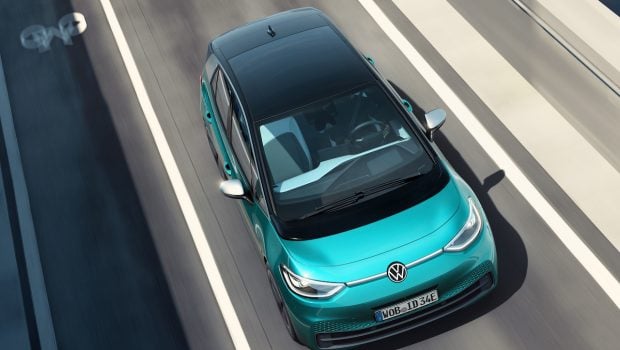 Published on September 10th, 2019 | by Daniel Sherman Fernandez
0
Volkswagen ID.3 unveiled with power details
The Volkswagen ID.3 marks the beginning of a new, dynamic era in the world of e-mobility. Electrifying performance meets groundbreaking design and practical range.
The ID.3 made its debut ahead of the IAA International Motor Show in Frankfurt which is an important milestone for the Volkswagen brand in the wake of the diesel emissions cheating scandal that erupted in September 2015 and even the most recent 2019 emission fine issues in America.
Now, four years later, VW is starting to show more than just concept vehicles for its newly imagined electric, connected and carbon-neutral brand.
Inside features
Inside the ID.3, owner will find a 10-inch touch display. A feature called ID. Light will display an LED strip during navigation that can signal drivers to take actions, such as prompting them to brake.
Intelligent lighting concept
ID.Light communicates with you visually and makes it easier for you to navigate through traffic, together with the optional navigation system. It uses a light and flashing direction indicator to recommend you change lanes. It can also warn you and help you navigate your way out of the situation if you find yourself in the wrong lane. If you use voice control, a light signal will respond to your voice. When you leave your ID.3, the ID.Light says goodbye – with a smart light signal.
VW is also offering an optional augmented reality head-up display that will project relevant information directly onto the windshield. All controls are operated using touch functions featuring touch-sensitive buttons. Only the electric windows and hazard warning lights are still operated using tactile switches

Strong performance. Fast charging
Travelling to work in the morning, dropping the kids off at school on the way and coming home at night – you should be able to take care of this with just one charge.
Each of the three potential battery sizes for the ID.3 can handle this no problem. You can choose between 45 kWh, 58 kWh or 77 kWh. And that's not all: the medium battery can recharge a range of up to approx. 260 miles in 30 mins, in quick charge mode with DC (direct current) with 100 kW performance. And with the biggest battery (77 kWh, net), you can travel up to 340 miles on full charge.
Selling Price
This all electric VW Golf sized family hatchback will retail for about US44,200 which is about RM184,424.00 before taxes, shipping and AP costs.