Motorsports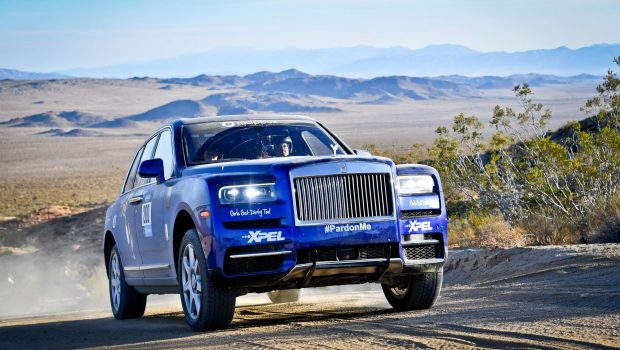 Published on November 5th, 2019 | by Amirul Mukminin
0
Rolls-Royce Cullinan Emerges as Champion of 2019 Rebelle Rally
Driver, Emme Hall and navigator, Rebecca Donaghe recently took top honours in the Crossover Class at the 2019 Rebelle Rally. The pair set a record by becoming back-to-back champions of the premier off-road rally that covers 2,300 km of desert in California.
Facing a gruelling eight-day challenge head on, the team succeeded with grace and strength that truly reflects the spirit of adventure shared with their ride, a Bespoke Rolls-Royce Cullinan.
"By taking this epic experience in the Rebelle Rally and doing it in a way that is even more epic, was a complete honor and privilege," exclaim Rebecca Donaghe and Emme Hall as they finished each other's sentences at the finish line.
"The idea that we could do something that people may have thought was absolutely wild and come out on the top was a greater challenge and one we were excited to accept. The Cullinan became like a third teammate to us and will forever be in our hearts as a fierce competitor."
Over the eight-day journey, the team spent more than 80 hours in the Bespoke leather seats, navigating and traversing mountains, valleys, salt flats and treacherous desert sand dunes.
"I'm proud to be associated with these talented and wonderful ladies," said Martin Fritsches, President and CEO of Rolls-Royce Motor Cars Americas. "They competed the way we build each Rolls-Royce Motor Commission, with precision, power and grace. This performance sets aside any questions about the capabilities of Cullinan in the real world."
Entering its fourth year, the Rebelle Rally is the first all-female off-road navigational rally in the United States. The event has a unique challenge and scoring system where precise navigation and timing, not speed, is the ultimate goal.
Participants trade in cell phones and GPS for 'old-school navigation' in a competition against the elements of time, distance, headings, and hidden checkpoints.
Armed only with maps, compasses, and roadbooks, 50 teams of two were pushed to their limits as they made their way across 2,300 kilometers of Nevada and California's iconic terrain.
The Cullinan performed without any issues, although the rocks and paths of the California mountains did take a toll on their tyres, forcing the team to complete the final two days without either of their two original spares.