Cars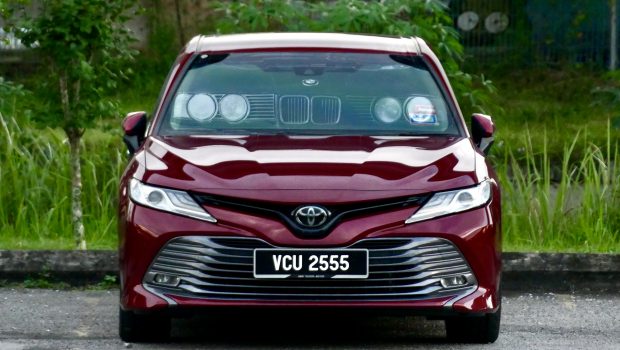 Published on January 24th, 2020 | by Subhash Nair
0
Driving This New Camry Reminded Me of My Old BMW E34
I waited nearly a year to drive the new Camry. Daniel got his hands on it and wrote a review last year, and the car was booked up whenever my schedule was open. But just last week an opportunity to test drive the car opened up for me and I was genuinely drawn to its character. It took about 3 days of driving to figure out, but I think I know why: it drove a lot like my 1994 BMW 525i Auto. This might be an unpopular opinion, but this feeling I got was confirmed by two of my Autophiles colleagues, Bo and Howie.
Let me explain.
In many ways, the 1994 BMW 525i (E34) and the 2019 Toyota Camry (XV70) couldn't be more different. Not only are the two cars separated by 30 years of safety, emissions, efficiency, convenience and other technological advances, but there's also fact that one's rear-wheel driven with a 6-cylinder and the other's front-wheel drive with a 4-cylinder.
That's not the point. The point is that there's a similarity in the way both cars perform.
Throttle pedal feel and layout
The Camry has been using a drive-by-wire system for generations, but it has not (to my knowledge) featured a floor-hinged throttle pedal before. In this latest generation model, not only is the throttle pedal floor-mounted but its 'weight' or 'tension' is pretty high. Premium European makes (and Mazda) have been deploying this layout for years. I actually think top-hinged pedals are easier to operate in urban driving conditions, but floor-mounted pedals seem to be more sensitive to inputs. In other words, it's easier to ask for a specific amount of power on the new Camry than it was before.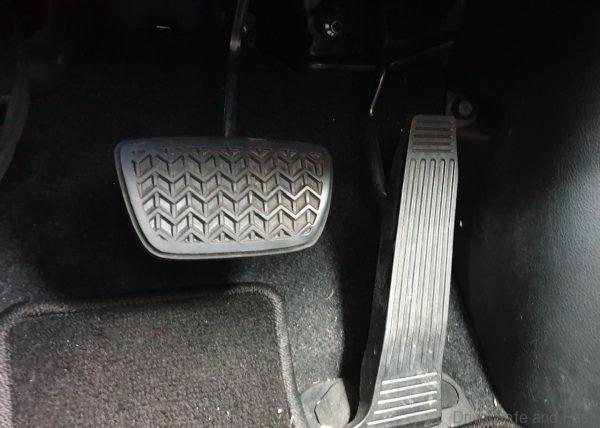 Just like in the E34, the pedal weight is really quite heavy. This has two consequences. Firstly, when driving passively, with the toes near the bottom of the pedal, you're less likely to depress the pedal too far. You can naturally rest the weight of your foot on the pedal's lower half and the pedal will have enough tension to only go down just the right amount instead of flattening under pressure.
Secondly, when driving the Camry hard above 100km/h, it's far easier to ask the engine for a specific amount of output. This is important because safe and fuel-efficient overtaking manoeuvres require specific amounts of power. You don't want to have the throttle wide open just to pass a car that's going very slightly slower than you are. By moving the foot in a more upright position and with the toes near the top of the pedal, the whole thing 'lightens up', as the fulcrum of the pedal is now much further away from where the force is being applied.
Large-ish engine, lazy automatic
Admittedly, the M50B25TU engine in the BMW 525i was a much livelier motor than the 2AR-FE in the Camry 2.5V. It was slightly more biased towards performance, had 6 cylinders and VANOS, but my argument really only applies to the character of the whole thing when paired to an automatic gearbox.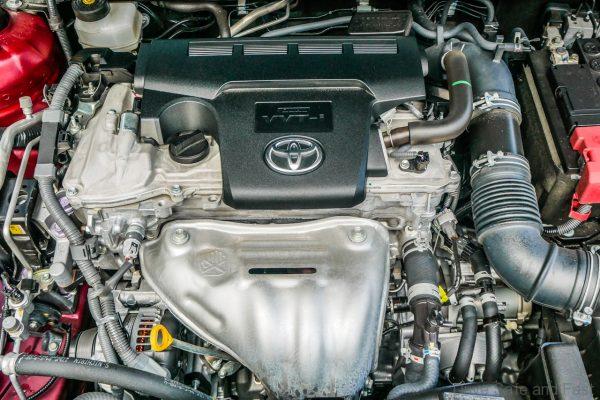 Just like the 6-speed automatic in the Toyota, the 4-speed automatic in the 525i was a laid back, slow shifter. As a result, both cars are not eager tend to not want to be 'woken up' from their fuel efficient states. I drove the new Passat with a 2-litre turbo right after the Camry and found it so much livelier. The problem was that the car was ALWAYS lively. Its natural state is play, and that can get exhausting quickly.
Even the Mazda CX-8 that we're driving now feels more alive than the Camry, and that thing has a 2.5L naturally aspirated engine and 6-speed automatic, bit like the Camry on paper. So it's apparent to me that Toyota intentionally gave the Camry a more old-school character.
Of course it doesn't sound or rev as awesome as the M50 in the 525i, but the way it wakes up and gathers speed is certainly similar.
Tuned for High Cruising Speeds
Another parallel I drew was in how the cars felt over bumps and around bends at different speeds. Both of these cars have heavier steerings that require some effort to rotate at lower speeds. The way Honda, Mazda, Volkswagen and a lot of modern cars in general tune their electric power steering systems is to absolutely lighten things to the point of 'one-finger-steering' even in two tonne vehicles.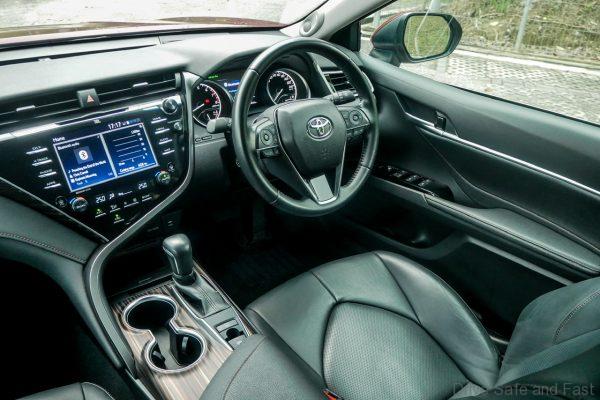 I suppose this gives customers a good first impression when they first head out for a test drive. And it does add value for those who want to spend as little effort and energy as possible behind the wheel. But the Camry emulates a more archaic steering feel. I personally appreciate this feel, as it doesn't 'tighten up' artificially as the car speeds up. It makes the electronic elements in the Camry feel more mechanical and the entire drive feels less like a video game and more like an actual experience.
Just like the E34, the Camry's tougher tuning makes the car REALLY come alive when you start going at illegal speeds. We wouldn't ever encourage this, but yes, this car feels planted and confident at higher cruiser speeds. The TNGA platform and their suspension tuning is spot on as well. It's absorbent enough for the vehicle to absorb bumps and imperfections at city speeds, yet firm enough to keep this behemoth relatively flat through fast corners.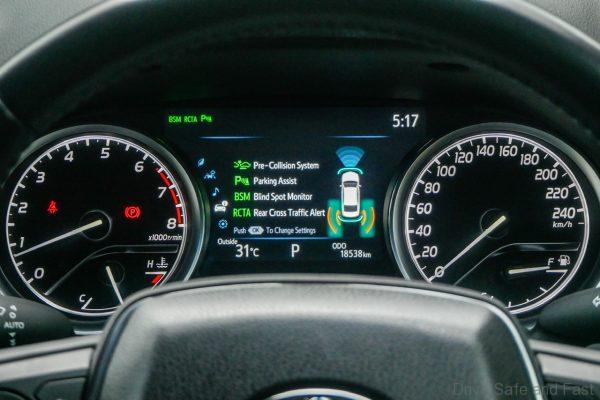 And just like the E34 525i, the Camry's driving characteristics are not for everyone. I certainly appreciated its driving qualities, but to a large extent, the world has moved on. Today, immediate torque is just a toe's length away in most vehicles and most drivers don't want to have to work at building speed. I completely understand this, driving is a chore to some. But if you like the way good, large sedans used to drive, I think the current Camry is the only car in its class that can deliver. And with so much pressure to bring in a smaller engine, or a turbocharged engine or a hybrid powertrain, the Camry 2.5V may well be the last of its kind.
Toyota Camry 2.5V Specification
Engine: DOHC 16V Dual VVT-I with ACIS
Capacity: 2494cc
Max power: 184bhp @ 6000rpm
Max torque: 235Nm @ 4100rpm
Transmission: 6-speed Super ECT
Price: RM196,800.00