Automotive
Published on January 2nd, 2020 | by Subhash Nair
0
Here's What 2019 Imported Cars Cost Before Taxes in Malaysia
Just a couple of days ago, we realised that new pre-tax CBU car prices were being published by the Federal Government. Since Pakatan Harapan took over, they'd published prices like these twice before, once in February 2019 and once more in October 2019.
There are literally hundreds of entries, so we've left links at the bottom that will lead you to the actual lists published. We're also working on tabulating the data and finding some meaningful information from the numbers.
We're also unclear if the import taxes and duties have been updated since 2006, but assuming MITI's website is kept up to date, these should be the rates: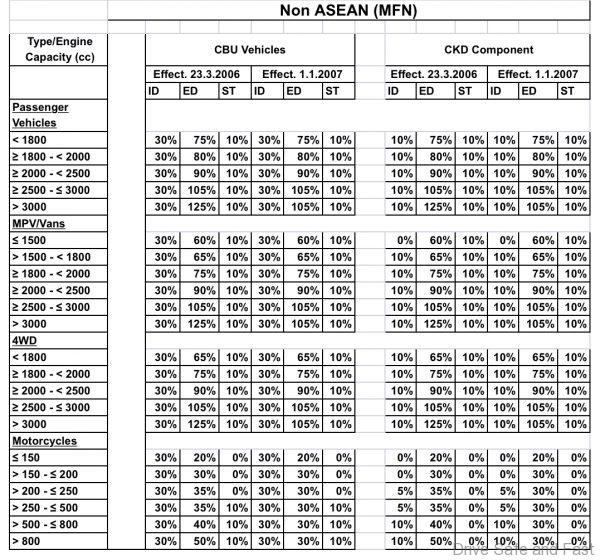 Prices Here:
P.U. (B) 80/2019 – Published on 19 February 2019
P.U. (B) 497/2019 – Published on 16 October 2019
P.U. (B) 644/2019 – Published on 24 December 2019
P.U. (B) 646/2019 – Published on 24 December 2019
P.U. (B) 648/2019 – Published on 24 December 2019
For 2020 the imported car industry prospects are very good as the demand for luxury vehicles as well as luxury items in Malaysia will be on the up trend and even with a possible market slowdown it is expected not to affect the luxury goods and services segment.
For luxury car brands, further market penetration is a very real possibility and with a high likelihood of them taking away some of the market share currently enjoyed by current market leaders if the correct amount of effort is put into branding and gaining market exposure.
Watch for the revival of certain car brands in the Malaysian market starting with the iconic American brand, Jeep. A new sales distributor has been appointed and shiny new models like the popular Wrangler will arrive. Jeep will return with excitement and we will also see 'another' revival of Suzuki cars in Malaysia which will start with the sales of their globally popular all new Jimmy compact 4×4 and their all new Swift hot hatchback very soon.
Some brands will face tough times with dwindling sales due to old technology and only facelifts and others will suffer from the currency crisis which will seep into our automotive market.  Will car prices come down? Well we think no, but some brands will take the extra effort to include more technology and features to stimulate interests and keep buyers coming into their showrooms despite having to pay more for new cars, whether local assembled or fully imported, it is all going up.