Automotive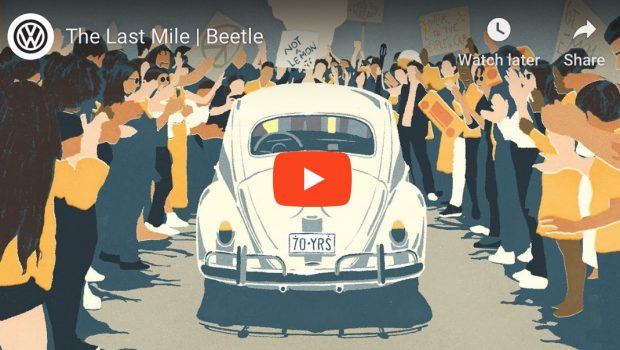 Published on January 1st, 2020 | by Subhash Nair
0
Volkswagen USA Says Goodbye to the Beetle With Animated Video
The Volkswagen Beetle name finally stopped being used to sell new cars in 2019, and the company has seen fit to give it an emotional send off with this animated video.
As emotional as it is, it's also a little strange that the video features the original Volkswagen Beetle, the Type 1. None of its successors, the New Beetle and the Beetle (A5), make an appearance. Which is odd because the Type 1 went out of production nearly 17 years ago in 2003.
I get it, this is video's about saying goodbye to an iconic and much loved nameplate, but it's confusing that Volkswagen simultaneously recognises that the Beetle name is important and that the last two Beetles aren't seen as canon to many enthusiasts. It's also infuriating that they couldn't just leave the video on an appropriate emotional note and instead had to shove a little ad in for their next generation I.D. model.
Anyway, it's still well put together, and you can read a press release about how it was put together below.
PRESS RELEASE
Animated short film "The Last Mile" pays homage to Beetle fans past and present, hints at electrified future with ID. vehicles
New VW logo, new brand design elements and 2020 Atlas Cross Sport to adorn New York City's Times Square during New Year's Eve ball drop
Herndon, VA — A year after officially announcing the end of its production, Volkswagen has produced a final tribute to the iconic Beetle for auld lang syne. Taking the celebration of life to the world stage, the "people's car" will be honored in an animated short film titled "The Last Mile", to debut during 'Dick Clark's New Year's Rockin' Eve with Ryan Seacrest 2020' on ABC.
Produced with the Johannes Leonardo agency, the animated film details the story of a boy whose major life events—from childhood to elderly age—are shaped and influenced by the presence of a Volkswagen Beetle. Fans of the classic bodied car may recognize details of past advertising campaigns as well as pop culture references such as cameos from Kevin Bacon's character in Footloose and artist Andy Warhol. A rendition of "Let it Be", performed by the Pro Musica Youth Chorus serves as the soundtrack of the animation. The film ends with a not-so-subtle wink and nod to Volkswagen's electrified future.
"The Beetle is easily one of the most recognizable cars in the history of automobiles," said Saad Chehab, senior vice president, VW brand marketing. "Honoring it properly required a medium with just as much versatility and universal appeal as the car itself. While we chose the classic Beetle as the star of the animation, additional campaign components in Times Square honor the latter two generations of cars and their place and presence in American culture. We are proud of our past but our eye is on the future – hence our choice of New Year's Eve to hint at our upcoming long-range EV and the 2020 Atlas Cross Sport."
Complementing the film's debut during New Year's Eve festivities, Volkswagen will adorn New York City's Times Square with a celebration of films, messages, and hints at its future brand design, including a more modern Volkswagen logo. Utilizing multiple billboards and digital spaces, the future of the brand's Drive Bigger messaging and images of the 2020 Atlas Cross Sport will be on full display as the clock ticks down to the new year. A social media campaign, focusing largely on fan-sourced content, will also play out on @VW social media channels.