Cars
Published on March 6th, 2020 | by Subhash Nair
0
Isuzu D-Max 1.9 AT-P Review: Mechanical Superiority
Pick-up trucks are tough to review. The general rule for most consumer goods is that the closer to item is to being utilitarian, the less the fluff will matter. And approaching a car review objectively is tough without getting bogged down in boring numbers. In fact, if you wanted numbers, you could just go to a comparison site and get your fill there. So, yes. Reviewing pick-up trucks are tough. But some pick-up trucks make things easy, and I think this facelifted Isuzu D-Max is one of them. (Head to our preview of the D-Max here for a more objective look at what's new). For now, let's start with the bad.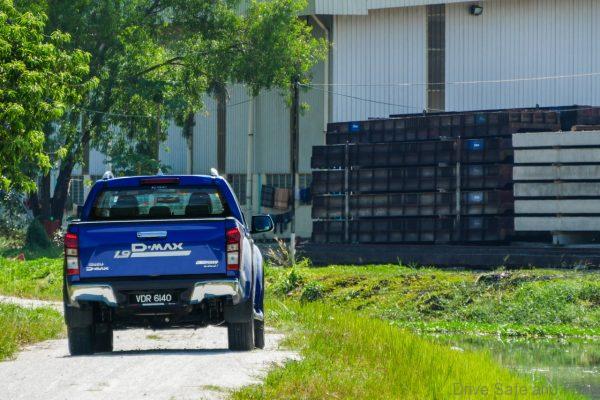 In case it wasn't already clear, this facelifted D-Max was already replaced with a new model in Thailand before being introduced to Malaysia. The official reason given by Isuzu was that they were still conducting tests on our palm oil-derived biodiesel and was making a few adjustments to the fuel delivery system for our market.
If that is indeed the full reason for the delay, then we have to accept it for what it is. Malaysia and Indonesia are pushing the limits when it comes to palm oil-derived biodiesel globally. Japanese vehicle manufacturers tend to be conservative and won't OK a new engine until it is proven. They have a reputation of quality to protect and won't squander that to hit the market as fast as they can.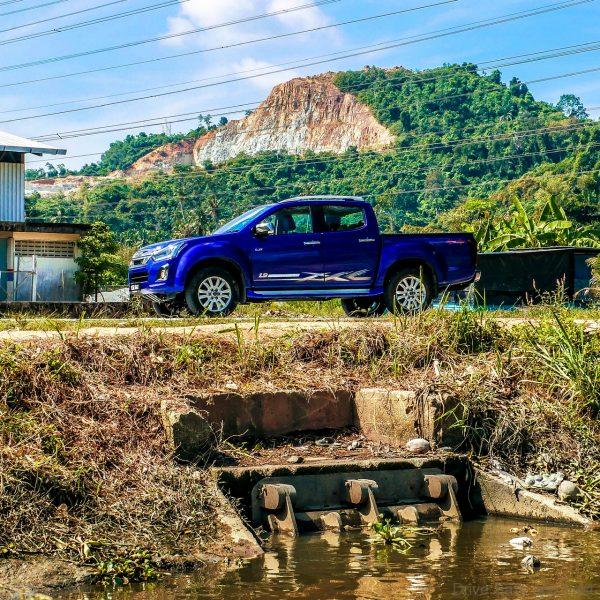 But then the question arises, why not just introduce the all-new D-Max and skip this facelift in Malaysia? The engine and gearbox are the same. And Malaysians have been waiting for years for the D-Max to get a proper update, so why not storm the market with a bang? This facelifted D-Max still looks very similar to the pre-facelift that has been in the country since 2013. The rest of the pick-up market has become a lot more passenger-friendly since then. Some pick-ups have even started to 'soften up' for better soft-roading ability.
Fortunately, that's about all the bad we can say about the D-Max. The D-Max was never aimed at the urban cowboy. It is a genuine workhorse and Isuzu's focus on trucks shows just how they worked on improving the vehicle. Soft touchpoints have been added, noise and vibration have been upgraded by adding soundproofing material. Fuel efficiency has been upped by introducing a 6th gear and a smaller displacement engine. There are no electronic shortcuts to anything the D-Max achieves, and that's what makes it impressive. It doesn't quite hit the benchmarks set by the latest Ford Ranger family, but for such a mechanically straightforward truck, it's not that far off actually.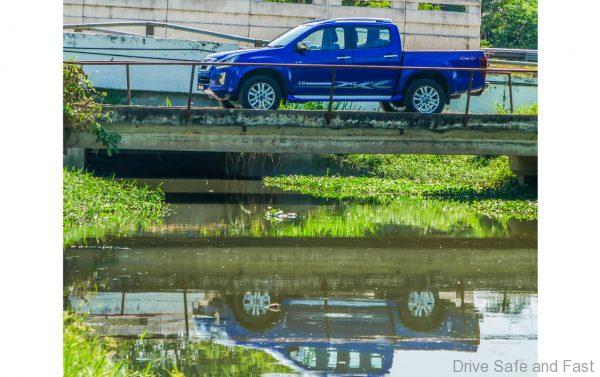 You can perceive this as the truck slows to a stop. There's a moment when the engine noise disappears and the whole cabin goes completely silent. Isuzu managed to put enough sound proofing material to completely cancel out the roughness of a diesel. Even if it is just for that one moment before reaching a stop, that's very impressive.
The 1.9L engine has been running around in Thailand for years and has proven to be very reliable. Again, our preview article goes through some of these points in more detail. We found it to have enough power for highway pulling, and enough low down torque to overcome the terrain we threw at it. There's a tendency for the throttle response to be a little eager. We suppose this is so that the turbos spool up quickly. We actually got close to 1000 km on one tank of diesel and this was a mixture of highway, B-road and off-road action. Very impressive.
That being said we didn't do much off-roading activities, at least nothing too hardcore. The pick-up dispatched mud and gravel with ease, and switching between 2WD and 4WD High was as easy as twisting a little knob in the centre. I'm not much of an off-road enthusiast myself, but heading into paths unknown was definitely exciting. Knowing the D-Max was built to take on the toughest situations gave me the confidence to just go where I felt like going even with road tyres fitted.
In terms of design, most of the changes are rather minor. The new LED headlights and front grille modernise the look of the truck, but not substantially. The chrome used in the front is still rather excessive. It would be nice to see a blacked-out grille on this D-Max, but we're sure it won't be long before Isuzu Malaysia offers a body kit with it. I would also personally remove all decals or at least replace them with a more abstract and geometric design like on the Raptor. But these are minor complaints. It's not a polarizing design, it's just a tad over the top. And with genuinely handsome pick-ups like the Ranger and current Triton now in the market, it's tough for Isuzu to stand out with such a last-gen look.
Inside, an effort was made to make the upholstery more intricate and modern. A mixture of leather and tough water repellent fabric was used to give it that rugged off-roader aesthetic. Hard plastic touchpoints are now padded with leather and trim pieces have been painted black. A digital trip computer gives a modern touch to the instrument cluster. There's nothing much about the interior to complain about. Execution is good but it is rather spartan. If anything, we found the dashboard-mounted storage compartment a little tough to operate.
The infotainment unit here is also rather good. Not quite as well integrated as the whole SYNC 3 system we see on the Ranger, but definitely up there with other 2nd-to-best-tier units. The truck bed can be fitted with this sliding mechanism. We put it to use moving some furniture and found it to be simple and effective. The tailgate too was rather interesting. It's light enough to lift with a finger thanks to a torsion spring and even opens up nice and soft thanks to a gas strut.
And that brings us to value. The D-Max actually gets many of the fundamentals right. It's the kind of truck that you can buy and run for a decade or two without worry. It may lack some active safety features or high tech electronics, but as far as workhorse pick-ups go, this is definitely up there with the best. For RM116K, this is actually one of the best value-propositions in the segment, even before taking in the lower road tax and better fuel efficiency.
Isuzu D-Max Double Cab 1.9L 4X4 AT-P Specifications
Engine: Inline-4, 16 Valve, DOHC, Diesel
Capacity: 1,898cc
Gearbox: 6-speed Conventional Automatic
Max power: 148hp @ 3600rpm
Max torque: 350Nm @ 1800rpm
0-100 km/h: 13.7 seconds
Price: RM115,799