Automotive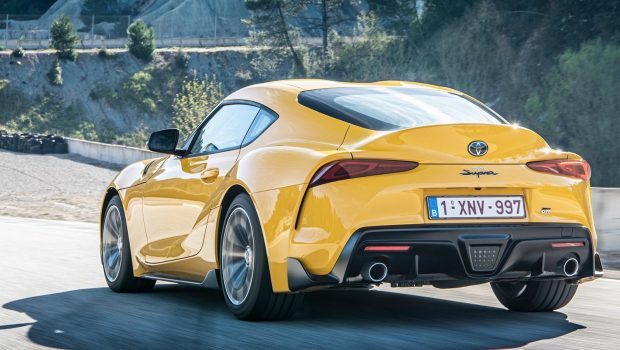 Published on March 18th, 2020 | by Daniel Sherman Fernandez
0
Toyota Supra 2.0L Turbo will not come to Malaysia
We have just had a weekend with the 3.0L Toyota Supra and it was simply entertaining from ignition. Yes, the chassis needs and is able to accommodate more power than the given 340PS and 500Nm of torque but there are many buyers in the market that might just want its drop dead looks and high quality cabin over great power delivery. This is why Toyota product planners have decided to release a 2.0L version.
So now comes our question on why can't this new 2.0L engine capable of 400Nm of torque be used in the Toyota GT 86?
PRESS RELEASE: The Toyota GR Supra has made a remarkable impact in its first year on sale, affirming its status as a sports car in its purest form, designed and engineered for the joy of driving. As the first global model to be developed by Toyota GAZOO Racing, it has drawn on Toyota's sports car heritage while exploring new horizons of handling and performance.
Now the range is being extended in Europe for the first time with the established 3.0-litre six-cylinder turbocharged engine being joined by a new 2.0-litre four-cylinder turbo unit.
The new 2.0-litre engine widens GR Supra's market appeal and, being lighter and more compact than the 3.0-litre unit, improves the car's inertia characteristics and chassis balance for even sharper handling.
Where weight is concerned, the entry-level GR Supra 2.0 weighs 100 kg less than its 3.0-litre equivalent, a saving that further strengthens the car's dynamic performance. The engine's shorter length means its mass is located closer to the centre of the car, supporting an ideal front/rear balance and better inertia characteristics.
Although power is less – 258 DIN hp/190 kW – the engine's performance is rewarding, supported by a muscular 400 Nm of torque available across a wide range of engine speeds, harnessed through an eight-speed, rapid-shifting ZF automatic transmission. Nought to 100 km/h can be accomplished in just 5.2 seconds with GR Supra's launch control system, and top speed matches the 3.0-litre model at an electronically governed 250 km/h.
Production of the Toyota GR Supra 2.0 began in January 2020 with first deliveries to European customers from March.
2.0-LITRE TURBO ENGINE
The engine deployed in the Toyota GR Supra 2.0 is a 1,998 cc in-line four-cylinder DOHC 16-valve petrol unit with a twin-scroll turbocharger. It is engineered for agile, powerful acceleration, perfectly suited to the GR Supra's character as a sports car in its purest form.
Maximum power is 258 DIN hp/190 kW at 5,000-6,000 rpm, while peak torque of 400 Nm is available across an impressive span of revs, from 1,550 to 4,000 rpm. This enables 0-100 km/h acceleration in 5.2 seconds (with launch control function, see below); top speed is electronically limited to 250 km/h.
A motor-actuated variable valve-timing system provides precise control of the opening and closing of both the inlet and exhaust valves in line with the driving situation to achieve high torque across all engine speeds and high output at high engine revs. In addition, the variable valve lift on the intake side reduces pumping losses, improvingthe engine's efficiency.
The direct fuel injection system operates at high pressure – 35 MPa – to provide spray atomisation and finely calibrated control to gain high combustion efficiency.
The path from the exhaust to the twin-scroll turbocharger is split into two parts to suppress exhaust gas interference between the cylinders. This allows the turbo to operate from lower engine rpm, givingdirect response to the driver's use of the throttle. Boost pressure is minutely controlled in line with the required torque by means of an electric wastegate valve. This gives excellent boost response for powerful driving performance.
To reduce vibration and enhance smooth, quiet running, the engine is equipped with two balancer shafts.
Sports car performance does not come at a high cost in terms of fuel consumption and emissions: the 2.0-litre turbo achieves 5.9 to 6.3 l/100 km and 135 to 143 g/km CO2emissions (NEDC correlated figures).
TRANSMISSION
The engine is matched to an eight-speed ZF automatic transmission that provides lightning-fast up and downshifts, with short ratios used for the lower gears. The driver can take control of gear changes using paddle shifts on the steering wheel; they can also select Normal or Sport driving modes to suit their preference and the conditions (details below).
A Launch Control function enables powerful acceleration from standstill with maximum traction, helping the car move from rest to 100 km/h in just 5.2 seconds (this operates when SPORT drive mode is selected).
ACTIVE DIFFERENTIAL
An Active Differential is provided as part of the optional Sport Pack for the GR Supra 2.0, in place of the standard, open differential. It operates both when accelerating and decelerating and can seamlessly adjust from zero to full, 100% lock, with instant response.
A dedicated ECU monitors a wide range of inputs, including steering wheel, throttle and brake pressure, engine and wheel speed and yaw rate, for appropriate triggering of the actuator. The torque difference between the left and right wheels is controlled flexibly and seamlessly depending on the driving situation.
This delivers huge benefits in stability and efficiency when the tyres are reaching their performance limit. The effect is felt in all phases of cornering, with increased stability during the braking and cornering phases and then maximum grip as the driver accelerates out of the bend. Operation is adjusted when Sport mode is selected to give more efficient cornering in high-speed driving, for example when using the Toyota GR Supra on a circuit.
CHASSIS
The smaller size and reduced weight of the new engine bring specific dynamic benefits to the GR Supra.
Where the 2.0-litre model is concerned, the car tips the scales 100 kg lighter than its 3.0-litre counterpart. And because the engine is more compact, its mass is located closer to the centre of the vehicle, making it easier to secure an ideal 50:50 front-rear weight balance and improving its inertia characteristics. This contributes to the car's responsiveness, agility and confidence-inspiring handling.
IDEAL CHASSIS BALANCE
A car's wheelbase and track dimensions are the first thing to consider when starting the design process with a clean sheet of paper. Where the Toyota GR Supra is concerned, these were defined in order to prioritise the car's agility and handling.
The key calculation is the ratio between the wheelbase length and the track. It is widely recognised that the best balance of agility and stability is obtained with a ratio of between 1.5 and 1.6; achieving the 1.55 "golden ratio" was thus the starting point for the GR Supra development team, the key building block on which everything else has been optimised. (For reference: wheelbase = 2,470 mm; rear track = 1,589 mm).
SUSPENSION
The high body rigidity allowed for more precise and detailed refinements to the suspension geometry and tuning of the shock absorbers. The suspension design comprises double-joint-type MacPherson struts at the front and a five-link system at the rear.
The front suspension subframe and control arm mounting points have been made extremely rigid to yield precise cornering characteristics, while the use of aluminium for the control arms and swivel bearings reduces the car's unsprung weight, giving superior agility and efficiency. There are also high-performance wheel hubs with an increased camber and optimised kinematics.
The rear suspension benefits from a similarly lightweight design for the rigid subframe and the bracing that connects it to the body, helping ensure extremely precise wheel control. The multi-arm design enables excellent tyre-ground contact to achieve direct steering response and excellent handling and stability.
ADAPTIVE VARIABLE SUSPENSION
The Adaptive Variable Suspension (AVS), available as part of the optional Sport Pack, enhances performance with instant response to changes in the road surface, adjusting the shock absorber force at each wheel to maintain a flat vehicle posture, excellent steering response and supple ride comfort. Sensors constantly monitor the way the car is being driven and the road conditions, controlling the damping force accordingly.
The driver can choose between two AVS modes – NORMAL and SPORT – to suit their mood or the driving conditions. NORMAL mode strikes a high balance between vehicle stability and ride comfort, enabling a sporty drive without sacrificing comfort. SPORT mode delivers a flat vehicle posture, reduced body roll and a more agile steering response.
STEERING
The electric power steering is rack-assisted and sports tuned. Its characteristics are automatically adjusted in accordance with vehicle speed, reducing the level of effort needed at lower speeds and gradually weighting up to offer greater control and stability at higher speeds. When driving in SPORT mode, steering effort is increased, in line with the changes to the chassis and powertrain.
Steering control and responsiveness are supported by a small-diameter, leather-wrapped three-spoke steering wheel with a cross-section shaped to provide the best grip in different driving situations. Contributing to a more engaging drive, paddle shifts are mounted on the steering wheel, and for convenience and minimal driver distraction, there are controls for the audio, hands-free phone operation and cruise control.
WHEELS AND TYRES
The GR Supra 2.0 is fitted as standard with 18-inch forged alloy wheels with a bright machined finish. To optimise the balance of front and rear grip, larger wheels and tyres are used at the rear. The specific Michelin Pilot Sport tyres are 255/40 ZR18 front and 275/40 ZR18 rear.
BRAKING SYSTEMS
The standard braking system for the GR Supra 2.0 is a lightweight, aluminium system that provides stable stopping performance and excellent controllability. It features floating, single-pot callipers and ventilated discs front and rear. An electronic parking brake is fitted as standard.
A sports braking system is available as part of the optional Sport Pack. This equips the car with red aluminium Brembo callipers emblazoned with the Supra logo – opposed four-piston units at the front and floating single-piston at the rear. The larger ventilated discs measure 348 x 36 mm at the front and 345 x 24 mm at the rear.
The brakes are equipped with standby, drying and anti-fade functions: the drying function applies the brakes at pre-determined intervals when the car's windscreen wipers are operating to dry the discs; fade prevention automatically increases brake pressure when the discs become hot.
ABS, Brake Assist, Vehicle Stability Control, Traction Control, and Hill-start Assist Control are also featured as standard, together with Active Cornering Assist, which creates additional yaw movements by independent braking intervention to improve agility and line-tracing.
SELECTABLE DRIVE MODES
The driver can choose between two drive modes – NORMAL and SPORT – to adjust the car's response and performance to suit the conditions, their personal preference.
Selecting SPORT mode sharpens throttle response, increases the exhaust note and adds weight to the steering. Transmission shifts are adjusted so that high revs are held slightly longer. Where Adaptive Variable Suspension is fitted, damping force is increased. The optional limited-slip differential also adapts for more efficient cornering, to suit circuit driving, for example.
In addition, there is also a TRACTION mode for the Vehicle Stability Control. This allows for a degree of tyre slip, even when the VSC is active.
EQUIPMENT GRADES
AT ENTRY LEVEL, the new 2.0-litre GR Supra is offered in Live specification,with standard features including 18-inch alloy wheels, a four-speaker 100 W audio system with 8.8-inch touchscreen display and sports seats upholstered in black Alcantara.
Toyota Supra Safety is also be provided, equipping the car with a Pre-Crash Safety system with Braking Function, Pedestrian and Cyclist detection with Braking Function, Lane Keep Assist (LKA) with Active Steering, Road Sign Assist and an Intelligent Speed Assist.
Customers can build on this specification to suit their preferences for style, performance and connectivity with a series of option packs.
The Connect pack adds a navigation system and connectivity for links to useful on-line services.
The Premium pack provides high-quality comfort and convenience features, including a 12-speaker 425W JBL premium sound system, head-up display, wireless smartphone charger, black leather upholstery and power seat adjustment with memory setting. It also takes in the elements of the Connect pack, plus additional storage and interior lighting features.
The Sport pack focuses on handling and performance, equipping the car with Adaptive Variable Suspension, an Active Differential and sport braking system. More detailed information on these features is given in the Performance and Chassis and Handling chapters above.
MULTIMEDIA SYSTEM
The standard multimedia system for the GR Supra 2.0 is controlled via a centrally mounted 8.8-inch high-resolution TFT touchscreen display. This can also be operated using a controller on the centre console which has an intuitive touchpad control on its upper surface. It is designed for fingertip control so the driver doesn't have to change their position at the wheel to operate it.
The package includes a four-speaker audio system with DAB radio reception, Bluetooth, a USB port and wireless smartphone integration using Apple CarPlay. Customers opting for the Connect pack further benefit from navigation with 3D mapping, voice recognition and access to connected online services to help with journey information such as traffic and weather conditions, parking and fuel availability.