Automotive
Published on May 4th, 2020 | by Subhash Nair
0
Hyundai's 7th-gen Elantra Will Get N Line Model
Hyundai have been on a roll with their N Division. We've seen what they've been capable of with the i30 N, and the Veloster N was recently updated with a new dual-clutch transmission. Now, the company has teased the 'N Line' version of their popular C-segment sedan, the Elantra.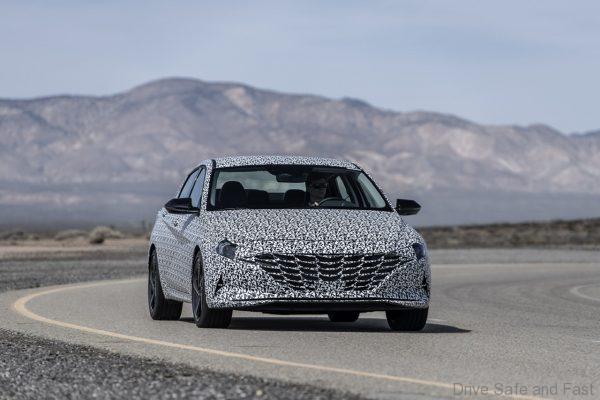 This Elantra is currently in its 7th generation model (CN7) which has yet to be launched in Malaysia, but has appeared elsewhere in the world. The Elantra is also known as the Avante in some markets. The N Line probably won't be as heavily performance oriented as the other two models.
What Hyundai has done is given it lower sports suspension, dual exhaust exits and some chassis tweaks as well as some other aesthetic enhancements – bespoke dual tone rims, possibly a new front grille.
The car will be powered by a 1.6-litre turbocharged petrol engine with either a 6-speed manual or a 7-speed dual clutch transmission, not the 8-speed dual clutch on the Veloster N.
We don't know if this will make it to our market, but we're definitely looking forward to the base model Elantra sedan, which looks amazing as it is.
Here's the press release with more.
Press Release
Hyundai Motor Company today revealed the first images and a sneak preview video of the all-new 2021 Elantra/Avante N Line sedan. The upcoming Elantra N Line adds N brand specific design elements, chassis upgrades and a turbocharged engine to the recently revealed 2021 Elantra. Hyundai's high-performance N brand develops fun-to-drive cars that make the driver's heart beat faster whenever they're behind the wheel. Inspired by N brand, N Line trims add sporty design elements and refined powertrain/chassis upgrades to the all-new Elantra recently introduced.
Hyundai's high-performance N brand product portfolio offers everything from motorsport to base model. N Line is characterized by N-specific design and performance upgrades. Hyundai is expanding its N Line model line-up to enable even more customers to experience the N feeling.