Automotive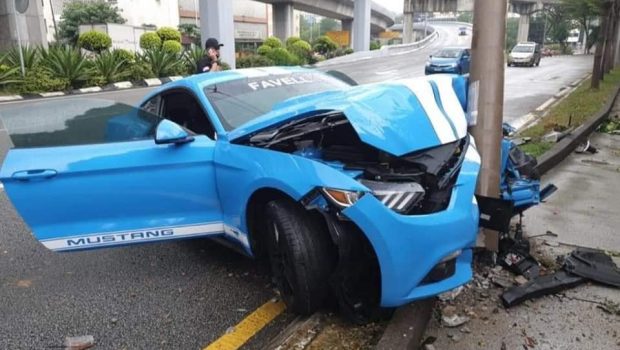 Published on May 8th, 2020 | by Subhash Nair
0
Yet Another Ford Mustang has Been Wrecked in Malaysia
You know, we Malaysians were pretty lucky that Sime Darby Auto Connexion decided to actually make the Ford Mustang available in Malaysia.
Yet in 2020, we've seen not one, but two Ford Mustangs being wrecked on Malaysian roads. Both seems to have happened during the Movement Control Order period, too.
Admittedly, besides the photos there is very little other information surrounding this accident. A reverse Google Image Search turns up nothing so far, so we're just going to have to eyeball some of the details.
First off, this is a colour that was not offered officially, which raises the possibility that this is a grey market car. The only blue shade we got was Deep Impact Blue. In fact, this was the colour of our Mustang GT review car. It's a much darker shade than the baby blue Mustang pictured.
The racing stripes may indicate that the car was wrapped. Back in 2016, Ford did a limited series of throwback colours in the United States, including one in Grabber Blue, which this colour appears to emulate. Perhaps the owner had it resprayed or wrapped in this lighter blue.
Looking at the car from this angle, it's possible that it's actually a left-hand drive model. Take a look at how far away the steering wheel is from the door. Perhaps this is just a skewed perspective. What do you think? If it is just a locally-purchased RHD model, then based on the rims, this appears to be the 2.3-litre Ecoboost Mustang rather than the 5.0 V8 GT version. It's still a very expensive car, coming in at RM488,888 back when it was launched.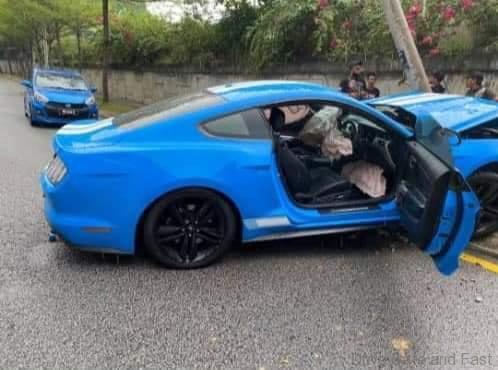 Based on the photographs the car collided with a utility pole at a high enough speed to trigger the steering and knee airbags. Both the 2.3-litre EcoBoost and 5.0 V8 models were rear-wheel drive models with plenty of power (317PS and 416PS respectively). It's possible the owner may have overcooked it coming down the ramp seen in one of the photos and lost control when he tried to correct himself.
Wet roads and worn tyres may have contributed to this incident. Whatever the case, Malaysian Mustang owners really need to take it easy with these cars.