Used Cars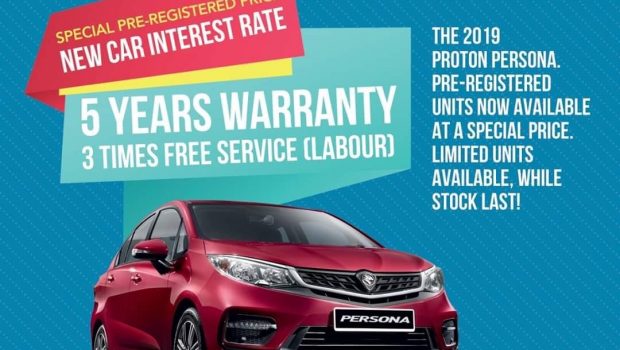 Published on June 27th, 2020 | by Daniel Sherman Fernandez
0
Proton Starts Pre-Reg Car Sales Business
Proton has entered the infamous game of pre-registered car sales. Started some years ago by a premium German brand and then followed by other premium car brands to get more metal on the road, this has been the 'whispered' sales pitch of many car sales people at premium showrooms to move 'metal' and get their numbers up against the segment rivals. So, should you buy a sales tax free car right now or even better, a sales tax free pre-reg car like this Persona? Let us explain.
Proton is now offering a RM4,800 discount on a Persona and let's not forget the RM700.00 current sales Tax Holiday discount. This means you get a total RM5,500 discount on a lightly used Proton sedan. So, the final selling price is just RM45,756.71 and this is hard to ignore if you are on a tight budget or looking for a ride haling machine to earn some money.
A pre-registered car is a car that has never been owned or driven by anyone, but has been registered by the motor vehicle distributor and comes with a number plate. From the time of registration, these cars are considered "pre-registered" or "pre-regs", even though they may not have even moved from the point of distribution. Some may even be on the factory premises at PDI centres. Yes, you will some mileage on the car and probably a few hands have been inside and out, but the vehicle has not been driven and used, so its almost like a new car.
WHY ARE THERE PRE-REGISTERED CARS?
Well, car companies and dealers have sales incentives to hit figures, or they may want to hit a significant figure, say the 100,000 unit mark. In these cases it would not really matter if a certain small percentage of sales, say 300 units out of 100,000 are pre-registered but not sold to an end user. As long as it is registered with JPJ it is considered sold, the distribution arm or dealer has to pay for it and it is no longer considered factory stock.
ARE PRE-REG CARS GOOD?
Dealers cannot sell pre-registered cars as "new". This means customers can get good deals on as-good-as-new cars. Obviously you'll be the second owner on the registration card, not the first. You need to be aware that SOME brands have higher financing for pre-reg cars compared to unregistered cars. However, if the pre-reg car is less than a year old, most banks will give you a loan interest rate equivalent to a new car.
What You Still Get:
NEW CAR INTEREST RATE (~3% VS. 4%+ FOR USED CARS)
5 YEARS WARRANTY
3X FREE SERVICE LABOUR
Colours available at press time is, Armour Silver, Jet Grey, Rosewood Maroon and Snow White. Only 5 units left. First come, first served.