Cars
Published on June 23rd, 2020 | by Subhash Nair
0
I Used SOCAR to Travel from JB to KL, Here's What I thought
Just last week, I used SOCAR to get from Johor Bahru to Kuala Lumpur. I promised to cover my experience in this post, so here it is.
When the Prime Minister announced the ease of interstate travel restriction in early June 2020, I knew it was time for me to find a way back to Kuala Lumpur from my hometown of Johor Bahru.
I had travelled from Subang Jaya to Johor Bahru on the 7th of May, when interstate travel was temporarily allowed to a limited number of applicants. I had used GoCar at the time as the situation was a little more tense (I was transporting my mother and the rules around interstate travel were changing every day back then). I was more familiar with GoCar, having used their service for a 3 hour test drive with the Renault Captur.
For my journey back to KL, I decided to try GoCar's main competitor, SOCAR. You may have seen SOCAR's ads play on Youtube or at the cinema before. Just like GoCar, they're an app-based car rental company focused on short-term rental
Without going into too much detail, I'll share what I liked about my experience and what I felt could be improved.
Registration Process
I noted in my GoCar article that I had trouble with the SOCAR app. This little bit of trouble was still present when I tried to register once more. Whether by WiFi or by data, I kept getting authorisation errors, and I don't think it was because of the photo quality as reuploading the same photo later on worked.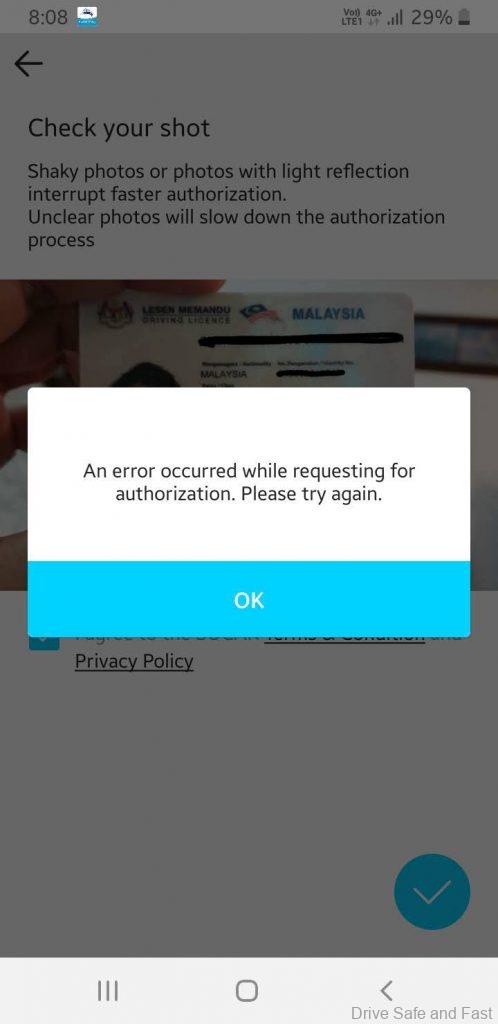 It may seem like a minor thing (and it really was), but little hiccups like this stopped me from even checking SOCAR's prices back when I had to travel from KL to JB. If the fault is with the app or their servers, then I really think they should look into it.
Door-to-door service
This "SOCAR2U" feature was pretty excellent. The app prompted me to try it out. With this service, SOCAR would drop the rental car off at your place, and pick it up later. What I really appreciated was that it worked even for one-way interstate trips!
However, here's where the feature fell a little short of expectation. First of all, the drop off area is restricted, and I'm not sure what parameters they used because it surely was not postcode. You see, I was able to request for them to drop off the car 2 houses away from mine, and NO CLOSER! For some strange reason, the available drop off locations extended just down the street from me. It's not like half the street was on a different postcode or anything. This was a distance of about 100 metres, so I did not mind walking. The problem was that I didn't have time to explain to my neighbour that there'd be a random white car parked in front of his house. What I appreciated was that the drop off was done on time and the staff were polite. One person drove the car there and another arrived on a bike to take the driver away.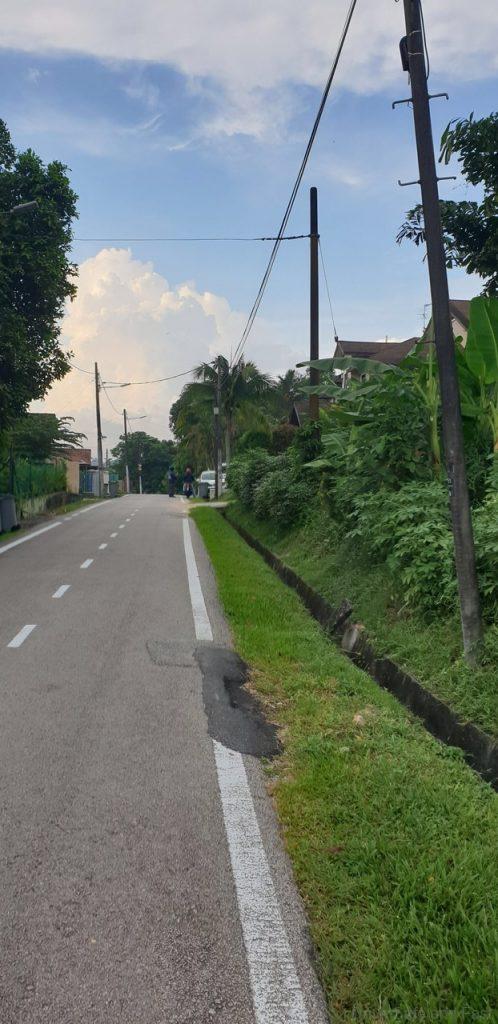 The same goes for my KL drop off location. Even though SOCAR has a hub near my condo, I was not able to set that hub as a drop off location. Instead, I was able to choose a cafe that was about a 5 minute drive away from my place. Not ideal, but I'm happy it worked out anyway.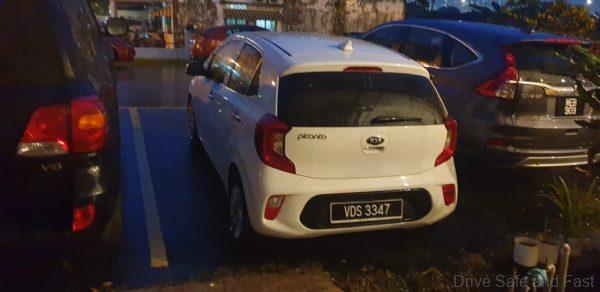 Selection of Vehicles
I think a clear strength of SOCAR is that they offer a variety of makes and models at similar prices. I found it a little bit odd that a Perodua Axia was available for about the same price as a Kia Picanto as the Picanto had a few key tangible advantages (a larger engine, a better infotainment unit, and other safety features). They also had mid-sized SUVs on offer like the Honda CR-V and Mazda CX-5. If I had been transporting my family, those would have been top considerations for my drive.
However, I don't think they had any MPVs on offer and that was a little disappointing. Although rival GoCar's selection is limited to Renault and Nissan products, they did at least have a Serena Hybrid as an option (not for One-Way journeys, unfortunately). There's a bit of give and take in this department, but ultimately I really appreciated the fact that one of my favourite A-segment hatchback cars was available for a decent price.
Mileage cap and Insurance Package
I took a 12 hour rental with the Kia Picanto and that came with a 250km range limit. My journey from JB to KL added a little less than 100km on top of that which led to an additional RM39.19.
On top of that, SOCAR has these packages that limit your liability should a collision occur during my drive.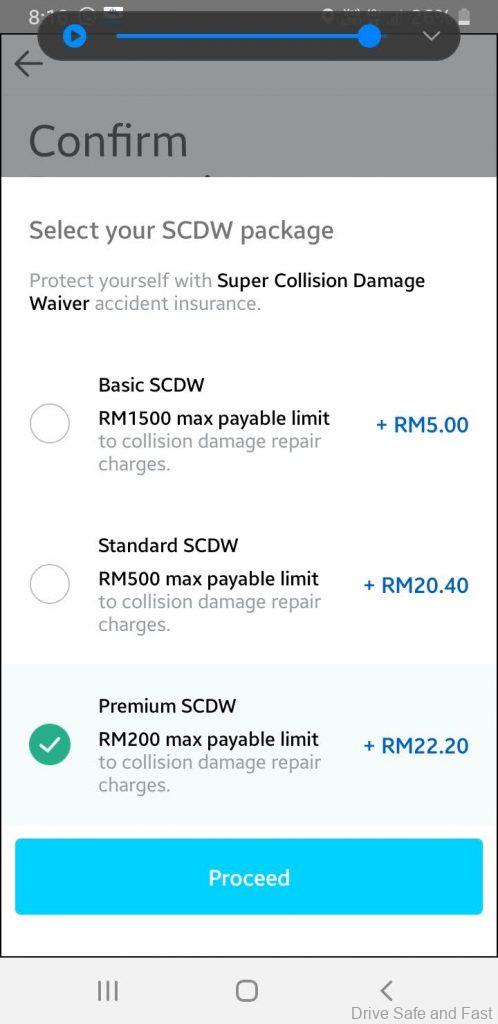 It's a pretty interesting way for them to make money, but I thought RM22.20 to limit my liability to RM200 felt sort of worth it, but I can't remember if I went for it in the end. Either way, I got a 50% first time user discount and a subscription fee waiver.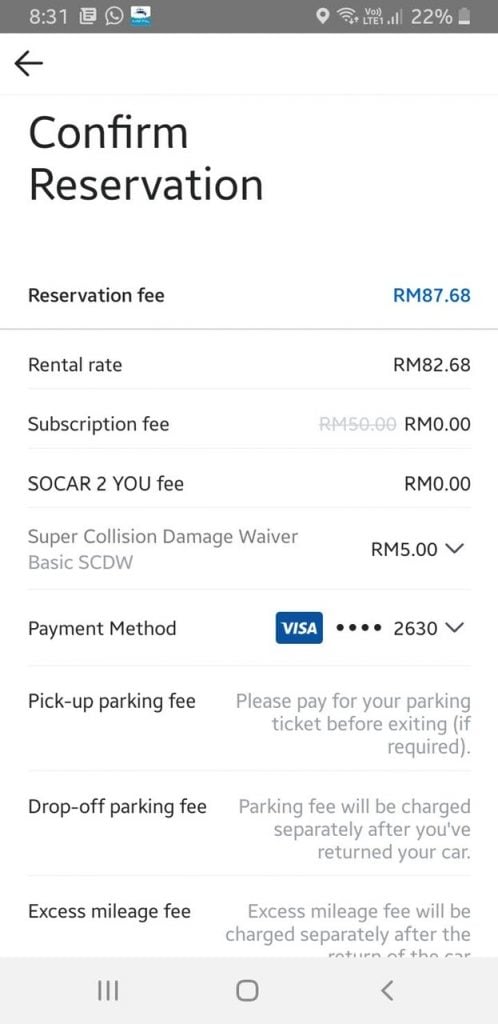 All-in-all, our total bill came to about RM130. Plus about RM35 for toll and RM35 for petrol. RM200 to travel interstate almost door to door… That's not too bad. Without the subscription fee waiver and the first time discount, this amount would have been closer to RM300-RM350.
Maintenance
The Kia Picanto I had performed well enough on my journey. However, when I went to check my tyre pressure early on in my trip, I found that one of the tyres was extremely low on pressure. Like, dangerously low. The fact that the car was 'delivered to my doorstep' shows that they had someone to inspect the car before delivery that could have stopped by a petrol station and check this for free. Instead they put my life at risk. The GoCar I had taken down also had low tyre pressures all around, but nowhere near as bad as this SOCAR vehicle.
Which would I reuse in future? GoCar or SOCAR?
To be honest. I liked SOCAR's home delivery service. Sending GoCar's rentals back to their hubs and getting to their hubs was definitely a pain. I also liked SOCAR's selection of cars a little more.
Both SOCAR and GoCar's app interfaces are fine. Booking a car on either is still not as straightforward as I think it could be. I think someone in my generation can navigate these apps easily enough, but someone my parent's age might have more trouble. They may miss out on offers, features or coupon codes.
Ultimately though, I think my next rental will be based on two things: whether the platform has the car I need for the day and which is cheaper overall. As it is, I think the discounts and offers are great. But sooner or later one of these platforms is going to decide they can't compete. It seems like it's all a game of how much money can be burnt before it's all out. Maybe the innovation matters a little, maybe the number of hubs and types of services is a factor as well.
But as a consumer, I suggest you take a look at both before making your decision and just take whichever is cheaper/serves your needs better.