Motorsports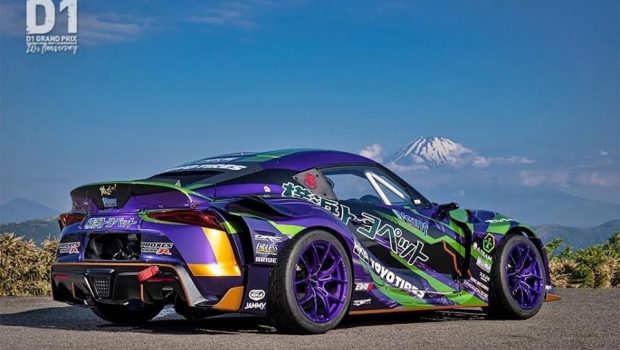 Published on June 24th, 2020 | by Daniel Sherman Fernandez
0
Prince of Drift competes in D1 GP with a V8 GR Supra
Text by Joshua Chin
Malaysian national drift icon and prince of drift Tengku Djan Ley is set to compete in the 2020 Gran Turismo D1 Gran Prix series backed by the Evangalion Racing Team (EVA RT).
Yes, that very same Evangelion of the popular Neon Genesis Evangelion from manga and anime.
With 2020 being the 10th Anniversary since the establishment of the Evangelion Racing Team, EVA RT is set to expand into the world of D1 GP after years of experience in the Super GT touring car racing series and the Suzuka 8 hour motorcycle endurance race.
Built by Do-Luck Racing, this A90 GR Supra that is to be piloted by Tengku Djan Ley is purpose built for the Japanese drift circuits and is a far cry from the road going variants of the Japanese coupe.
Under the hood of the EVA RT GR Supra is a Toyota derived 4.4L 3UZ-FE V8, replacing the BMW derived engines found in the road going variants. And if that weren't enough, there is a Garett G42 turbo bolted onto said Toyota V8 to boost the power in excess of 1000hp. Easily shredding the rear Toyo Tires to smithereens on command.
This drift machine sports a HKS widebody kit, allowing the drift Supra to be 60mm wider up front and a massive 90 mm wider at the rear than stock. Perfectly encasing the set of Gram Lights 57 FXZ wheels on Toyo tires mounted at each corner of the now-widened body. The purple and green colour scheme that is synonymous with the Evangelion Racing Team sported on the EVA RT GR Supra represents the Evangalion Unit-01, an Evangelion unit as seen in the manga and anime.
An experienced drifter and racer himself, Tengku Djan Ley has previously experienced triumph in the D1 GP China Series in 2018 with the Maxxoil Racing team. Achieving a second place podium finish in the forth round of the drift championship and beating all-star drift racers from across the globe, including Hibino Tetsuya from Japan, Formula Drift competitor Matt Field from USA and many others. Additionally, the MaxxOil Racing Team had been awarded D1 Grand Prix's Best Team of the Year 2018.
We wish Tengku Djan all the best in his return to the top-tier drifting scene by competing in the upcoming 2020 Gran Turismo D1 Gran Prix series, which incidentally is the 20th Anniversary of the D1 GP series.
The first of eight races is set to be the 2020 Okuibuki Drift competition, taking place on 23 – 24 July on a spectator-free Okuibuki Motor Park. So it won't be long till we see this green and purple monster Supra smoking its rear tires gracefully across a circuit.