Automotive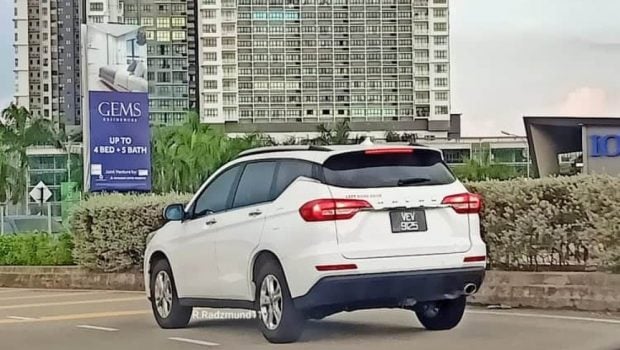 Published on July 22nd, 2020 | by Daniel Sherman Fernandez
0
Haval M6 SUV Spotted In Putrajaya
This is the place to spot all the soon to be launched vehicles in Malaysia as the road transport department, customs and the relevant Ministries are all located in this city. DSF.my reader Roaquin Radzmund Francis spotted this brand new Haval on test and it had already been registered for road use.
It must be noted that Haval in Malaysia have been very quiet since the arrival of the Proton X70 under Geely as its selling price put Haval in second place with SUV buyers that favour Made In China vehicles like Borgward and MG. Prices and features surpassed current Haval vehicles and this is why this new Haval M6 SUV might revive Haval's fortunes when launched.
This left-hand drive version of a Haval M6 SUV has just been spotted around Putrajaya wearing Malaysian number plates. This may be a sign that this mid-sized Chinese SUV may soon be on sale locally.
To those not familiar with the Haval brand, for which it is safe to assume many are not. Haval is the SUV arm of the Chinese auto-manufacturer, Great Wall. The Great Wall name may be familiar so some as they also sold the no-frills, utilitarian Great Wall Wingle pick-up truck here in Malaysia.
In regards to the Haval M6, this 5 seat SUV was launched in 2017 and received a minor facelift in 2019. The model you see here in the spy shots are of the faceted model. Sharing the same underpinnings as the previous generation Haval H6, the M6 is meant to be the cheaper alternative to the car on which it is based.
With a front like a Ford Focus, this face-lifted M6 certainly would make other motorists look twice when one is driving down the road. A floating roof design breaks up the side profile of this almost 4.7-metre-long 5 seat SUV, while the rear end styling is like any other generic SUV.
Powertrain wise, the M6 is powered by the sole engine choice of a 150hp 1.5 litre turbocharged four cylinder. Mated to a 6 speed manual or a 7 speed dual-clutch transmission, power is transmitted to either only the front wheels or all four wheels depending on variant.

As for the interior, the facelift does not hide the fact that this is a 3 year old car from China. Technology and interior design has certainly moved leaps and bounds within three short years as although the M6 has all the bells and whistles like the cruise control, dual zone climate control, multi-function steering wheel, electric sunroof, push-button starter, an 8 inch infotainment screen and a reverse camera; it can't be helped that the dash layout looks a bit dated and cheap.
That being said, it is a cheap car with prices in China ranging from only 100,000 yuan (RM61,000) to 130,000 yuan (RM79,000). This Chinese SUV is also being sold in India, so right hand drive versions are available.
Perhaps this will be a worthy rival to the other Chinese SUV sold in Malaysia, the Proton X70.
Research and Text by Joshua Chin