Automotive
Published on July 23rd, 2020 | by Subhash Nair
0
Nissan Almera Fitted with Bodykit in Thai Dealership
While Nissan fans in Malaysia wait patiently for Edaran Tan Chong Motor to launch the all-new Almera, our neighbours to the north have been playing around with the car long enough to develop accessories of their own. Take a look at this Almera in a Thai showroom and check out the bodykit it comes with. This is unlike anything we've seen from Nissan.
And that's because it's actually not from Nissan. Nissan's Thai website shows a number of in-house accessories that can be added onto the existing body, but nothing quite as dramatic as what we see here.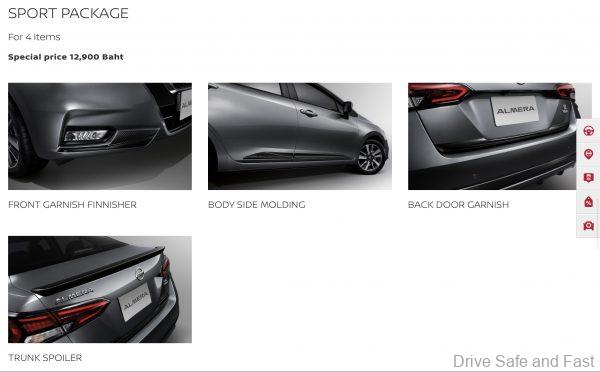 We did some digging and the photos seem to come from a Tweet from a Malaysian, but further than that we don't know the actual source of the photos. Let's take a closer look at the bodykit and see what we can see.
Let's start with the rear, where we actually get quite a bit of information.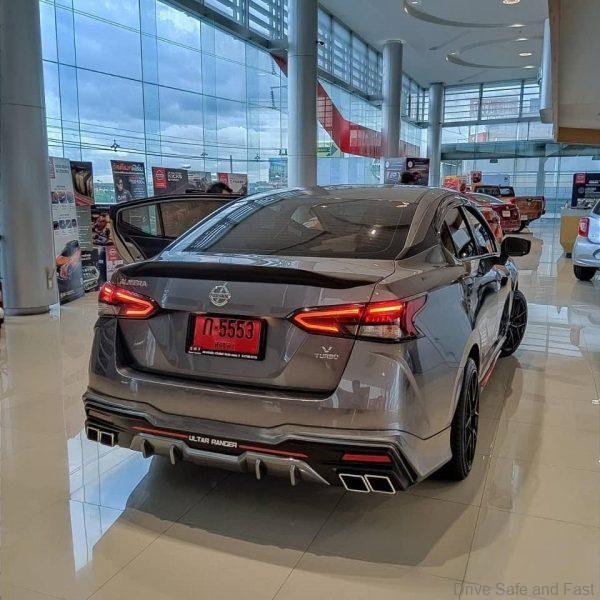 First of all, it's an Almera V spec, which the 2nd to highest trim in Thailand. Here's a rough idea of what you get with the Almera V.
We also see that the bodykit manufacturer is called 'Ultar Rancer', which seems like a knock off of Ultra Racing. It has an aggressive diffuser and quad exhaust tips… A little 'extra' if you ask me. The trunk spoiler actually looks like the it's the official one that's listed on the website.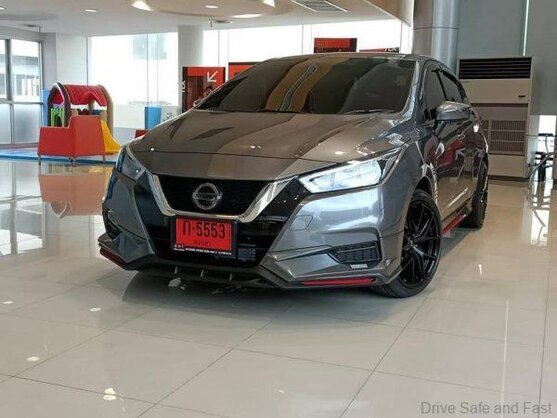 From this angle, we get a good look at the large black painted rims and the aggressive front skirting. It looks fairly well integrated with the rest of the new Almera's lines, but we'll have to see how the paints match in person.
Strangely, they've opted to omit the official body side mouldings but have stuck side skirts here instead.
This bodykit seems to play a bit too heavily into the angular aspects of the new Almera's design. We appreciate that the colour and aesthetic theme seems consistent throughout, but there's also a chance no testing for aero was done at all.
About the new Nissan Almera
This completely redesigned Nissan Almera is positioned to give ASEAN consumers new levels of refinement and safety features. The Almera's new, lighter 1.0-liter turbo engine, HRA0, delivers greater power and better fuel efficiency, with a maximum power output of 100 PS, torque of 152 Nm and an estimated fuel consumption of 23.3 kilometers per liter. This results in better acceleration and better power output than previous generation of the Almera.