Automotive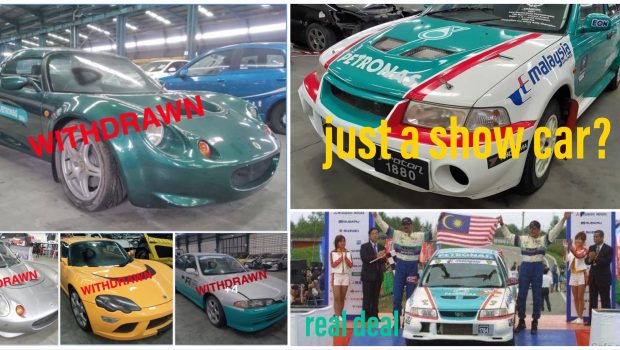 Published on July 20th, 2020 | by Subhash Nair
0
What's The Story With These Protons Being Auctioned Off?
Late last week, the Malaysian motoring media scene was made aware of a few noteworthy vehicles that were going on auction via the Pickles Asia auction platform. We starting doing research earlier today on the Mitsubishi Lancer EVO VI that Karamjit Singth apparently drove, when suddenly:
A whole bunch of Proton and Lotus cars were withdrawn from the auction.
These are models equipped with the E01 2-litre engines that were supposed to be developed for future Proton models. Pickles said:
"yes that right! The Petronas F1 cars are on E01 engine, unfortunately these cars are all withdrawn… Proton has decided to pull out all the following vehicle as per management decision."
We're not sure why it was withdrawn, but perhaps the deal with Nanjing Automotive back in 2005 would have caused legal complications should the engine be released to the public.
The E01 engine was derived from research & development relating to the Sauber-Petronas F1 team. It was being developed back in 2015 for use in production cars, but Geely Auto took over and most likely these engines were scrapped in favour of using already Euro 6c compliant powertrains from Geely and Volvo.
What about that PERT-Mitsubishi Lancer EVO VI rally car?
Another headline-making listing was the Proton PERT Mitsubishi Lancer EVO VI. That car seems to have escaped being withdrawn from auction, but we could not find it on the website whether we searched under Mitsubishi or Proton.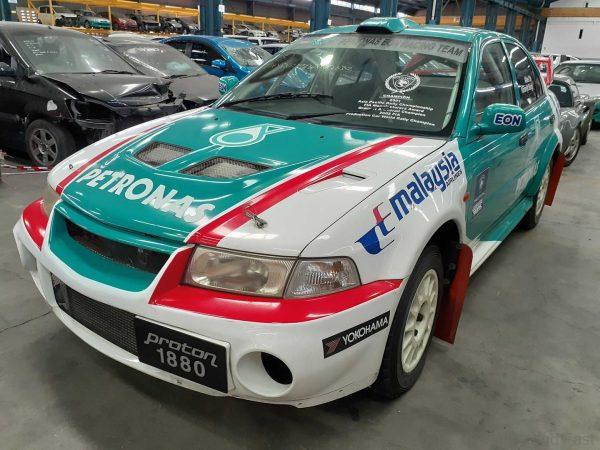 According to the Facebook post, this was the Mitsubishi Lancer Rally car by Petronas EON Racing Team once driven by Karamjit Singh and his co-driver Allen Oh. There are a number of these in existence, and we're not really sure if this particular car saw any action or was used just for display purposes.
We also remember reading this article on Carjacked.my about how one of the cars had been restored with the original livery and was being used for rallies and showcases in the UK.
"The car is now in the private ownership of Shropshire Farmer John Lay who purchased the car in its World championship specification and runs it at shows and Group B demonstration events. We now drive in 3 or 4 demonstration rallies around the United Kingdom – usually running ahead if the main rally. I.e. WRC Great Britain… My dad and I bought the car from eBay a couple of years ago from a guy who hadn't used it for a couple of years. He didn't really know the history of the car and we paid the 'normal ' price for a [Group N Evo 6]."
According to rallye-info.com, car #74 crossed the finish line twice in 2002, but the same specified PERT-Lancer EVO VI bore the number #55 #51 and #35.
We're not too sure which is the one being auctioned off. It's entirely possible that it could be car #74 that's in Malaysia, as the one we mentioned above had its livery restored and they may have the wrong number on it.
According to a spokesperson from Proton, the car that Pickles put up for auction may be a spare car for Karamjit, and not just a show car.
However, we've yet to see any period correct photos of this car with this "Proton 1880" number plate seeing any action.
We will update this story if more information surfaces.