Cars
Published on September 29th, 2020 | by Subhash Nair
0
2020 Honda Civic 1.5 TC-P Review: Still Hard to Beat
The last time I took the Honda Civic for a test drive wasn't that long ago, but it hadn't been facelifted just yet. In just a year, quite a few things have changed. Competition has stiffened up with the introduction of a locally-assembled X70, the Civic itself has been discontinued (once again) in the Japanese domestic market, and well, a pandemic now squeezes the economy. Honda managed to get this facelift Civic launched just before the Movement Control Order came into effect and it's difficult to tell if the car's doing well. And that's because it looks almost exactly the same as before, so spotting new models is a challenge.
There are a few VISUAL changes, especially noticeable on this full-spec 1.5 TC-P model. The front grille is now finished in black, the front bumper has a cleaner look, the wheels are now 18" across with a new design, and at the rear we find a new bumper with a chrome strip along with a spoiler. In terms of aesthetics, there's nothing here you couldn't easily fit yourself. In fact, that black grille was already available on the pre-facelift RS-spec Civic in Thailand.
Inside, the differences are even more subtle. The climate control get a physical fan control button (it's a knob on the lower variants with single zone climate control), the touch screen too gets physical buttons to replace the capacitive controls from before. Another capacitive button that has been removed is the steering-mounted volume control. As far as we can tell, the biggest difference in this facelift Civic's interior look is the new fabric pattern on the mostly leather seats as well as a new finish on the trim pieces.
So, did Honda Malaysia completely neglect the Civic facelift then? Well, no. As with any facelift model, any issues that cropped up on the original model have been addressed at the factory. The removal of those capacitive buttons we mentioned in the previous paragraph is a prime example.
Yes, physical buttons are technically less futuristic, but they're easier to use. There's a strong chance too many owners had trouble without the tactile feel of standard buttons. There's also the inclusion of the 60:40 split folding rear seat, a strange omission from the pre-facelift model.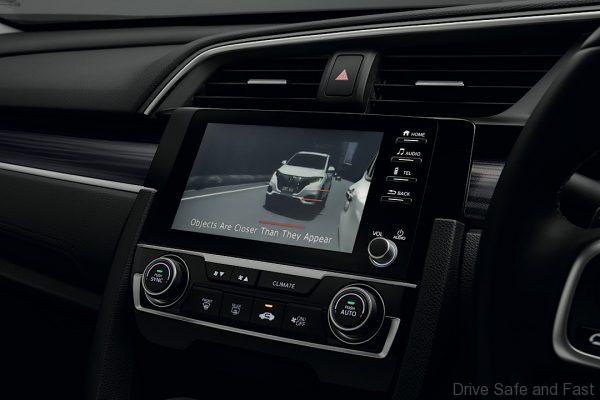 It's not just minor changes though, the facelifted Honda Civic 1.5 TC-P now gets Honda's LaneWatch and Sensing equipment. LaneWatch uses a wide angle camera on the passenger side mirror that outputs to the infotainment system. This feed gives the driver a better view of the car's blindspot and it comes on automatically whenever you signal left, even just to make a lane change. It can also be manually turned on or disabled entirely if one finds it distracting.
Honda Sensing, on the other hand uses a millimetre wave radar and a camera to deliver a range of Advanced Driver Assistance Systems which I usually split up between General Driving aid, Steering Aid and Braking Aid.
General Aid
Auto High Beam – The Civic will automatically switch from high beam to low beam when it detects a car approaching from the opposite direction
Adaptive Cruise Control (ACC) – The car slows itself down and keeps a set distance from the car in front of you while cruise control is active
Low Speed Follow (LSF) – Starts and stops the Civic in low speed traffic
Steering Aid
Lane Departure Warning (LDW) – The steering vibrates when you stray from your lane without activating the turn signal
Lane Keep Assist System (LKAS) – A visual warning and mild steering intervention keeps you centred when leaving the lane without signaling.
Road Departure Mitigation (RDM) – The steering and brakes intervene if you veer too close to the edge of the road
Braking Aid
Forward Collision Warning (FCW) – An audio and visual warning when there's a risk of collision with the vehicle ahead
Collision Mitigation Braking System (CMBS) – Automatic braking intervention to slow or stop the car before an imminent crash.
Is that it?
Well, unless we've completely missed out on something, then yes. That's it. But the Honda Civic CAN get away with an update such as this because it was a pretty solid car to begin with. Even without these improvements, the Civic was a eye-catching vehicle, a capable driver's car with loads of equipment and very little competition. Besides the Mazda 3 and Toyota Corolla Altis, Honda practically have the C-segment sedan market cornered. And mind you, those two other cars are not even locally-assembled.
The price has shot up slightly compared to the pre-facelift model, but it's still a pretty good price for what you're getting and it's hard not to recommend the Civic if you're already set on the car. It's amazing how Honda have managed to find a way to keep the nameplate so relevant for so long and their success in that is thoroughly deserved.
Honda Civic 1.5 TC-P Specifications
Engine: Inline-4, 16-Valve, DOHC, Petrol Turbocharged
Capacity: 1498cc
Gearbox: CVT Automatic with Paddle Shifters
Max power: 171hp @ 5500rpm
Max torque: 220Nm @ 1700rpm
0-100 km/h: 8.2 seconds
Price: RM134,661.28 (with SST discount in 2020)