Used Cars
Published on November 9th, 2020 | by Daniel Sherman Fernandez
0
Maserati GranTurismo MC Stradale Special Order
This is only 4 seat MC Stradale in Malaysia
Yes, the GranTurismo comes with rear seats and is a proper gran tourer, however the MC Stradale was designed back in 2011 to be the fastest, lightest and most powerful car in the Maserati range with many weight saving features, like a missing rear seat for 2 passengers.
Just before 2011, the marketing people at Maserati were looking at the track success of the GT4 motorsport models and decided that a limited edition model inspired by these race cars would make for great showroom excitement. So, this special edition car was born in 2011.
It sold well and as the orders filled up one British car buyer wanted a rather special version of this inspiring race car. He wanted rear seats. A special order was put in with the factory and from assembly this Maserati GranTurismo MC Stradale got rear seats fitted and the car was shipped to its happy buyer in England.
Now, some years later, like all supercar buyers, the owner got a little bored and so this special edition Maserati GranTurismo MC Stradale with rear seats ended up at the AMARI supercars showroom in England which is an exclusive Maserati and supercar dealer.
A Malaysian car enthusiast spotted it for sale and it arrived in Malaysia and has been in use for the past three years. Now this special Maserati is for sale and you can contact us at www.dsf.my if you are interested to have a look at the rare Maserati GranTurismo MC Stradale supercar. Asking price is RM470,000.00 and has just 27,000 miles on its odometer. Registered in 2014 a full history is available.
It looks extremely menacing in its dark colour scheme of Nero Carbonio paintwork over dark anthracite wheel. The brake calipers are Giallo which contrasts nicely.
The interior features those incredible carbon race seats, covered in Nero Alcantara with Giallo stitching and Giallo Trident logos. The rear seats are trimmed the same.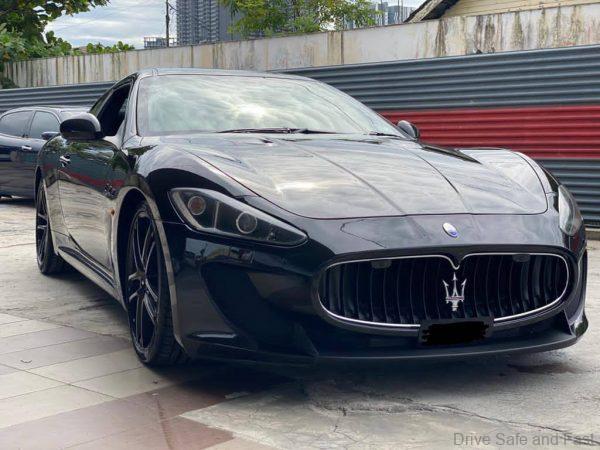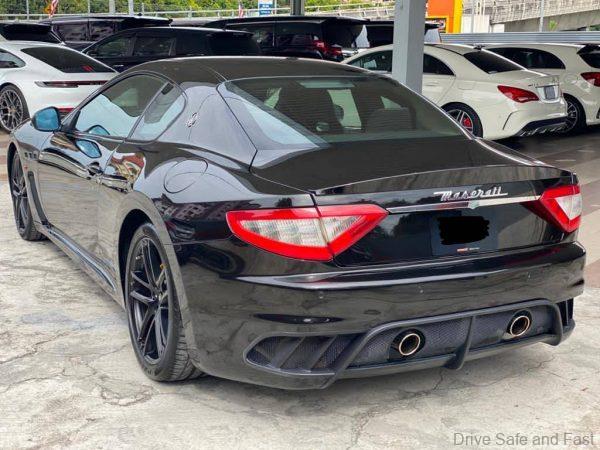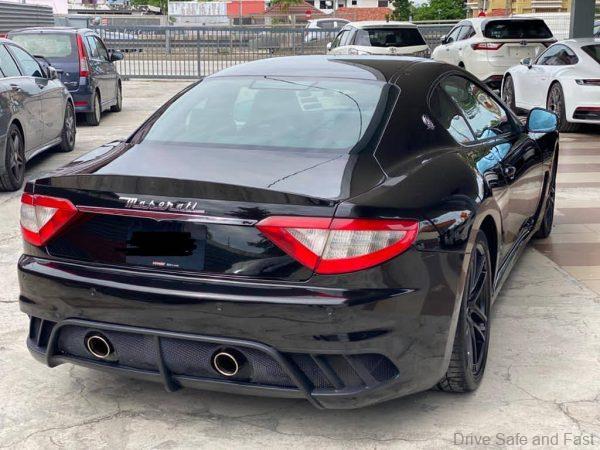 This car comes with a lot of cabin features and more, including:
Carbon ceramic brakes
Giallo brake calipers
20″ MC Design Grafite Opaco alloys
P-Zero Corsa tyres
Carbon race seats
Nero alcantara headlining
Multi-media system with 7″ colour screen
30GB harddrive
Voice control
Ipod connection
Bi-Xenon lights
Headlight washing system
Adaptive light control system
Dual zone digital climate control
Cruise control
Folding mirrors
Multi function steering wheel
Rain sensor
MC Design aluminium pedals
Carbon interior package
MSP – Maserati Stability Program
ASR – Anti-Slip Regulation
Rear parking sensors
NavTrak
Maserati toolkit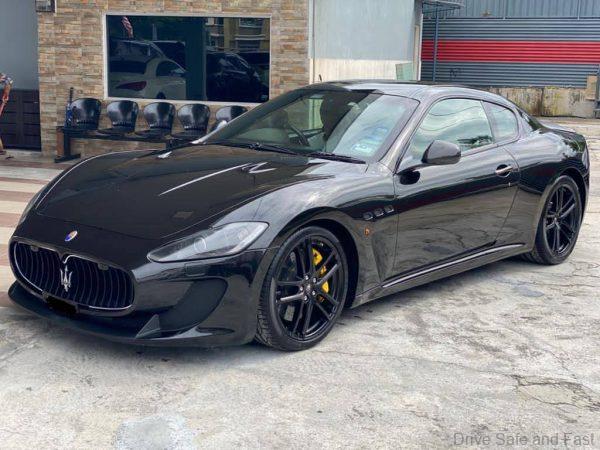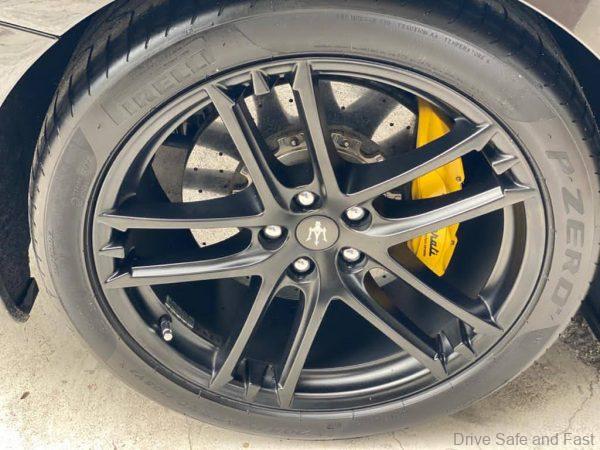 PRESS RELEASE: The new Maserati GranTurismo MC Stradale will be the fastest, lightest and most powerful car in the Maserati range when it goes on sale in the first quarter of 2011. Inspired by the Trofeo GranTurismo MC and the race-winning GT4 motorsport models, the Maserati GranTurismo MC Stradale will have more power, less weight, razor-sharp handling and a top speed of over 300 km/h.
The Maserati GranTurismo MC Stradale responds to demands for a GranTurismo which can balance on-road driving needs with race-driving desires and it incorporates the handling and aerodynamic lessons from Maserati's three racing programs. It produces more aerodynamic down force without producing more aerodynamic drag, it produces more power without using more fuel and it is more agile without sacrificing the GranTurismo S's highly praised ride quality.
With 450 horsepower, the Maserati GranTurismo MC Stradale generates more power (10hp) from the 4.7-litre V8 engine than the GranTurismo S, while its 510Nm of torque is a further 20Nm improvement. Its race-bred heritage is highlighted by a 110kg weight reduction from the GranTurismo S, down to 1770kg. It mirrors Maserati's racing advantages by retaining an optimal 48:52 weight distribution, ensuring balanced handling and even tyre wear.
The Maserati GranTurismo MC Stradale uses advanced electronics to cut gear-shift times from the upgraded MC Race Shift electro-actuated transaxle gearbox to just 60 milliseconds. This all helps to slash the 0-100km/h sprint time, which the Maserati GranTurismo MC Stradale covers in just 4.6 seconds.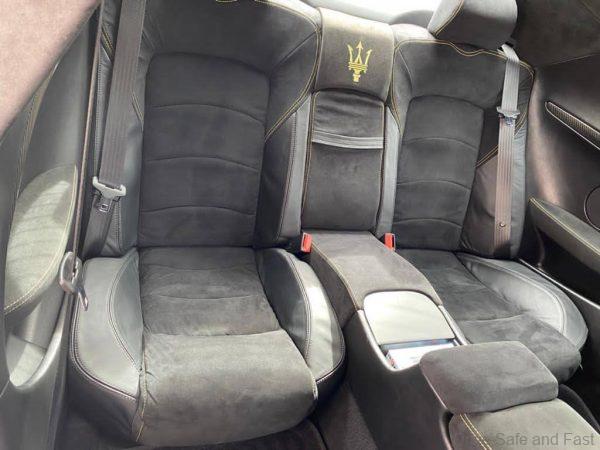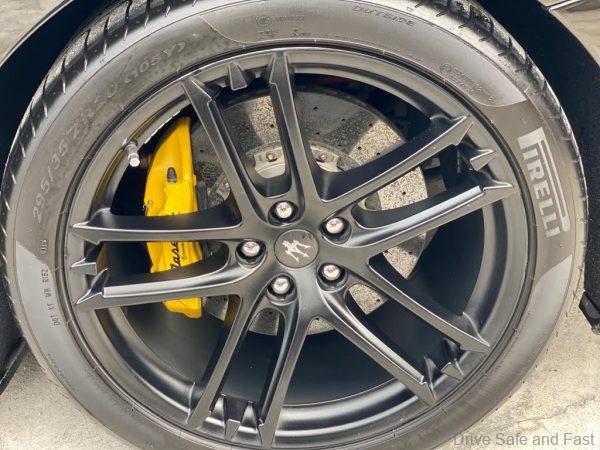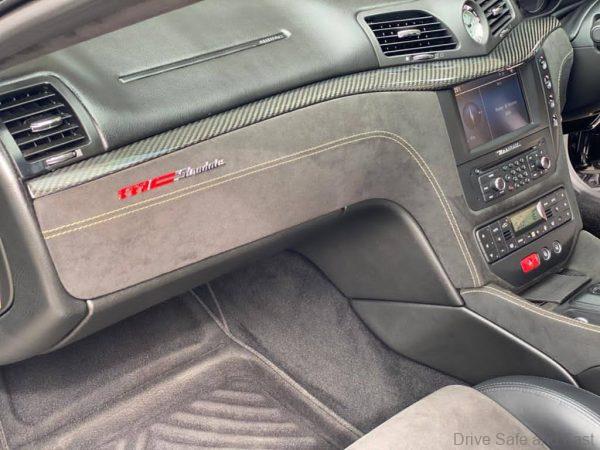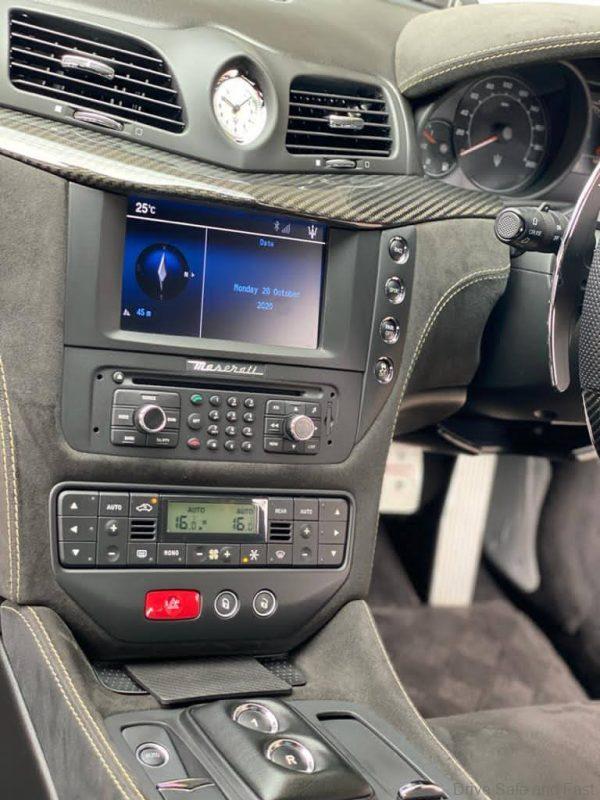 The Maserati GranTurismo MC Stradale is also the first Maserati in history to have a dedicated Race mode alongside the upgraded Auto and Sport modes in its simplified dashboard layout.
With the removal of the rear seats, the Maserati GranTurismo MC Stradale becomes the first two-seat Maserati since the MC12. The GranTurismo MC Stradale has also benefited from new Brembo carbon-ceramic brakes, custom-developed Pirelli tyres, a unique suspension layout and rigid, light-weight, carbon-fibre race seats.
The push for the Maserati GranTurismo MC Stradale came from existing Maserati customers who wanted a road-legal super sports car that looked and felt like the GT4 and Trofeo race cars. The Maserati GranTurismo MC Stradale also provides the latest step in the well-trodden path between Maserati's racing programs and its production road cars and, often, back again. In the 1990s, the Ghibli Open Cup race car gave birth to the Ghibli Cup and a decade later the Trofeo GranSport gave birth to the GranSport MC Victory. At the pinnacle of recent Maserati's road-to race story, the FIA GT-winning MC12 was developed directly from the MC12 Stradale.
With a unique body design that is based around the requirements of the track, the Maserati GranTurismo MC Stradale has borrowed heavily from its racing car stablemates, the Maserati GranTurismo MC, both in the Trofeo and GT4 configurations. It has a new front splitter, bumper, bonnet, front guard panels, sills, exhausts and even a new rear bumper. To emphasize the harder-edged nature of the Maserati GranTurismo MC Stradale, Maserati even offers the car with an optional roll cage and a four-point racing harness.
Yet it was also designed to be easy to drive, so it retains all the inherent ride, handling and stability benefits of the GranTurismo S's long wheelbase. It has the speed to be a road-legal racing car, yet it has the progressive handling to be considered an extremely usable super-sports car.