Automotive
Published on November 30th, 2020 | by Subhash Nair
0
MINI's Travelling Posts Are Tone Deaf And Irresponsible
When it comes to branding in the car industry, few players can lift a candle to the BMW Group. They've managed to build and maintain a pretty strong fanbase over the decades and does a better job at playing to each brand's strengths than any of their German counterparts.
But this year has been hard for the BMW Group, and it seems they are indeed losing their touch. And it's not even their poor financials, failing Chinese joint venture or hideous new designs we're talking about.
Our particular grievance comes from how insensitive their ongoing marketing campaign is for MINI vehicles. In case you're unfamiliar, MINI have been regularly posting since at least September 2019. It started off as a way to promote the effective electric range of the MINI Electric (a.k.a MINI Cooper SE). The first post that focused on driving a particular model to a particular place was suitable as a bit of marketing material – it involved taking the MINI Electric over what's considered the best road in the world, the Transfăgărăşan in Romania. Given this happened before travel restrictions were put in place, there wasn't anything really offensive about it, really.
Other similar posts showing the MINI Electric's driving range and exotic travel recommendations came later. This includes a Hamburg to Sylt trip, a Silicon Valley to Hollywood trip, and finally in late January 2020 a Munich to Sölden trip. Up until this point, even the World Health Organisation hadn't issued a Global Health Emergency, so we don't find anything at all wrong with any of these posts (even though they do highlight just how limited the electric range of MINI's first battery electric vehicle is).
It started to get annoying and a bit insensitive a little later. MINI was probably aware that travel-related posts wouldn't work very well and pushed back some of this marketing material to August 2020. Their first reintroduction of MINI Electric travelling posts shifted the tone towards environmentalism, touting the car's ability to travel through Switzerland without tailpipe emissions. Fine. In July and August, Switzerland's COVID-19 cases were relatively under control with just 0-500 cases reported daily, so perhaps it didn't seem too unwise to encourage travelling through the region.
Then in September, MINI suddenly shifted the conversation towards travelling in some of their non electric models. First with the plug-in hybrid Cooper SE Countryman ALL4 in France. Now they were no longer promoting the range of their electric car, but just travelling in their cars in general. Mind you they posted this article in the first week of September 2020, when France was posting 4000-8000 COVID-19 cases DAILY. We didn't take note of this post at the time. It seemed like a bit of marketing fluff and there were tonnes of other news worthy items to write about.
Then this month MINI really started to be a little too irresponsible and insensitive with their posts. Starting by promoting a trip to Wiesbaden in their 100% petrol Cooper S 5-door. They promoted this on the 4th of November, when Germany posted some 17,000+ COVID-19 cases.
On the 12th of November 2020, they promoted a trip to Lindau – a day when Germany posted nearly 22,000 new COVID-19 positive cases. This time in their Cooper S 3-door (with a bike rack).
On the 16th of November 2020 a trip to Copenhagen in the MINI Cooper SD Clubman ALL4 was encouraged. This was on a day when Denmark posted 1200 COVID-19 cases – a relatively small number, but not when you consider their all time high was 1400 cases just 10 days before the post went up. This post shows how MINI have gone from encouraging emissions free trips to diesel-powered trips in just over a year.
And they weren't done yet. On the 24th of November, came encouragement to travel in Iceland in a MINI Cooper S Countryman ALL4.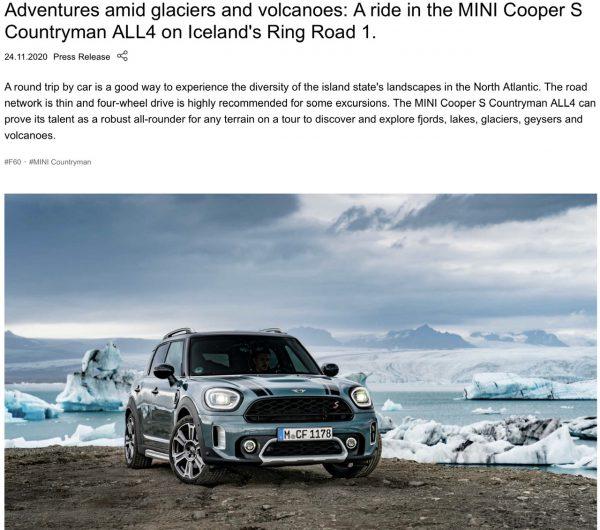 That wasn't too bad, as cases in Iceland were in the low 2 digits. But in case you thought that was MINI trying to take this in a new direction, think again. Just today, they posted an article about travelling to Merano in Italy. Italy's daily positive COVID-19 cases were in their tens of thousands last week.
These articles don't come with any warnings about COVID-19, they don't even posture as recommendations for AFTER COVID-19 travels. They're plain and simple product + travel promos that are being published and distributed at the worst possible time. Why wouldn't BMW Group's crack marketing team figure out a better and more sensitive way to do these articles? Billions around the world are putting travel plans on hold to help slow the spread of the disease that has infected millions around the world.