Cars
Published on December 31st, 2020 | by Subhash Nair
0
2020 Honda BR-V Review: No Longer Uncontested
It's a bit of a struggle to review a car like the 2020 Honda BR-V, but I have to give it a shot. The biggest problem comes with the fact that the car itself is a facelift, so most of the substantial talking points would have already been covered in my review of the original 2017 model. Very little has changed in this 2019/20 facelift, but I will be covering the changes. The second issue is that the BR-V is a vehicle that exists on the fringes of Honda canon. Unlike the Civic or HR-V, it's not a 'global' model. Talking to a Honda fan in Europe, the United States or even Japan about the BR-V might raise some eyebrows. This is a vehicle made for a particular kind of vehicle in a particular region of the world. There's nothing wrong with that, but it does make writing about the car a little tougher when so little about the nameplate has been established or even can be established. Well I need to start this review somewhere, so let's start with the objective talking points.
The Honda BR-V is a compact crossover with 7 seats and SUV styling. It comes powered by a 1.5-litre 4-cylinder i-VTEC engine and a CVT gearbox delivers power to the front wheels. It was first launched in Malaysia in early 2017, a year after it was launched in Indonesia. Just like with the original model, the facelift arrived in Indonesia months before it was available here.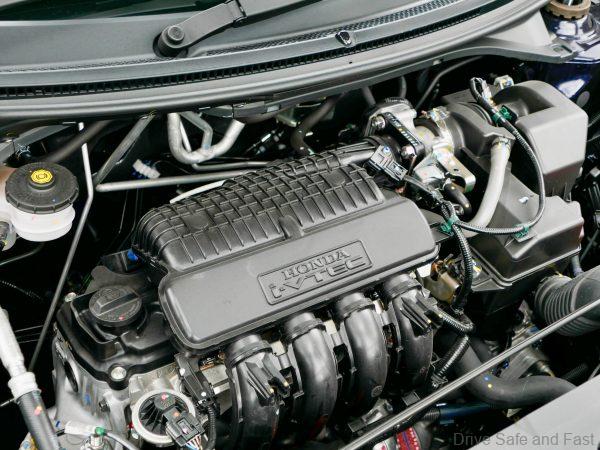 In 2020, the BR-V doesn't have the market all to itself. Since 2017, Toyota have readjusted their product portfolio, dropping the Sienta and launching the Rush. That new Rush also came along with the new Perodua Aruz, a very closely-related vehicle. Mitsubishi too have entered this segment in 2020 with the new Xpander.
So, that's the history of the BR-V and the current market reality of it out of the way. Now let's talk about what this facelift brings to the table.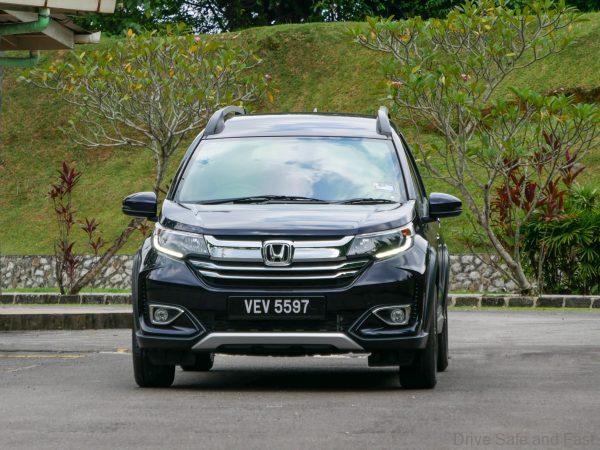 In terms of aesthetics, there's a new front grille, front bumper, rear bumper, and 16" rims all get a minor cosmetic redesign. Everything seems to be moving in a more aggressive direction this time around. There's really not much to comment on here. The chrome graphic in the front is different, the front bumper's a little cleaner looking, and there are now vertically arranged reflectors on the rear bumper. Whether this is an improvement is quite a subjective matter. We don't think the original look was particularly worse than this, but some opinions may differ.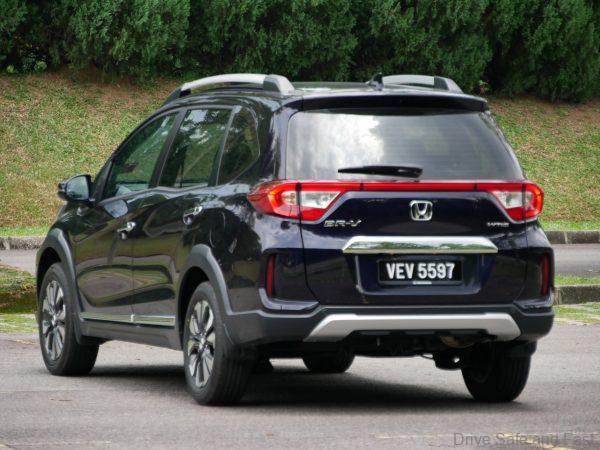 What's definitely an improvement on the outside is the shark fin antenna, which replaces the bee sting antenna — which was not the most modern design element on the original BR-V design. The lack of LED headlights is definitely noteworthy in this segment though.
We do like the new colour selection though. Our test unit came in the new Marine Purple Pearl, a shade that seems to be unique to the BR-V facelift for now. It definitely makes the BR-V look a lot more premium than it is. Passion Red Pearl and White Orchid Pearl are also new colour options on the facelifted model, but these are also colour options you find on other Honda vehicles in Malaysia. Modern Steel Metallic and Lunar Silver Metallic make a return for those looking for a 'safer' colour option.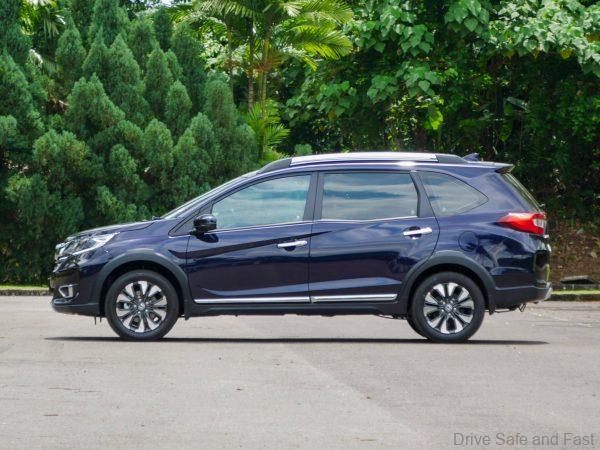 Inside there are improvements to be found as well. Honda Malaysia have given the BR-V some new tweeters for better sound. The cargo area has lighting now, and there's an auto climate control system with a cabin filter installed. Keyless entry and push start are now standard on the BR-V too.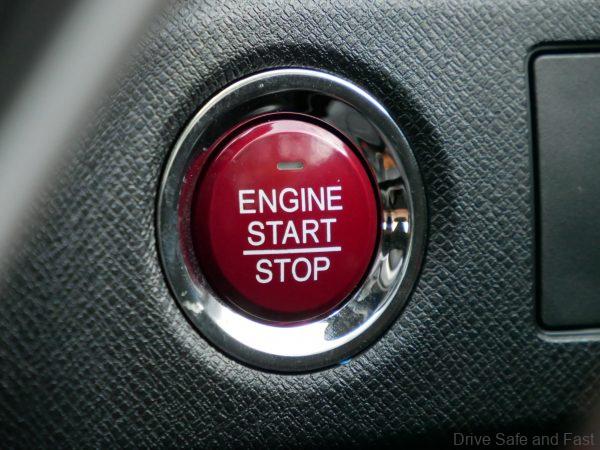 On the full-spec model, the BR-V 1.5 V, there's a larger 7" display (it was just 6.1" in the original model). The leather seats in this model also get red accents. The leather gear knob also gets red stitching and there are now paddle shifters to simulate gear ratios on the CVT.
Well, that's the objective bits out of the way, now I have to give you my actual review of the car.
To be fair, there's nothing in this segment that impresses me. However, I understand the appeal of this particular type of car.
These B-segment SUV-styled MPVs are the only way a typical middle class Malaysian can own a nice Japanese branded vehicle while also making room for his expanding family, all while spending less than RM100,000 on a vehicle. Going from Honda to Toyota to Mitsubishi to Perodua doesn't give you a hugely different experience in this segment. They're all giving you the best they can within tight budget restraints. They'll all give you 1.5-litre petrol engines and a 3rd row of seats that doesn't quite work for adults and that includes Honda with the BR-V.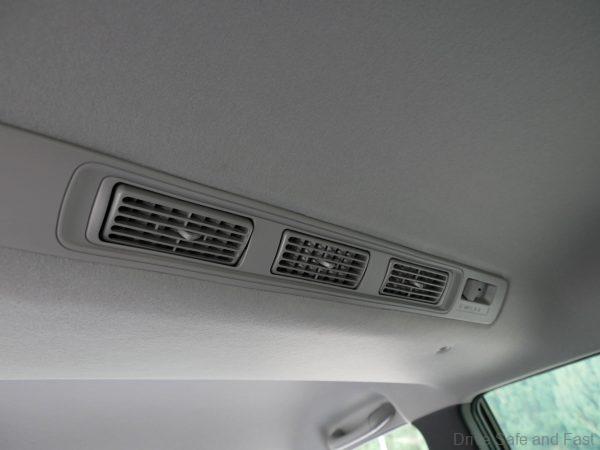 So what 'differentiating factors' do we find on the BR-V that help it stand out? Well, it's definitely not too clumsy on public roads, and that's definitely a plus in this segment. Of course, don't expect your typical Honda work here, but it's still reasonably well done given the constraints.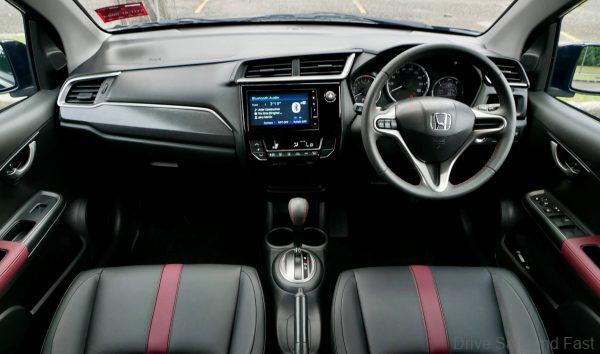 We also genuinely liked Honda's approach to instrumentation here. The analogue elements in the meter cluster are clear and legible while the digital elements are neatly presented without being distracting.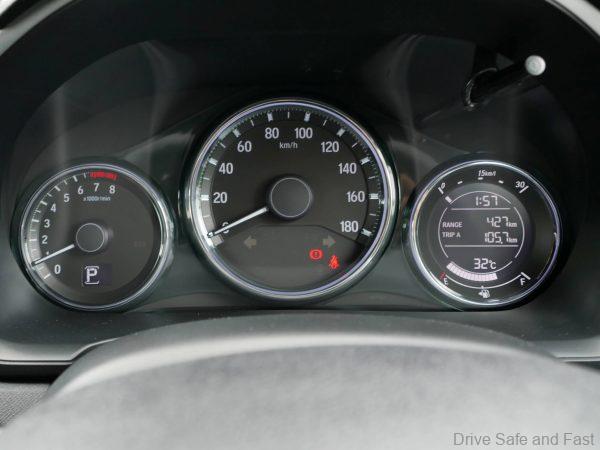 The buttons around the auto climate control are nice and chunky too. Honda's approach to cabin design doesn't feel minimalistic, but at the same time, it doesn't feel overly sporty or tacky either.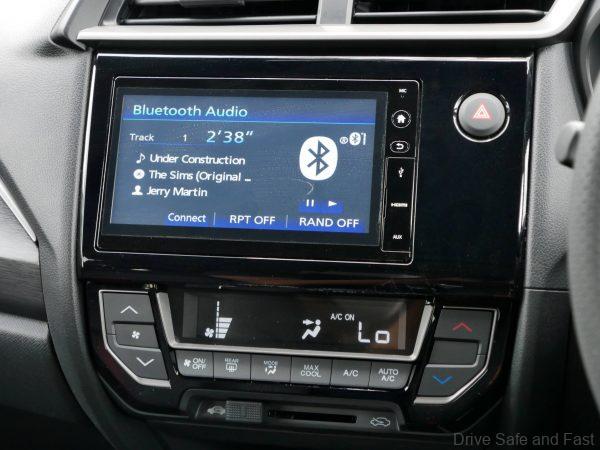 It's a difficult balance to achieve and they do a good job in this segment of giving the BR-V a bit of a 'dynamic' personality even though that's not expected of a 7-seater.
You see that also in the red accents on the upholstery. It's surprisingly easy for manufacturers to go for the wrong shade of red when speccing a budget vehicle's interior, so we think Honda Malaysia deserve a little bit of recognition for getting this part right.
And if you think Honda don't know what they're doing with all this red and sporty accents, you may be mistaken. The kind of buyer in this segment is typically a male who's starting to lose his ability to have fun as parental responsibilities take over. He may be reluctant to trade in his 20+ year old Civic, and of course he knows he's not getting a real 90's VTEC-equipped Honda here. But he doesn't want to give every aspect of his personality up, and I think that's the Honda BR-V's appeal.
Also remember that Honda are no slouches when it comes to practicality. They go out of their way to package their smaller vehicles to be more usable than their competition. With the BR-V, you get simple seat folding mechanisms, including a one-touch and tumble mechanism for the 2nd row of seats. The biggest complaint would be the low airbag count (just 2!) and the lack of advanced driver assist systems. Should Honda Malaysia have found a way to bring the airbag count up or implement some rudimentary Honda Sensing features, the BR-V would be a much more compelling product.
Nothing in this segment is particularly great at moving 7 people or going off-road despite taking on SUV styling. The BR-V is no exception, but it's clear that there are still plenty of Honda fans in the country looking for precisely such a vehicle.
Honda BR-V 1.5 V Specifications
Engine: Inline-4, 16-Valve, DOHC, Petrol
Capacity: 1497cc
Gearbox: CVT Automatic with Paddle Shifters
Max power: 119hp @ 6600rpm
Max torque: 145Nm @ 4600rpm
Price: RM93,420.27