Automotive
Published on January 16th, 2021 | by Daniel Sherman Fernandez
0
Cycle And Carriage Issues VSS Letters To All Employees
The business of selling Mercedes-Benz cars will continue to operate uninterrupted.
Premier Mercedes-Benz dealer in Malaysia, Cycle & Carriage Bintang Berhad (CCB) with a very long history of selling this premium German car brand in Malaysia is undertaking a voluntary separation scheme (VSS) for all its employees. It will be offered purely on a voluntary basis. Please note that Cycle & Carriage Bintang Berhad will continue to operate all its outlets and it is business as usual at all outlets nationwide. It is just that the number of employees running the business will be reduced.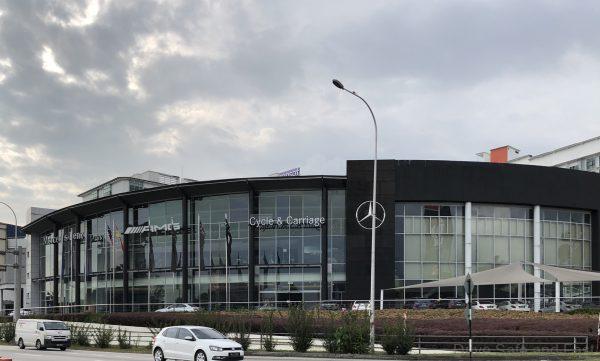 Some History
Cycle & Carriage Bintang Berhad started business in Malaysia in 1895 as a sundry and machine parts store and in 1899 they extended their business into bicycles, motorcycles and motor cars. The very first car showroom was opened in Brewster Road, Ipoh in 1906. It was in 1951 that CCB was awarded the Mercedes-Benz franchise the rest is a great success story.
Business Expansion
In recent years CCB has been expanding rapidly in Malaysia with new showrooms and showroom upgrades. In February 2016 CCB face-lifted and upgraded its Federal Highway Autohaus for a whopping RM43 million. The same year in March they opened their City Store in TREC, right in the heart of Kuala Lumpur.
Then a year later on March 2017, CCB opened its 12th outlet in Cheras at a cost of RM16 million plus. In 2019, CCB launched its first retail brand presence in Cycle & Carriage Bintang Mutiara Damansara. In June 2020 CCB launched the Cycle & Carriage Alor Setar Autohaus. This facility was the first in the northern region to showcase the new Mercedes-Benz retail brand presence and the second in the CCB network after the Mutiara Damansara Autohaus.
Its VSS And NOT MSS
This VSS exercise will allow the company to further simplify the organization, enhance operational efficiency and reduce annual operating expenses as Mercedes-Benz like most other car brands move their retail sales online and the new generation of buyers pick their new premium car using their smart phone. The need to have expensive showrooms and sales consultants with a marketing and branding team behind them is slowly becoming redundant as the new generation of car buyers have little interest in a 'test drive experience' or the need to listen to a sales consultant explain the features of the new car to them.
Car companies want the new car buying experience to be like buying an Apple IPhone, the new car buying experience will soon be just,
Click to purchase on your smartphone.
Arrive to pickup from the dealer after all online payments/hire-purchase docs are completed.
Drive away with the 'voice' behind the Benz dashboard explaining the features as you go.
Minimal human interaction.
Voluntary Separation Scheme (VSS) Explained
This happens when a company is not officially retrenching staff but still wishes to reduce its staff numbers across the organization.
This is done at a company Town Hall gathering (which was last Wednesday for the employees of CCB) and the senior management of the company will make an announcement to all employees, they will then say that they are not dismissing anyone, but will welcome applications from employees to be considered for VSS and each employee will receive a letter stating their remuneration if they choose to accept the company VSS.
Mutual Separation Scheme (MSS) Explained
This is when both parties agree to terminate the employment relationship, hence the word "mutual"/ Both parties agree to a settlement that is a win-win scenario for each of them.
Company employees who receive a VSS letter can seek assistance from Perkeso.