Automotive
Published on January 26th, 2021 | by Subhash Nair
0
Jaguar Land Rover Show Their Upcoming 100% Composite Chassis
The age of aluminium is over. The age of the composite body has begun.
Jaguar Land Rover, famed for their use of aluminium in chassis construction have just shown their next generation of composite chassis design which involves 0% aluminium and a lot of glass fibre and carbon fibre. This is no huge surprise, as the company has indicated they've been researching new materials for some time.

Why the shift from aluminium?
By now, if there's one thing we can all attribute to Jaguar vehicle it's their extensive use of aluminium throughout their chassis. The British carmaker has been employing the lightweight metal in their vehicles since the XK120 in the 1940s. Their 2003 XJ was a revolution in aluminium construction techniques and after merging with Land Rover, they've switched over to aluminium construction on many products (like the 3rd gen Discovery) across the range.
As great as aluminium is, the further Jaguar and Land Rover push into all-electric vehicles, the more important weight savings and rigidity are going to be. That's because of two factors. The first is the sheer weight of EV batteries, whether they are of lithium-ion or LiFePO chemistry, they add significant mass to vehicles. Bringing the weight of the chassis down helps balance this out.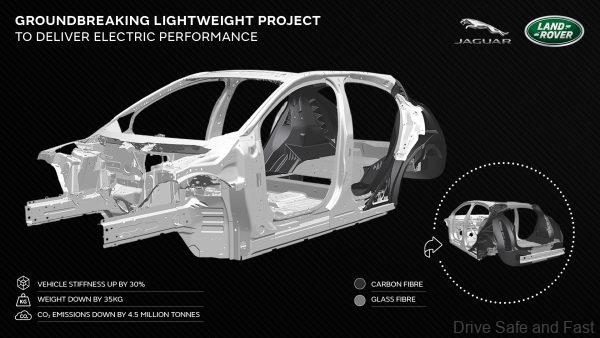 The second issue is the amount of torque generated by electric motors. Most of us are familiar with the break-neck speed at which Tesla vehicles accelerate. Even hybrid vehicles that use electric power, like the City RS, are capable of that near-instantaneous torque delivery. A more rigid body structure from a composite body could help Jaguar Land Rover build better high-performance electric vehicles.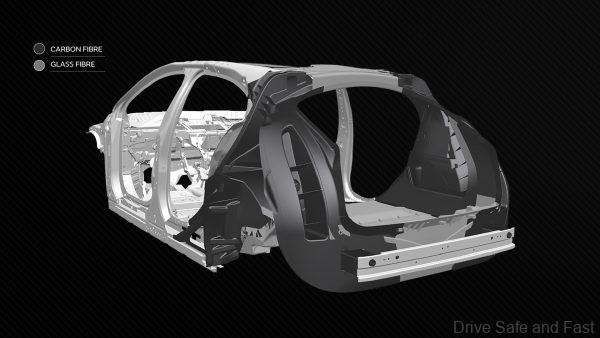 We think there's a third issue – supply. This is our own opinion based on what we read in this research paper. Back in the early 2010s, Britain had some of the cleanest aluminium processing facilities in the world. However, a complicated situation arose in the country involving the 2008 financial crisis (lowering demand), UK government incompetence (increasing energy costs, making aluminium processing uncompetitive), and EU law (preventing direct subsidies to the aluminium industry from state-owned Nuclear power plants). Over the last decade, the UK aluminium industry has vastly shrunk and we suspect this also has put some pressure on them to consider other materials.
Anyway, rant over, aluminium foil hats off.
Here's what JLR themselves have to say about their upcoming composite bodies and the related 'Tucana Project'.
PRESS RELEASE
Jaguar Land Rover is preparing for future electric vehicles with advanced lightweight composite research that will help deliver increased range, greater performance and a more dynamic drive.
The Tucana project is a four year programme to make the UK a world leader in low-carbon technology, helping prevent 4.5 million tonnes of CO2 emissions between 2023 and 2032 by accelerating mainstream use of electric vehicles and making vehicles lighter to both decrease tailpipe emissions and reduce energy consumption of electrified powertrains.
The research will allow Jaguar Land Rover to develop lightweight vehicle and powertrain structures by replacing aluminium and steel with composites capable of handling the increased torque generated by high-performance batteries, while improving efficiency and reducing CO2 impact.
Jaguar Land Rover aims to increase vehicle stiffness by 30 per cent, cut weight by 35kg and further refine the crash safety structure through the strategic use of tailored composites, such as carbon fibre. Reducing the vehicle body weight will allow the fitting of larger batteries with increased range – without impacting CO2 emissions.
Advanced composites offer significant reductions in vehicle weight, and by 2022, Jaguar Land Rover expects to have developed a fleet of prototype Tucana test vehicles.
The consortium, led by Jaguar Land Rover, brings together world-leading academic and industry partners including the Warwick Manufacturing Group (WMG), Expert Tooling & Automation, Broetje-Automation UK, Toray International UK, CCP Gransden and The Centre for Modelling & Simulation (CFMS).
The continued electrification of Jaguar and Land Rover vehicles is part of a commitment to make societies safer and healthier through innovative technology. Jaguar has completed the electrification of its PACE family with the P300e plug-in hybrid powertrain offered on the new Jaguar E-PACE and P400e for Jaguar F-PACE alongside the all-electric Jaguar I-PACE. Similarly, the new Range Rover Velar is now offered with the P400e, completing the hybrid options available across the Range Rover family.