Cars
Published on September 25th, 2020 | by Subhash Nair
0
Honda City RS e:HEV Driven (WORLD FIRST!)
On Wednesday, we were given a chance to be among the first in the WORLD to drive the new Honda City RS e:HEV. This test drive came after we had a look at Honda's production line for the new City at their factory in Pegoh, Melaka. While the test drive itself was short (something like 5 minutes per person), we got to experience first hand the safety features and powertrain of the new range-topping City. But first, let's unpack this new product and all the marketing jargon surrounding it.
Understanding RS, e:HEV, i-MMD
RS
You know how almost every car is sold in different 'grades' or 'trim levels'? Well, for Honda, the 'RS' grade is the highest. It used to be that the City's highest grade was the 'V' spec, but now the 'RS', or 'Road Sailing' spec is the highest in Malaysia. We haven't seen the lower grades of the City, but the RS will most probably have the most aggressive body kit of the lot, the largest, fanciest looking rims, and the most amount of equipment.
Is it possible to have non-hybrid 'RS' models? Yes, but it's not likely. Again, because 'RS' denotes the grade of equipment and design features, Honda have launched non-hybrid RS models before, like the HR-V RS, which is still on sale today. However, we think the Malaysian spec Honda City RS will only be available with their e:HEV powertrain.
e:HEV
This is a new marketing term that covers all of Honda's future hybrid powertrain technologies. They only just decided to use "e:HEV" at the 2019 Tokyo Motor Show.
So, remember when Honda started using 'VTEC' on all their petrol engines with variable valve timing? Some VTEC engines had a LOT of power at the high end, other VTEC engines were tuned for maximum fuel efficiency. There were 3-stage VTECs, and i-VTECs and loads of variations that were covered under this one blanket term.
Think of e:HEV as the new blanket term for Honda's hybrid powertrains and any Honda that wears an 'e:HEV' badge is an electrified product. You can read more about this here.
i-MMD
This stands for Intelligent Multi-Mode Drive. There are lots of different ways to configure a hybrid system. Honda Motor themselves have tried at least 4 different ways. Remember the Civic Hybrid, Insight, Jazz Hybrid and CR-Z that we got in the early 2010s? Those all ran on the IMA (Integrated Motor Assist) system.
The NSX and some Acura models in the US use a different 3-motor hybrid system called SH-AWD (Super Handling All-wheel Drive). Our current HR-V Hybrid, Jazz Hybrid and the outgoing City Hybrid all use another system called i-DCD (Intelligent Dual Clutch Drive).
Each of these systems have their own advantages and disadvantages. IMA had a small, relatively cheap battery pack, and the electric motor was used to directly increase the petrol engine's output. SH-AWD gave a lot more individual control over each wheel for better handling. i-DCD put the electric motor within the transmission and shared wheel-driving duties with the petrol engine.
i-MMD, on the other hand is very different from all of these. There are 2 electric motors, 1 petrol engine, 1 battery pack, and no gearbox.
EV Drive Mode
The car is driven MOSTLY by an electric motor (the Traction motor, 80kW, 253Nm of torque). Regenerative braking in this system is efficient, so short commutes can be done with the petrol engine off throughout. When the battery pack (Intelligent Power Unit) runs out of juice, the petrol engine (1.5L DOHC port injected Atkinson Cycle) turns on and idles. While idling, the petrol engine is spinning the second motor (Generator motor) and this action efficiently charges up the battery pack.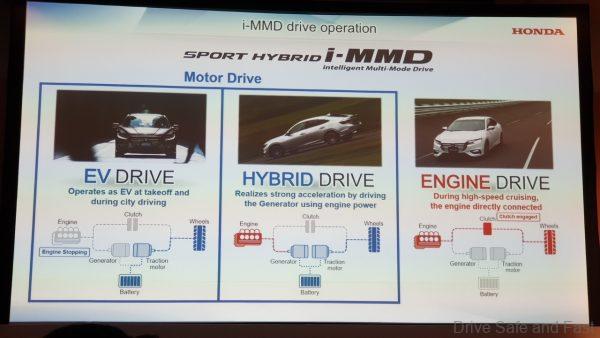 Hybrid Drive Mode
Let's say you want to accelerate rapidly above about 60km/h. The petrol engine, if not already idling, will turn on and rev up to spin the generator motor at a much faster speed. Now the generator isn't just charging up the battery pack, but the excess electricity generated gets sent to the traction motor. The petrol engine is still not connected to the wheels. Its power is converted to electricity and used to boost the traction motor. We're not sure how long this action can be done continuously, but the instructors at our test drive say they were at it all morning with no problems.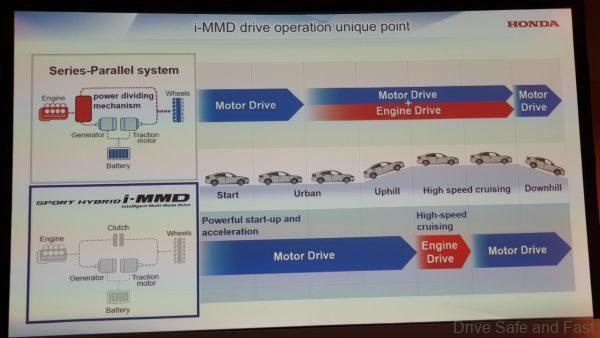 Engine Drive Mode
So we've more or less established that the i-MMD system is mostly electric. But one of the biggest disadvantages of electric vehicles is that they're not very efficient at high speed. When cruising on the highway, the petrol engine directly drives the wheels, as a clutch is engaged that links it to the wheels. Again, there's no real gearbox here, so the drive ratio is fixed and most effective for keeping to highway speeds.
How does it work in Real Life?
To be honest, the City e:HEV is a lot more straightforward than you might think. While I'm not allowed to talk about the interior, I can say that the drive controls are actually simpler than they were in the City Hybrid. The gear selector isn't a weird floppy alien looking thing like it was on the i-DCD. You, as the driver, don't have to manually select which mode you'd like to drive in. i-MMD in other models like the CR-V has a few other confusing elements, but in the City it's streamlined.
The one element that might be a little confusing is the paddle shifters. Because there is no gearbox, shifting down just makes the traction motor 'tighten up' in feel, and the engine braking gets a progressively higher the more you shift down. Electric motors have a lot of torque anyway, so I expect this feature will only be used to 'climb Genting' effectively.
Chassis Improvements
Besides the powertrain, the chassis itself feels a lot more planted and a lot quieter than before. It's almost a night and day difference. Front torsional rigidity is up by 20.4% over the last car and it's 4.3kg lighter than before despite the new e:HEV setup.
We saw first hand that the new chassis was a lot more complex to put together, hence the huge improvement to the car's ride and handling. Besides requiring a whole new assembly machine to put together, Honda now also use spray foam in the A- and B-pillars. This liquid foam is combined and sprayed directly into 6 ports on the chassis, where it immediately solidifies. Previous models used 'seperators', but spray foam is a lot more effective at getting into all the nooks and crannies to properly dampen sound and vibrations by more than 30%.
What other features are on the City?
Two big ones that we can talk about are Honda LaneWatch and Honda Sensing.
Honda LaneWatch
Lanewatch is a technology that's been on Hondas since the previous generation Accord. It now makes its debut in the B-segment. There's essentially a very wide-angle camera mounted below the passenger side mirror. When you signal left or manually turn it on, you get a clear view of your blindspot. Even when the other car is almost 90-degrees from you, it can still be seen.
Honda Sensing
Sensing is the blanket name for Honda's Advanced Driver Assist systems. It too has been around on the larger Honda vehicles, like the Accord, CR-V and Civic before. Now it debuts in the B-segment. What's different here it's a little bit cut down on the City RS because Honda Sensing usually uses both a millimetre wave radar and a camera to carry out its measurements.
This time, only the camera is present. It's the opposite of the upcoming Nissan Almera, which only features the radar sensor.
The advantage of using just a camera? With a camera alone, Honda Sensing can still detect lane markings, pedestrians (even at night), other vehicles on oncoming lanes, and bikes. That means you get Collision Mitigation Braking and Forward Collision Warning still. You also get Road Departure Mitigation and Lane Departure Warning, so the steering will vibrate to warn you if you stray from your lane, then intervene and centre you automatically.
You also get Adaptive Cruise Control from above 30km/h. What's really missing is Low-speed Follow, which is essentially Adaptive Cruise Control for traffic jams / city driving.
The other disadvantage is that these sorts of camera setups aren't quite as accurate if the windscreen is dirty or if rain is extremely heavy.