Automotive
Published on January 6th, 2021 | by Subhash Nair
0
MBPJ Seen Patching Potholes After Malaysian Bar's Statement
The pothole situation in Malaysia has always been bad, but with more road users, especially heavy trucks and vulnerable bikers on the road today, it's even more dire than ever. The issue of potholes resurfaced late last month when Minister Khairy Jamaluddin Tweeted his pothole-related biking incident. And just as JPJ started to make promises on fixing the pothole problem in Malaysia, a pothole near Mid Valley Megamall ends an older man's life. Soon after, a food delivery rider's life was also lost due to an accident related to potholes.
The Malaysian Bar president, Salim Bashir then made a statement regarding the matter. This was reported by FMT.
"It is the Malaysian Bar's view that poor maintenance work must be regarded as a threat to national well-being and must be handled with the utmost priority… Government agencies can be held vicariously liable for the negligence in maintaining roadworthiness and the failure to perform their statutory duties in ensuring the safety of road users," said Mr Bashir. He also said that claimants have 3 years to file a suit following the date of the incident.
Well, today, we're seeing the authorities get to work in Petaling Jaya, at least. This photo of a few MBPJ workers filling up potholes. How long will this remedy last? We don't know, but if you're in Selangor and you spot a pothole, be sure to report it using the Waze app, as the authorities here use the app to receive complaints.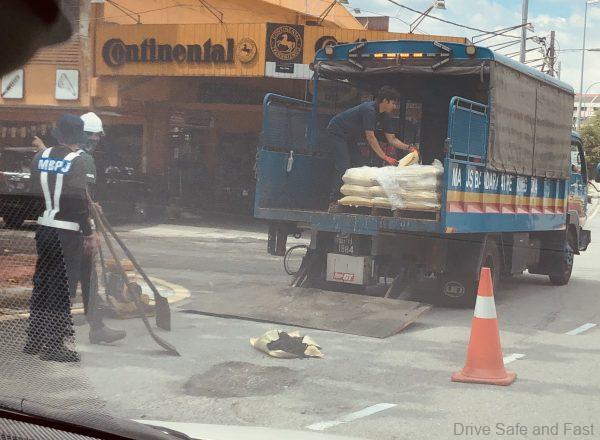 About Potholes
In 2019, over 200,000 potholes were found by JKR, but less than half have been fixed as of June 2020.
According to the Ministry of Transport, if the diameter of the pothole is under 200 mm, the repair will not involve cutting but will be filled immediately. If the diameter of the hole reaches 1,000 mm, it will require the road cutting technique before filling. If the dimension of the hole exceeds 1,000mm, then it needs to be considered as pavement failure.
The Malaysian government has allocated RM1.09 billion towards federal road maintenance nationwide for 2021.
In countries that experience winter and summer months, potholes usually occur as a result of the freeze-thaw cycles of groundwater. However, moisture in warmer climates such as ours can be just as likely to cause potholes.
Roads in Malaysia are made to the standards of the World Road Association, at least according to most government bodies. However, when 3rd party contractors are used, this might not be the case.