Automotive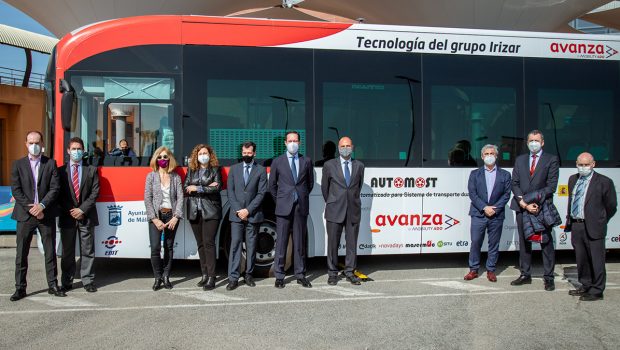 Published on February 27th, 2021 | by Daniel Sherman Fernandez
0
Autonomous Public Bus In Malaga Spain On Trials
This bus is also a full electric powered vehicle.
Spain is now leading the rest of the world with this totally autonomous and fully electric powered public bus. Launched last weekend in the city of Malaga, this driver-less bus is the very first of its kind in Europe (running on public roads).
Equipped with sensors and cameras, this 100 percent electric bus, which entered service on Saturday, links the port to the city center of this Andalusian city. The bus will run an eight-kilometer loop and this is done just six times a day for now.
"The bus knows at all times where it is, what is around it," Rafael Durban Carmona, director of the southern division of the company Avanza, at the head of the public-private consortium, told AFP project manager.
It can in particular 'interact with traffic lights' as it has sensors that can react to traffic lights when they turn red or green.
The bus also includes an artificial intelligence device allowing it to improve its 'decisions' based on the data recorded along the route.
The vehicle, developed by the Spanish company Irizar, looks like any classic city bus: it is twelve meters long and can carry 60 passengers.
Other pilot projects for autonomous vehicles already exist in Europe, France or Estonia for example, but they do not concern classic-sized urban buses circulating in streets open to other vehicles.
As Spanish legislation does not authorize the use of a driverless vehicle, a driver is seated in his usual place, but he does not touch the steering wheel or the pedals, except very exceptionally to slightly correct the trajectory, when approaching 'a roundabout for example. In the event of a problem, the driver can regain control at any time.
This project has received funding from the Spanish government and the collaboration of several universities.
Outside of Europe, Singapore began testing the commercial operation of autonomous buses at the end of January, while in China autonomous taxis like the program by Didi Chuxing are being tested in several cities.
In the United States, Waymo (a subsidiary of Google) will test in San Francisco its driverless robot taxis, already in service in Arizona since 2017.
About the Irizar ie bus
The new generation of the 12-metre Irizar ie bus was presented for the first time at the Busworld 2019 trade fair. A 100 percent electric, zero-emissions bus that offers a sustainable and eco-efficient urban mobility solution to respond to the current and future needs of city transport.
In addition to its attractive aesthetic design, this new generation, available in 10, 12, 15 and 18 metre versions, incorporates innovations and new batteries. The space has been optimized thus offering greater passenger capacity and greater modularity.
A new generation of more efficient batteries is combined with a regenerative braking system, which reduce consumption and offer greater vehicle range.
The new Irizar ie bus can have up to five interoperable slow charging point positions using a combo 2 connector.
Slow charging the vehicle takes 3 hours. There is also the option of fast charging via pantograph.