Automotive
Published on April 16th, 2021 | by Subhash Nair
0
Hyundai Kona Facelift Now In Malaysia
The Hyundai Kona facelift arrives in Malaysia and here's what the spec looks like.
Last year, Hyundai Sime Darby Motor (HSDM) launched the first ever Kona in Malaysia. Today, the facelift model arrives in Hyundai showrooms nationwide. Despite being just a facelift, there are MANY aspects of this new Kona that have changed and we will share those changes with you in detail.
Facelift Variants
For the first wave of Kona Facelift models, here are the two variants that are being brought in:
Kona 2.0L (RM119,888)
Kona 2.0L Active (RM136,888)
As a refresher, the initial Hyundai Kona that arrived in 2020 came in with two engine choices split between three variants.
Kona 2.0L
Kona 2.0L Active
Kona 1.6L Turbo
There are two things to note here. First, the 2.0L engine under the hood is completely different in this facelift, as is the transmission. The second thing to note is the 1.6L Turbo option will not immediately be available but will come later on to our market in two additional variants. This has yet to be finalised, so don't wait for it unless you REALLY are aiming for that engine.
From our understanding, Hyundai may also attempt to bring in the Kona Electric to test market conditions.
For now, let's explore what's new on these two new facelift variants.
Engine and gearbox
On paper, it's still a naturally aspirated 2 litre petrol engine. However, the last Kona came with an engine from Hyundai's 'Nu' family, which has been in service since 2010. This new 2.0L is from the SmartStream engine family, which is much newer and completely different from the older designs. SmartStream engines hyper-focus on optimising airflow, timing and heat control. They are designed for the toughest emissions and efficiency standards. It still produces about the same amount of power and torque and still runs on the Atkinson cycle. Read more about SmartStream engines here.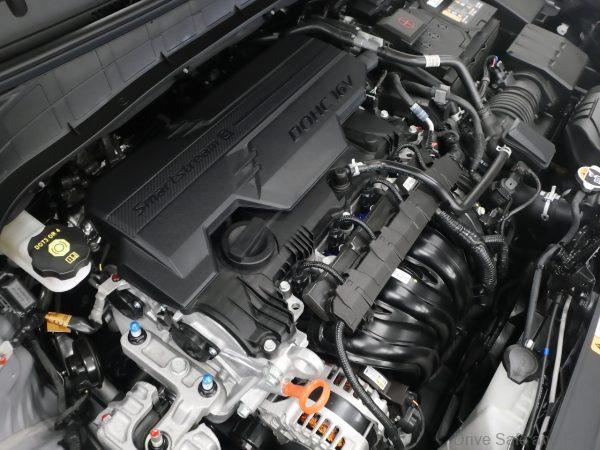 The gearbox has also been updated. Previously, the Kona used a 6-speed conventional automatic. Now it runs on an 'iVT' or Intelligent Variable Transmission with 8 virtual gear ratios. iVT is Hyundai's version of a CVT (Continuously Variable Transmission), but with enough differences in design for them to justify calling it something else. The biggest difference is that an iVT uses a chain belt instead of a rubber/silicone belt. This allows the transmission to reproduce to shift more like a manual when required. This transmission debuted in Malaysia on the latest Elantra model.
Exterior Look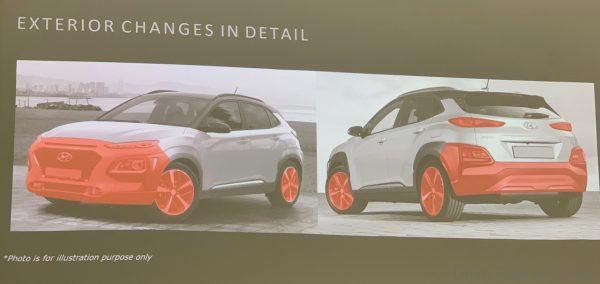 Primary changes to the exterior are found on the grille, bumpers, headlights, taillights and rims. The new grille is larger, yet the overall design is cleaner, with fewer openings. The Kona still sports a split headlamp cluster. Now the 2.0L (grey) and 2.0L Active (blue) variants have different lighting layouts.
As you can see, the 2.0L model uses a seperate halogen bulb next to the projector headlight for its turn signal. The Kona 2.0L Active integrates the turn signal into the LED daytime running light.
It also has a halogen foglight lower down in the front bumper.
Rim designs are as follows for each model. The standard model comes with 17″ alloys wrapped in NEXEN N'Fera SU1 tyres whereas the 2.0L Active comes with 18″ dual tone alloys in Continental PremiumContact 6 tyres.
Around the back, the two models are identical to each other and bring the same new taillight graphics and lower bumper designs.
Overall, even though the design changes seem minor, the new bumpers add 40mm to the Kona's overall length, which is rather significant.
Interior look and equipment
There's a general shift in maturity with the facelifted Kona. Where the pre-facelift model came with different coloured plastic bits, stitching and seatbelts, the new model does away with all that. The primary changes are highlighted below.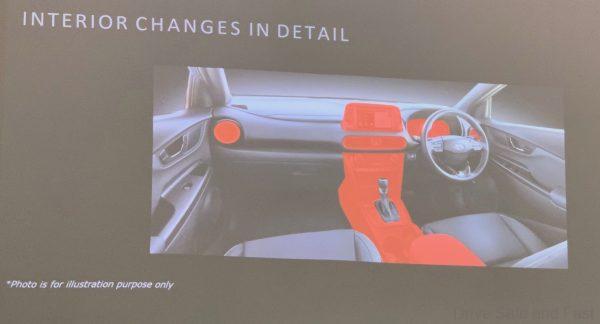 Both cars come with a sturdier, more elegant looking air cond vent design at both corners of the dashboard.
Both models also come with an 8″ infotainment unit with WIRELESS Apple CarPlay and Android Auto. It also has support for multiple simultaneous Bluetooth connections. Also standard now is the electronic parking brake with Auto Hold. Standard on the Kona is also the Remote Start feature. This allows users to pre-condition the Kona before starting their journey.
The 2.0L model comes with manual climate controls while the 2.0L Active variant has a digital single-zone climate control. Remote Start climate pre-conditioning on both models works a little differently. On the 2.0L model, you'll need to leave the manual air cond settings where you'd like to them be before leaving. On the 2.0L Active model, the climate control will set itself to 22 degrees celsius automatically upon remote start activation.
The Kona 2.0L now comes with black woven fabric in 'Houndstooth' design. The Kona 2.0L Active is available with either black or white perforated leather upholstery.
The 2.0L Active also gets a 10.25″ digital instrument cluster.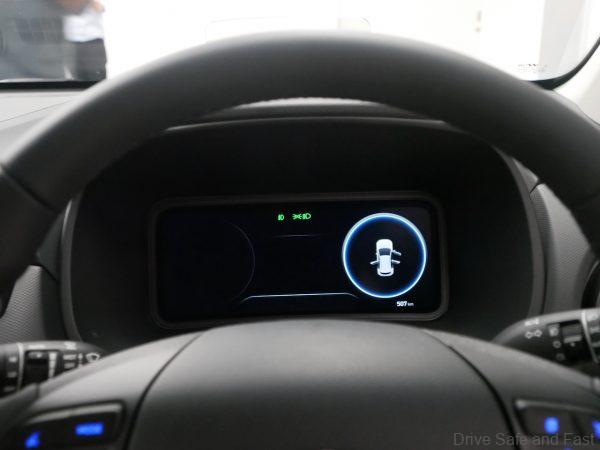 Perhaps the best reason to consider the Kona 2.0L Active is the range of Advanced Driver Assistance Systems.
It gets:
Blind-Spot Collision-Avoidance Assist (BCA)
Rear Cross-Traffic Collision-Avoidance Assist (RCCA)
Safe Exit Warning (SEW)
Lane Keeping Assist (LKA)
Lane Following Assist (LFA)
Driver Attention Warning (DAW) with Leading Vehicle Departure Alert
Rear Occupant Alert (ROA)
High Beam Assist (HBA)
Forward Collision-Avoidance Assist (FCA) now with pedestrian and vehicle detection