Automotive
Published on May 1st, 2021 | by Daniel Sherman Fernandez
0
DS 3 Crossback Spotted In Heart Of Kuala Lumpur
This is not the first time this DS 3 Crossback has been seen in Malaysia.
This all new DS lifestyle vehicle has been seen on Malaysian roads the past few months and it only means that a launch is around the corner. Just a few days ago, its sibling, the Peugeot 2008 Crossover was spotted by us along the Federal Highway with trade plates.
This week the DS 3 was spotted and photographed by a Citroen and DS fan, Oscar Wks in the heart of Kuala Lumpur, right behind the Pavilion shopping mall.
The DS brand is the luxury division of the famous and iconic Citroen car brand. This luxury French auto name is popular in France and some parts of Europe but it is yet to make its name in the global auto market.
In November 2018 the DS brand made its first official appearance in Malaysia at KLIMS under Nasim and this was just months after the showroom launch. Then in June 2019, the DS 7 Crossback SUV was launched by Nasim at an asking price of RM199,000.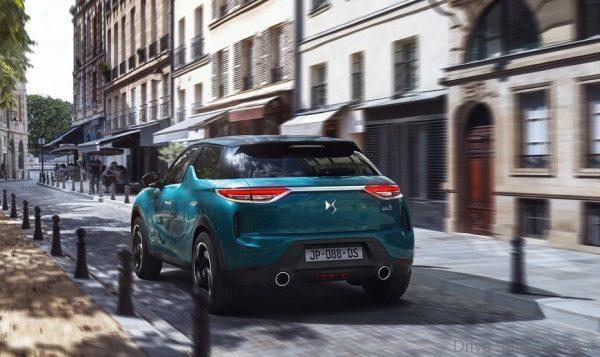 Then in December 2020 it was announced that Nasim had given up the distributorship of Peugeot and DS in Malaysia and Berjaya Auto Alliance had taken over. Berjaya Auto Alliance had secured sole distributorship of Peugeot vehicles in Malaysia. This new entity also had the rights of after-sales and spare parts distribution for the PEUGEOT, CITROEN and DS marque vehicles in Malaysia. We at www.dsf.my highlighted this distributorship change earlier in September 2020.
So, it is now clear that Berjaya Auto Alliance will be launching the DS 3 Crossback in Malaysia very soon. Built on an all-new Platform, it opens new horizons in both technology and styling. This DS 3 Crossback is marketed as both a city vehicle and a long-distance family lifestyle vehicle.
Pushing conventions aside, it opts for spectacular technologies including DS MATRIX LED VISION headlights, flush door handles that deploy automatically and a fully digital driving display. These avant-garde features go hand in hand with a sense of refined comfort, a rich array of safety equipment and driver assistance functions (like autonomous driving, level2) and unrivalled acoustic excellence. Elegant and attractive, DS 3 Crossback is for all those looking for a car with instant appeal that is stylish and dynamic.
DS 3 Crossback offers a new and unique automobile experience, as the DS 7 Crossback did.
It meets all the criteria for attracting and retaining a demanding clientele that is not prepared to trade features for size and compactness. Lovers of beautiful objects will be charmed by its sculptural design, the creativity of its interiors and the care taken with even the smallest details.
Avant-garde technologies give customers a driving experience characterized by comfort, well-being, peace of mind and pleasure, over all types of journey and for all types of use.
The DS 3 Crossback is identifiable at first glance as a premium, compact crossover, with its well-proportioned length of 4.12m, broad on-road stance and large wheels (690mm, 18''), as well as its ground clearance.
At the front, the DS WINGS form a finely chiseled setting for the sculpted, vertical lines of the emblematic DS grille. The DRLs (Daytime Running Lights) with their pearl-like vertical LEDs and the tapered headlights of the DS MATRIX LED VISION system suggest a contemporary edge and performance. An impression reinforced by the wide ribbed horizontal bonnet.
Power delivery from its 1.2L 3-cylinder turbocharged petrol engine is adequate with its 153bhp engine that delivers a 0-100km/h acceleration of 8.8 seconds. Whether you choose this standard internal-combustion engine or a completely electric model which might arrive in due time when more EV charging station are up and running around the country you can be assured of the DS high quality fit and finish inside.