Automotive
Published on June 11th, 2021 | by Subhash Nair
0
This Is The All-New Lexus NX, 2nd Gen Model
The all-new Lexus NX gets fully detailed after months of teases and leaks.
The 2nd generation Lexus NX premium compact SUV has been fully revealed. So far, we've already gotten an official teaser of the NX, but before that, images of the new NX had already leaked out.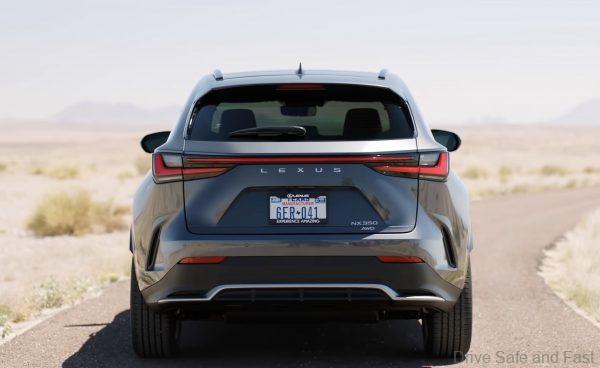 The new NX incorporates "Lexus" script with a new font on the rear tailgate, right above the license plate. In the leaked image, the traditional Lexus logo was found here instead.
We now know that the Lexus NX will be offered with three engine options to begin with. Here they are in brief:
NX 250: 2.5L naturally-aspirated (N.A.) petrol with 8-speed automatic, FWD/AWD options (203hp, 250Nm of torque)
NX 350: 2.4L turbo petrol with 8-speed automatic, AWD (275hp, 430Nm of torque)
NX 350h: 2.5L N.A. petrol with 2 electric motors (Hybrid, 239hp)
NX 450h+: 2.5L N.A. petrol with 2 electric motors (Plug-in Hybrid, 58km pure electric range)
Some output figures were not fully disclosed, but it's worth noting that the NX 450h+ completes the century spring more than a second faster than the NX 350h. Both models have full time all-wheel drive, with electric motors driving the rear wheels.
The front is nothing we haven't seen before, but it's still nice to get a detailed look at the NX finally. The spindle grille is as large as ever, but the headlights are now more intricate and the aggression and sensuousness of the curves have been dialled up.
This particular model is probably an F Sport variant and features a very nicely detailed pattern on the grille mesh. There's also a glossy finished Lexus logo up front that serves as a radar sensor for the pre-collision warning, autonomous emergency braking system, dynamic cruise control and more.
This is an F Sport model with a blacked out grille, blacked out wing mirror and blacked out rims. The rims feature a particularly sporty looking motif.
The upholstery is in red for this F Sport model. The leather upholstery on the seats is also perforated. The rear seats are motorised and can be raised and lowered flat using buttons in the boot.
The NX also incorporates a large panoramic sunroof that's split in two between front and rear passengers.
Upfront, we get a well-integrated and fairly large infotainment display. The one showed here is an optional 14″ model, but the standard one is 9.8″ across. The instrument cluster is fully digital as well and 7 inches wide with fuel and temperature gauges displayed separately.
A push-to-start button is located between the two screens, and climate controls are semi-digital, with rotary knobs integrated into the digital screen. There appears to be a wireless charging pad ahead of the gear selector.