Automotive
Published on August 20th, 2021 | by Daniel Sherman Fernandez
0
Isuzu D-Max Selling Prices Jump By RM37k In Australia
Overwhelmingly high demand for the new D-Max in Australia has pushed up its price.
Australian motoring media have just reported that the selling price of the all new D-Max pickup truck has jumped up. Not by a small margin, but by about AUD10,900 (which is almost RM 34,000) more for the exact same vehicle earlier this month, and a staggering AUD11,900 (RM 37,000) dearer than its retail price when the new model went on sale this time last year.
Ever since it was first unveiled back in October 2019, Isuzu's all-new D-Max has been a smash hit in terms of sales wherever it lands. It could however soon be a victim of its own success, as the prices for these pickups have recently shot up significantly in Australia, which is apparently primarily caused by a severe stock shortage in the face of overwhelming demand.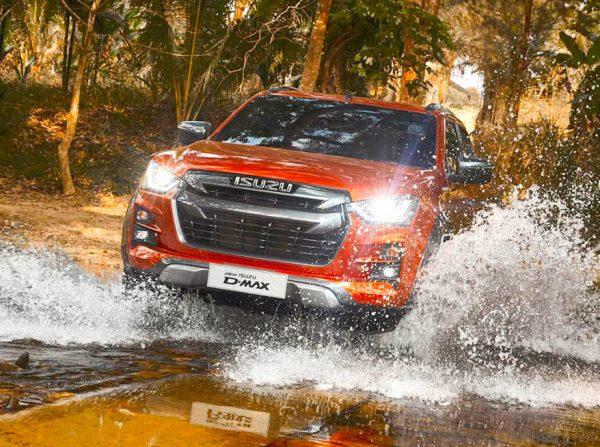 This is especially true for the D-Max X-Terrain 4×4 variants down under, with Aussies who fancy these top-of-the-line pickup trucks will fork out up to AUD70,919 (RM 220,000) for the privilege of owning one right now.
Just by the off-chance however that an Aussie who has already placed a booking on a D-Max is reading this, it is reported that Isuzu will still be honouring the previous AUD59,990 (RM 186,000) drive-away deals on pickups ordered earlier this month before the massive price hike.
The Japanese automaker too has reiterated that it is not currently intentionally capitalising on the higher than expected demand and limited local supply, and has stated that there might be more price changes to come in September as supplies steadies.
To further calm the waters, Isuzu has also since shifted the prior discounts on offer with the D-Max to the top-spec MU-X LS-T 4×4 SUV. This new deal however has nevertheless courted its own controversy, which comes in the form of this flagship variant now confusingly costing less than at least two of its lesser-equipped trim levels in the local line-up.
Now getting back to the topic of the D-Max meanwhile, it is reasonable to expect that even if one manages to place an order on these marked-up pickups in Australia right now, it might not be arriving all that soon.
That is because there have been reports of Isuzu having had to recently suspend production at its Thai plant in Samrong as a consequence of the increasingly worsening Covid-19 outbreak over there, which will further add to the 5-6 month wait times already in place for these models down under.
Amid all these uncertainties though, Isuzu Australia is amazingly still confident in retaining its 3rd place spot in the local ute sales over there. Aiming to be come in just behind the second-place Ford Ranger and the reigning sale champion Toyota Hilux.
In continuing on the topic of sales too and touching more on the D-Max's commercial performance over here in Malaysia on the other hand, this all-new pickup truck has caused Isuzu Malaysia's monthly booking figures to jump by over 100 percent since its local launch back in April.
Isuzu Motors has also recently introduced several new initiatives like a 360-degree augmented reality showcase on its website, in the hopes of continuing this strong sales momentum locally.
Research and Text by Joshua Chin