Automotive
Published on September 16th, 2021 | by Subhash Nair
0
Great Wall Motor's Tank 500 Might Steal Land Cruiser Sales
We have a feeling some buyers will lose patience and buy one of these TANK 500 SUVs.
As most of us are aware, Toyota recently launched a new generation of Land Cruiser after more a decade of producing the 200-series model. Demand for the new 300-series Land Cruiser is so high and supply of parts so low that the waiting list is currently FOUR YEARS LONG! This gives competitors a little room to eat at Toyota's dominance of the sector. Enter Great Wall Motors and their latest sub-brand, TANK.
Back in June, the Great Wall decided to spin off the TANK brand with the TANK 300 being a sort of 5-door FJ Cruiser competitor. While the TANK brand still hasn't set up shop anywhere outside of China, Great Wall Motors have already revealed the next product in its lineup called the TANK 500.
The TANK 500 was shown at the Chengdu Motor Show 2021 in early September. It definitely carries some of that recognisable Land Cruiser "vibes", and its dimensions are not far off. The TANK 500 is 4.9 metres long, 1.9 metres wide and just as tall with the same wheelbase as the latest Toyota Land Cruiser.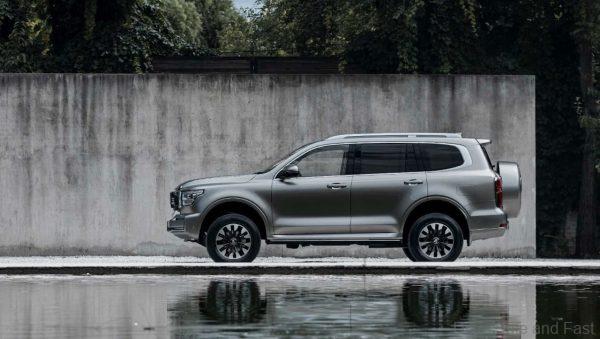 When it comes to styling, the 500 has more premium looks than the 300 and it omits the retro-inspired proportions for a more modern and upmarket look, but retains a tailgate-mounted spare tyre to maximise its interior room.
There's plenty of metallic trim on the outside and on the inside of the TANK 500. The grille is good place to start when talking about chrome applications. The thing is immense, taking up the majority of the front fascia. Everything's done up in shiny chrome, including the large 'T' logo in the centre.
On some of the preview images, the tyres of the TANK 500 features white lettering for a bit of an off-road ready look. You don't normally see such lettering on modern road tyres, but perhaps Great Wall's suppliers will make an exception for this large Chinese car company.
Inside, we see a blue leather wrapped steering wheel with similar materials on the top of the dashboard and the door cards. This blue is contrasted by dark brown wood inlays, highly-reflective chrome trim, and bright beige plastics. The centre console houses a very elegant looking glass crystal gear selector and the infotainment measures 14.6 inches across and this sits next to a 12.3″ digital instrument cluster.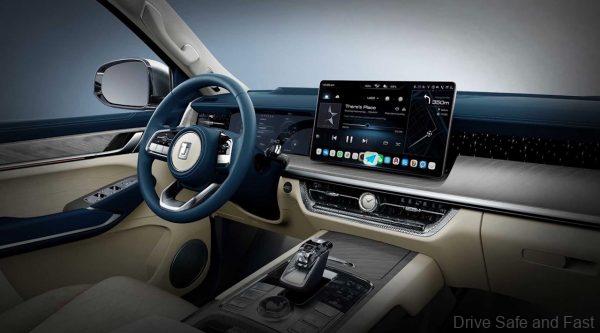 Powering the TANK 500 is a 3.0L V6 turbocharged petrol engine that puts out 349 horsepower and 500Nm of torque, which sends power to all four wheels via a 9-speed automatic gearbox. The setup comes with a low range transfer case along with locking differentials at the front, centre and rear. We're fairly certain the TANK 500 sits on a unibody chassis rather than a ladder chassis, a big differentiator from the Land Cruiser.