Automotive
Published on October 14th, 2021 | by Subhash Nair
0
Limited Edition Honda HR-V SE Now In Malaysia
Honda Malaysia is sending off the current HR-V in style with the Honda HR-V Special Edition or SE.
The Honda HR-V was a pioneer in its segment for many years and almost single-handedly allowed Honda Malaysia to become the no.1 non-national car brand in Malaysia in 2015 – a title the company has held since. Since then, the HR-V has undergone a facelift and Honda Malaysia has added an i-DCD Sport Hybrid model as well as an HR-V RS model to complete the lineup. Now, Honda Malaysia is releasing a limited production run of the HR-V Special Edition or HR-V SE for Malaysians.
What is the Honda HR-V SE?
The Honda HR-V Special Edition is based on the Honda HR-V E grade but adds a few new equipment pieces to the mix.
That includes:
A Blind Spot Information System
Lane Change Assist
Rear Cross Traffic Alert
Door Opening Warning
Digital Video Recorder (DVR)
Trunk Tray
Trunk Organiser
SE emblems
That's quite a bit of kit, especially when you consider the safety equipment that's added. Despite this seemingly large increase in equipment, the price difference is actually very reasonable at just RM1,363.64.
So, while the base model HR-V E costs RM104,000.21, this HR-V SE costs just RM105,363.85.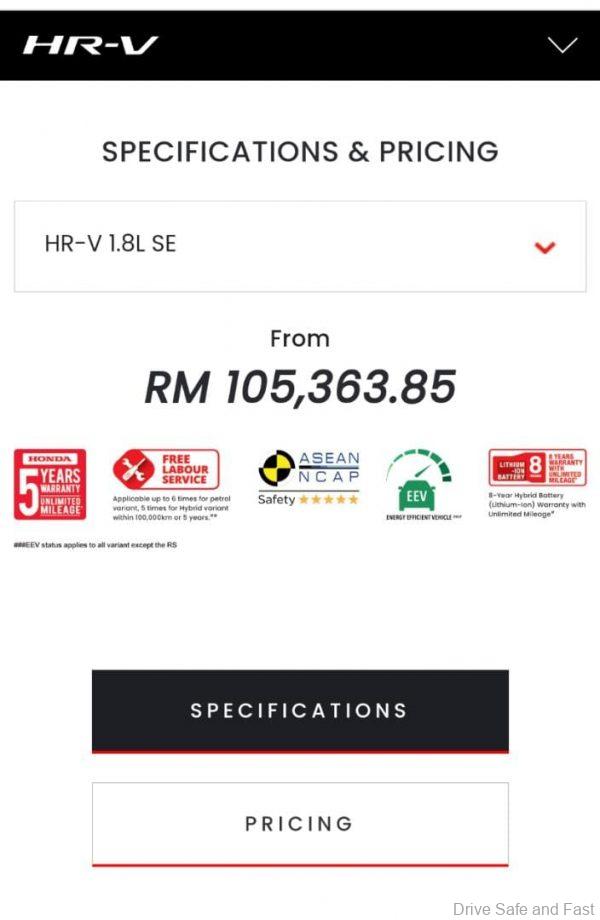 This is not Honda's first 'SE' model
This isn't the first time Honda Malaysia have offered an 'SE' grade for our market. Back when the previous generation Honda City was in its last few months of sale, the company also offered a Honda City SE that was based on the Honda City E variant. That model also added a Digital Video Recorder (DVR) and a Trunk Organiser. However, the City SE also went a step further by adding Door Visors and a Built-in Toll Reader too.
Does that mean the new HR-V model is about to be launched? Well, there's a chance that's true, but the new HR-V isn't even out in Thailand yet and we're more likely to see a new Civic or City Hatchback than a new HR-V this year if Thailand's timeline is anything to go by. It's possible that there are just too many base model HR-V Es that haven't moved since the Proton X50 and Toyota Corolla Cross got announced and so Honda Malaysia are trying to pack these with more goodies.
Whatever the reason, it's probably the best value for money on a new HR-V you're ever going to see.