Automotive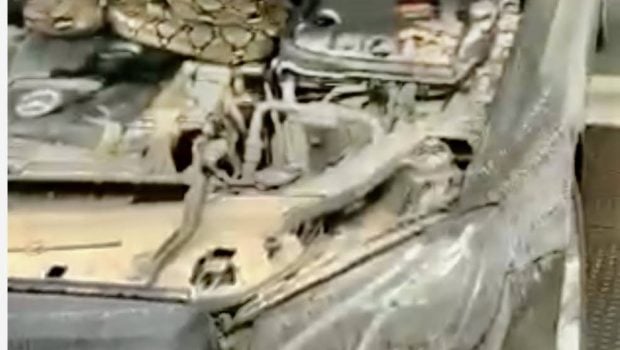 Published on December 24th, 2021 | by Daniel Sherman Fernandez
0
Do Not Start Your Flooded Car Engine At All
Just tow your flooded car to your preferred workshop.
Daily rain has drenched much of Malaysia in recent weeks, with high water levels that have ruined homes and businesses in many parts of Peninsula Malaysia. This has led to floods that have dealt devastating losses to their owners. A less-publicized casualty of this natural disaster is the number of flood-damaged cars, vans, MPVs, SUVs and trucks left behind.
Check your car insurance to see if you HAVE or NOT flood coverage insurance. If you do not have. Then you need to pay yourself.
Never start your car as long as your exhaust is below the water level. On ignition, water will be sucked into the engine and that's bye bye to your engine.
Be very careful when opening your engine bay. There might be snakes or other river creatures napping in your engine bay (please see pictures below of a snake found sleeping in a flooded car engine bay).
Tow your car immediately to a workshop that has AGREED to do the restoration work on your car. Do not move your flooded car to a workshop before negotiating the price.
Check the used value of your car online and decided if the estimated repair costs plus another 20 percent for additional repairs that your mechanic might not have accounted for is worth the effort to do or not.
If your car is not that badly affected by flood, say just two to three (2 to 3) feet of water, then you might be able to do the work yourself.
Start drying the interior. If water got inside the car, mold will grow quickly. Start by opening the doors and windows and putting towels on the floor to soak up water, but you should plan on replacing anything that got wet, including carpets, floor mats, door panels, seat padding and upholstery.
Check your engine oil and the air filter. If you see droplets of water on the engine oil dipstick or the level of the oil is high, or if the air filter has water in it, do not attempt to start the engine. Have it towed to a mechanic to have the water cleared and the fluids changed.
Check all the other fluids. Fuel systems on newer cars are usually sealed, but older cars may need to have their fuel systems drained. Brake, clutch, power steering and coolant reservoirs should be checked for water contamination.
Check all of the electrical systems. If the engine looks OK to start, check everything electrical: Headlights, turn signals, air conditioning, stereo, power locks, windows and seats, even the interior lights.
Check around the wheels and tires. Before attempting to move the car, look for debris lodged around the wheels, brakes and underbody.
Before using the vehicle, drain and replace all contaminated oils and fluids to minimize internal damage.
Beware of flood-damaged replacements parts coming from car junkyards and scrap dealers.