Automotive
Published on December 6th, 2021 | by Subhash Nair
0
Beware Of Heavy Rainfall When Travelling This December
A landslide that had claimed the lives of two drivers – one in a Toyota Vellfire and another in a lorry.
As 2021 comes to a close, the Malaysian Meteorological Department has issued warnings of severe monsoon weather with 450mm and 1000mm of rainfall anticipated in the last two months of 2021. We've already seen the effects this bad weather has had on our infrastructure. Not only are there more flash floods, nowadays, but also more landslides. The latest incident occurred late last week along the Simpang Pulai – Blue Valley road.
At least two vehicles were trapped by a landslide that occurred along that road at around 1.40pm on the 2nd of December 2021. 2 bodies were recovered from a Toyota Alphard and a lorry on the first day. After a 143-man search and rescue operation was carried out over 2 days, the Perak Fire and Rescue Department called things off. The victims were 31 year old Muhammad Hafiz Hamdi in the lorry and 36 year old Tan Chee Heng.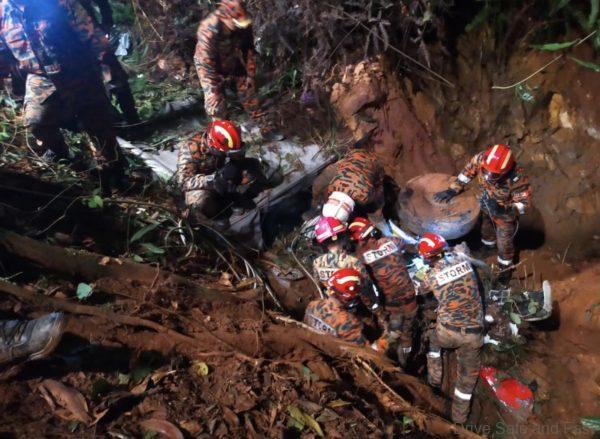 The landslide occurred along a stretch of road that was NOT designated a landslide-prone area, according to Perak Public Works Department Director. However, the intense rainfall over 2 weeks had unexpectedly weakened the soil and caused 100 metres of debris block the road and consume these two vehicles whole.
What should you do?
The image of the wrecked Vellfire circulated over the weekend and it was quite nerve-wracking to see such a familiar vehicle crumpled under the weight of wet soil and trees. While accidents like these are impossible to predict, we have experts in the field who can help guide us to minimise the risks we take when travelling. The Malaysian Meteorological Department has already cautioned the public that extremely heavy rainfall is expected for November, December 2021 and possibly early January 2022. We've also been seeing the effects this has had on some of the more landslide-prone areas, such as this Cameron Highlands road.
So, the first thing to do is to avoid heading to these areas. If you have an important business trip planned, check the weather ahead of time and go while the sun is up to minimise the risks involved. If you've got a holiday planned, consider rescheduling your trip or visiting some place else that's less likely to be landslide or flood prone.
The second thing to do is to check if your vehicle's insurance policy covers flood damage. Quite separately, make sure your vehicle is protected from damage caused during storms – this is your typical landslide and falling debris damage.
Finally, if it starts raining heavily during your journey, consider stopping your journey in a safe spot, like an R&R, and waiting for conditions to improve. Landslides are almost impossible to predict, but flooding can be detected and avoided more easily. Even if you have an SUV or pick-up truck with a decent wading depth, do NOT attempt to traverse floodwater. You can't see what's under the water, and risk damaging your tyres or driving into an exposed manhole. If water gets into your engine or damages your vehicle's electronics, you may have a HUGE repair bill on your hands.
Stay safe, plan your trips ahead for the next few weeks and enjoy interstate travel responsibly. Also, if you haven't renewed your road tax yet, now would be a good time to do so! JPJ will start checking for this come January 2022.