Cars
Published on December 10th, 2021 | by Subhash Nair
0
The Hyundai Santa Fe Diesel Is A Great Interstate Cruiser
The Hyundai Santa Fe Diesel Has all the right ingredients for highway driving and more.
When it comes to interstate travel, there are some cars that can do it, and there are some cars that can do it really well. This week, I took the Hyundai Santa Fe 2.2L Diesel down to Johor Bahru in the middle of the week to attend to some personal matters. This was not my first experience with the Santa Fe – I had driven the petrol version back in 2019 and was quite impressed as well. However, I only drove it within the Klang Valley the last time. This time, I drove it down to my hometown and I have to say, this thing is quite a delight.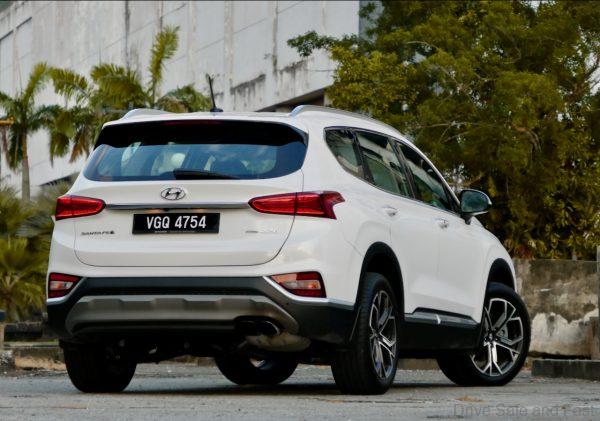 What's New
Compared to the petrol model that debuted in 2019, this test unit has a number of changes. It's still locally-assembled, but Hyundai says that the degree of local content is more and the assembly process a lot more extensive this time around.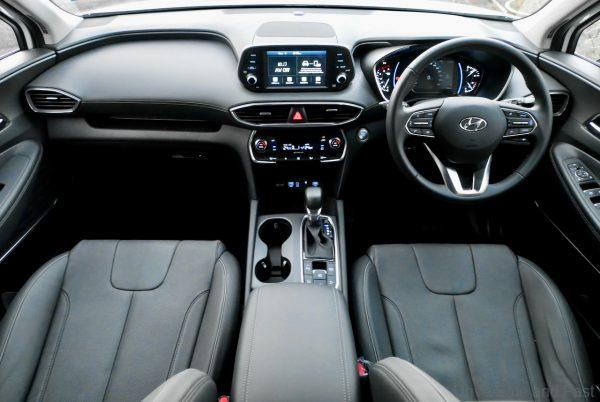 What's more, they've added a few items to the equipment list. The few that stick out the most are:
Inclusion of third row vents and controls
New dual tone alloy wheels and tyres
Higher grade Nappa leather upholstery
Removal of the spare tyre, inclusion of tyre repair kit instead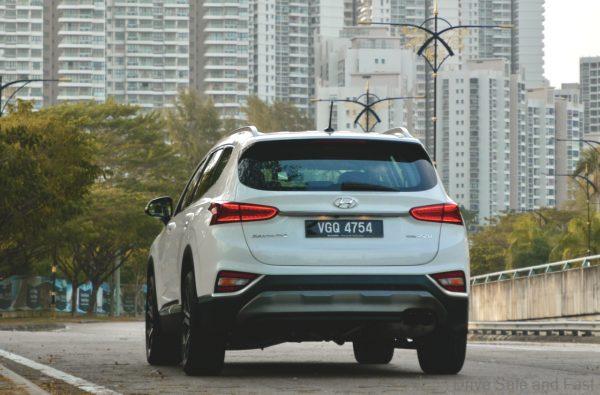 Apart from the removal of the spare tyre, we quite liked all of the changes here. That being said, perhaps there is little room for spare tyres in today's world of 24 hour roadside assistance and decent tyre repair kits. We didn't get to test out the third row of vents, but we think it'll be much appreciated by anyone who draws the short straw and is forced to sit back there.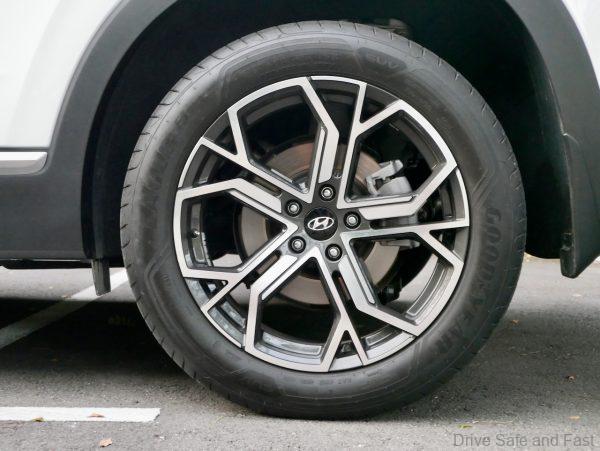 The new Nappa leather seats definitely add a touch of class to the cabin and feel high-quality. And finally, the new rims look just a tad more angular while retaining the theme of the original rims.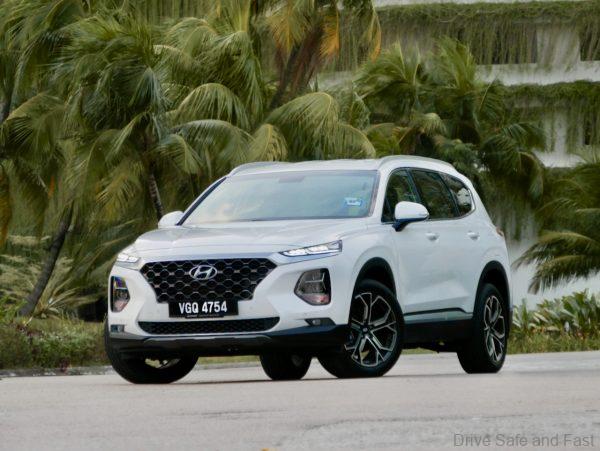 Diesel Power
I personally don't like to be too aggressive on the highway but I will drive a little faster on clear stretches of road. On this trip down, I rediscovered the just how beautiful a load of torque can be when accelerating at high speeds. The Santa Fe Diesel is the kind of SUV that makes BMW 630i GT drivers sweat. It keeps pace with equivalent cars up into the kinds of speeds Volvo finds unreasonable. With 193hp and 440Nm of torque available on tap and a HTRAC all-wheel drive system sending as much as 35%-50% of torque to the rear wheels, the performance of the Santa Fe is not surprising. It has confidence inspiring handling and is still nimble when it comes to moving in small spaces.
This journey back to my hometown was one of the quickest I've made in recent memory and the best part is that it was done using less than half a tank of diesel. It was also extremely comfortable and surefooted throughout the journey. I can imagine loading the Santa Fe Diesel up with passengers and luggage and still having an excellent ride.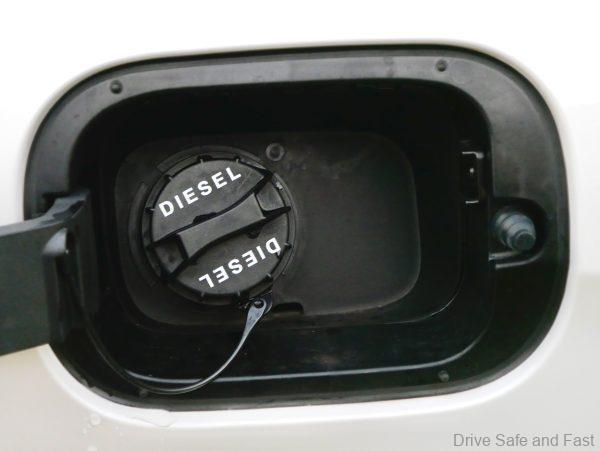 The Santa Fe has a number of drive modes, but I just left it in SMART and let the system toggle between ECO, COMFORT and SPORT depending the situation. While in SMART mode, you can tell what drive mode has been activated based on the colour of the lettering. Red indicates it's in SPORT mode, while blue and green refer to COMFORT and ECO respectively.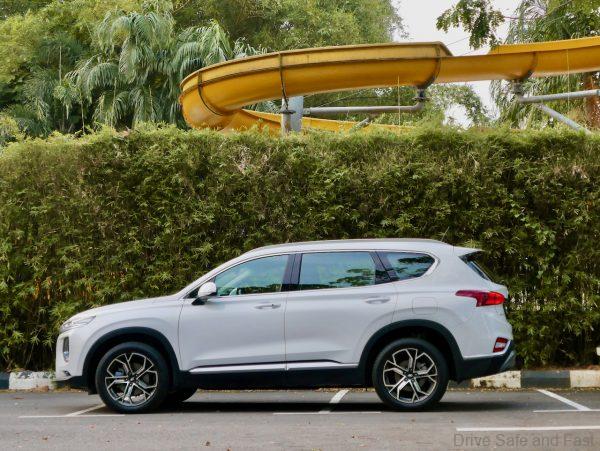 Making Use Of Its Size
I'm starting to believe more and more in having a third row of seats. They're not an ideal place to put human beings in, but they're just super convenient to have in certain situations.
On the Santa Fe, the third row of seats is accessible through the the left hand side seat, which tilts and slides forward at the touch of a button.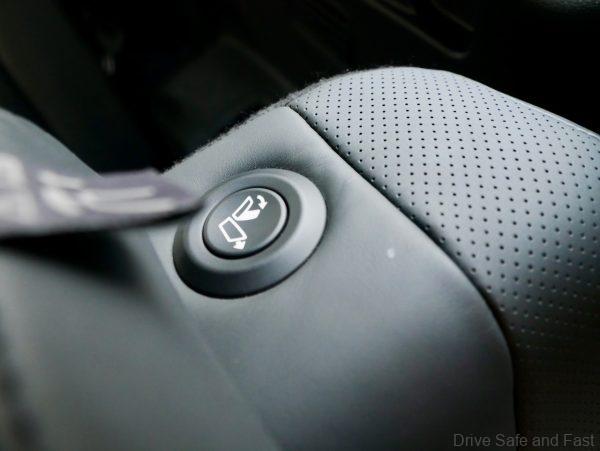 This semi-motorised tumble button is located next to the headrest for the third row occupants to access and at the base of the seat facing the left door.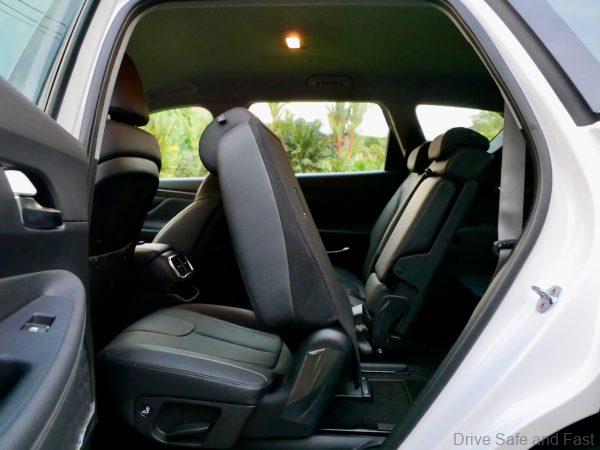 Sliding the seat forward allows for relatively easy access to the third row of seats, but again, they're designed for use with shorter people and may not be comfortable for larger adults.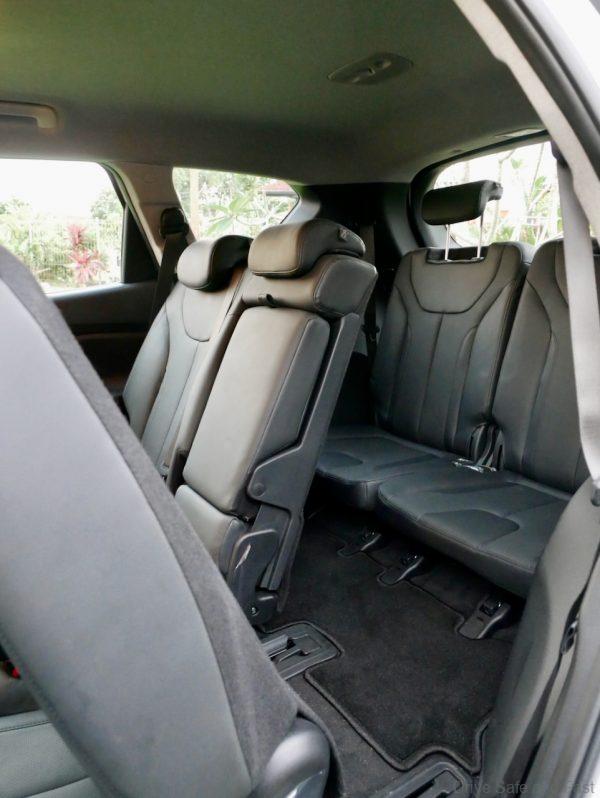 Passengers in the rearmost row are treated to a few niceties. This updated model brings air cond vents on either side of the row plus some simple but functional controls for the blower motor there. There's also a 12V power socket on the opposite side.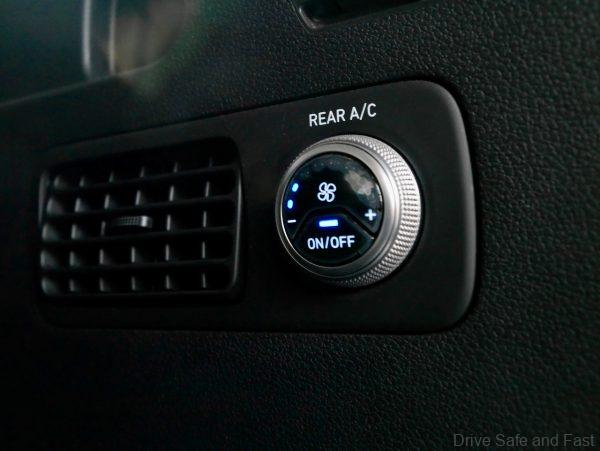 More impressive than the third row is the boot space and flexibility of options for luggage on the Santa Fe. The tailgate is powered and has a handsfree function that works with just the key. It can also be opened and closed with the touch of a button.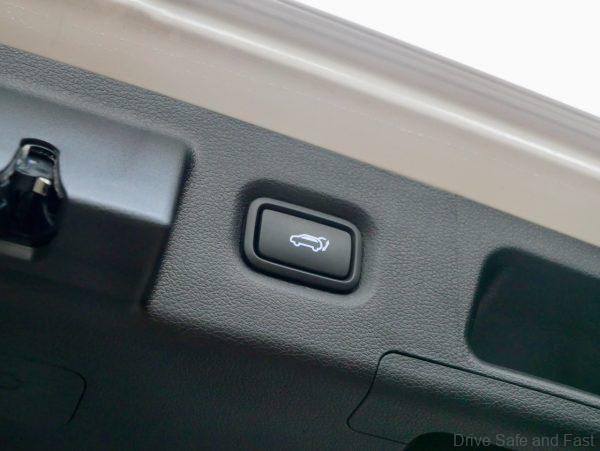 With all the seats in use, bootspace is rather limited, and the floor mat has a tough time finding a neat way to hide itself. What's nice is that the tonneau cover has its own little stowage compartment under the removable cargo floor.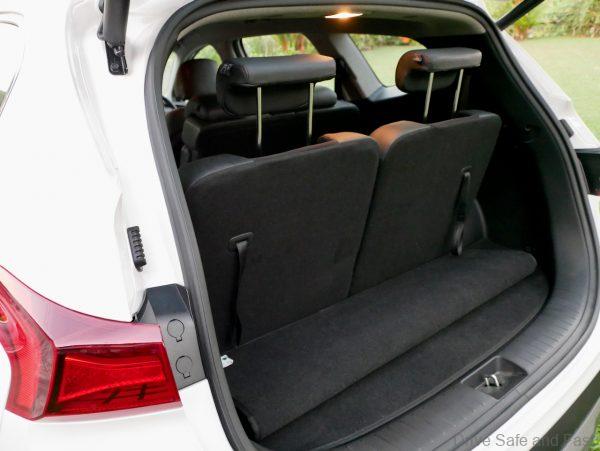 Two pull straps allow the third row of seats to be folded flat in a 50:50 split. With the seats down, the tonneau cover can be deployed and the luggage space gets a lot larger with privacy intact.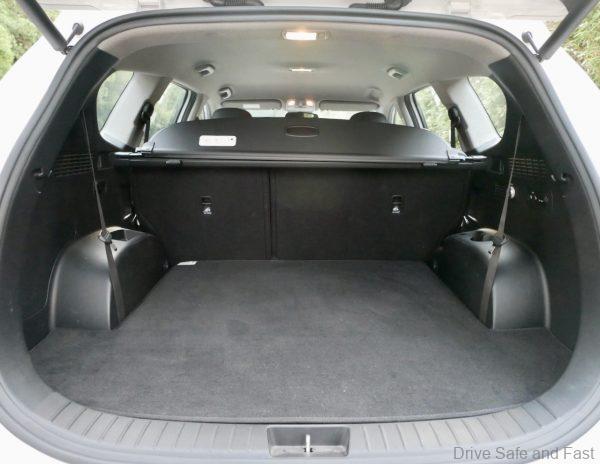 Because the 2nd row of seats is semi-mechanised, the seat backs can be folded down conveniently from the rear.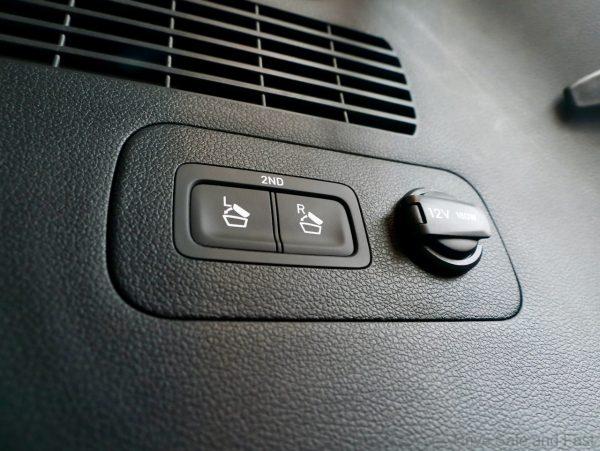 With these seats flattened, the Santa Fe becomes a cavernous cargo mover, ideal for transporting furniture, folding bicycles, sewing machines… just about anything you can carry can probably fit comfortably.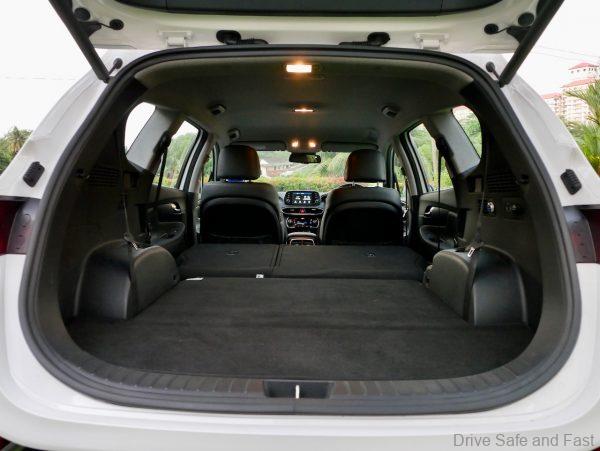 Nice Materials and Touches
You're getting what you pay for in terms of space, but also in terms of materials used and build quality. The new Nappa leather seats are nice and supple – a welcome addition to the Santa Fe for sure.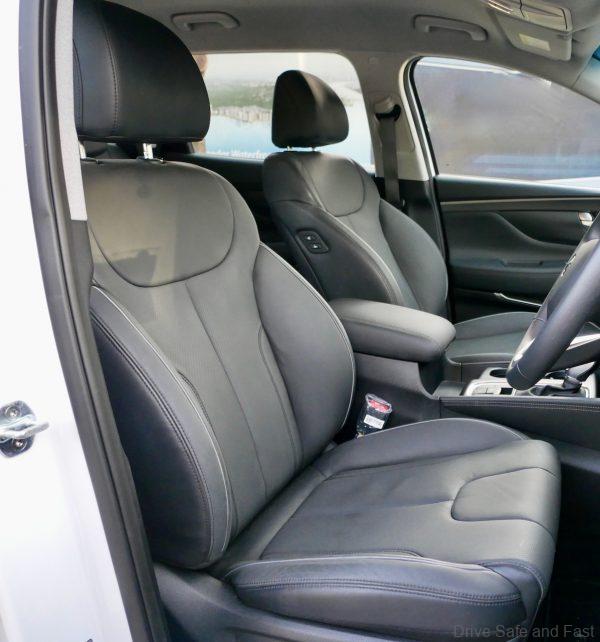 However, we've always liked some of the other touches on this model, like the tweed-like headliner material, which extends over the A-pillars.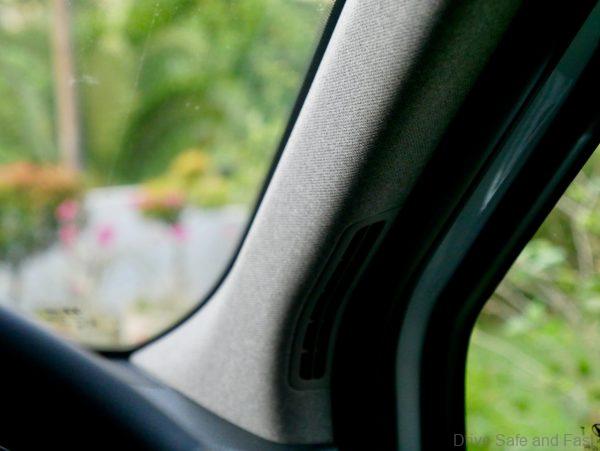 A large SUV such as the Santa Fe projects a 'boss-like' presence like a Land Cruiser of old.
It's unsurprising that Hyundai equip it to take on chauffeur duty with front passenger seat adjustment buttons for rear passengers and rear air cond vents, sockets and more.
Up front, amenities are aplenty too. There's a digital instrument cluster, a wireless Qi charger, Android Auto and Apple Carplay support through a wired connection, Auto Hold, an electric parking brake and much, much more. The only major gripe I had was the lack of even the most basic advanced driver assist systems and the glaring omission of a 360-degree camera system.
Overall, the Hyundai Santa Fe Diesel provides a nice bit of competition to the Mazda CX-8. I found both vehicles to be extremely adept at their roles, but the Hyundai's cabin feel and ride are slightly more convincing to me. Still, to each his own. What's certain is that for under RM210,000, you're still getting what you pay for and there's a lot of 'car' here to enjoy.
I'd say you should spring for this full-spec diesel model as it really feels worlds apart from the petrol and all-wheel drive is a nice to have. What's more, the Premium trim level gets you 19″ wheels, Bi-function LED projector headlights, 8-way powered seats, Nappa leather upholstery, Rear Occupant Alert, Blind Spot Collision Warning, Rear Cross Traffic Alert, front passenger seat control buttons, leather trim on the dashboard, a 7″ digital instrument cluster, and more. It's quite a noticeable amount of equipment for a the price bump.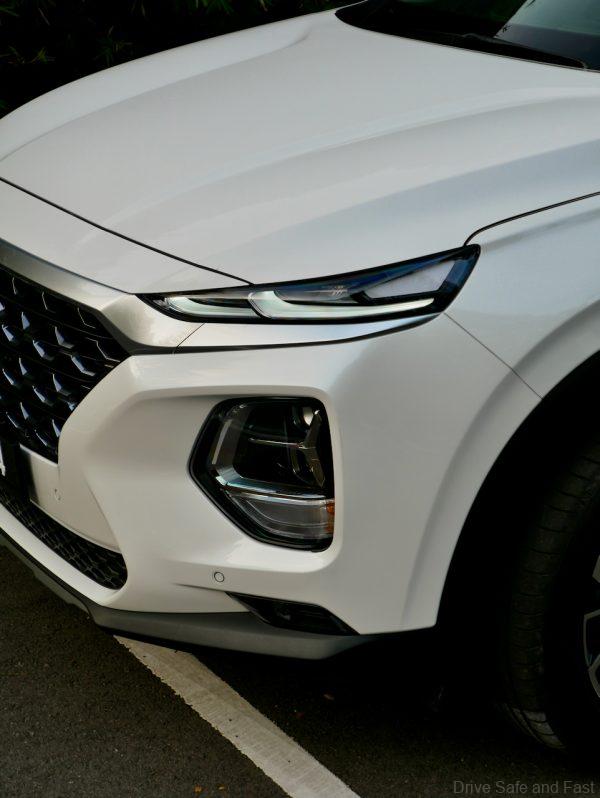 Hyundai Santa Fe 2.2CRDi Premium Specifications
Engine: Inline-4, 16-Valve, DOHC, Turbodiesel
Capacity: 2199cc
Gearbox: 8-speed Conventional Automatic
Max power: 193hp @ 3,800rpm
Max torque: 440Nm @ 1750-2,750rpm
Price: RM209,888