Automotive
Published on January 4th, 2022 | by Subhash Nair
0
Car Carrier Trailer Crashes With Proton X50 and Proton X70 SUVs On It
Three brand new Proton SUVs were damaged yesterday when a car carrier trailer crashed off the PLUS Highway.
Yesterday morning, an ageing car carrier trailer ran off-road on the PLUS Highway, causing damage to the three Proton SUVs it was hauling. The incident took place along KM 429 along the PLUS highway from Bukit Beruntung heading towards Sungai Buaya and was shared on the Facebook Group "Proton X50 Community Malaysia". It is unknown how the incident took place, if it was the fault of the driver or some external factor that cause the incident. What's sure though, is that whoever ordered the Protons involved will have to wait just a little longer to receive their cars.
At the rear of the car carrier trailer, we see two Proton X70 SUVs. It's unclear if either has suffered major damage, but it's likely neither vehicle has gotten out of it without a scratch. The one in Ocean Blue is an X70 SE, one of only 2,000 units in existence. We wonder if the owner will still be willing to accept his brand new vehicle after knowing that it has gone through such an incident.
The Snow White Proton X50 1.5 TGDI Flagship that was seated on the top row of the car carrier was flung into a drain and took major damage. There appears to be major structural damage to its roof, pillars and bonnet, though its panoramic sunroof appears to have survived intact.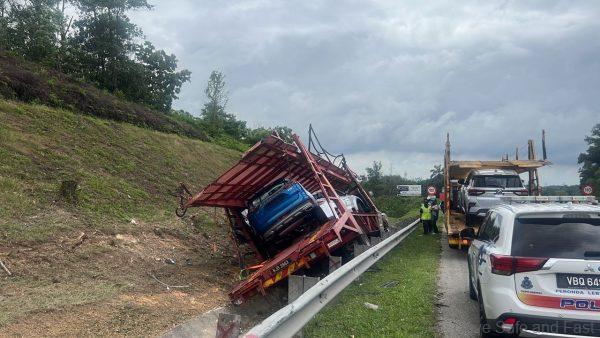 What will happen to these vehicles? Will the insurance company write them off or attempt to repair the damage done? This will probably be the case for the X50, but the X70s look like they may have escaped major structural damage, but we can't be sure. Perhaps Proton will be able to salvage some of the engine and electronic components for the repair of recently flood-damaged vehicles. That's the only possible silver lining to this story.
As for the X70 owners… They've probably been waiting months for the arrival of their brand new vehicles. The X70 SE was announced about 6 months ago. Can you imagine if the owner had waiting all that while and be forced to accept a car that had an accident before he even put a single kilometre on it? Would you be willing to accept that if the alternative was to wait another 6 months for a replacement car?